When, in 2012, a separatist coup backed by Islamic hardliners tore through northern Mali and a cruel system of sharia law was enforced across the region, music was banned completely and the beating heart of Mali struck cold.
Radio stations were demolished, instruments burned and musicians driven into exile through threat of torture or even death as Islamists Ansar Dine imposed their terrible will. But the Malians refused to yield.
They wouldn't give in. They refused to be denied their culture. They fought back the only way they could – with music.
The drama of their fight was caught on camera by a documentary crew; the resulting footage became They Will Have to Kill Us First.
A tale of rebellion and justice, They Will Have to Kill Us First captures not just the romance of the musicians' fight but the horror of their plight too – from the cruelness of the laws inflicted to the sweet release of the performance of the first gig in Timbuktu since the imposition of those laws.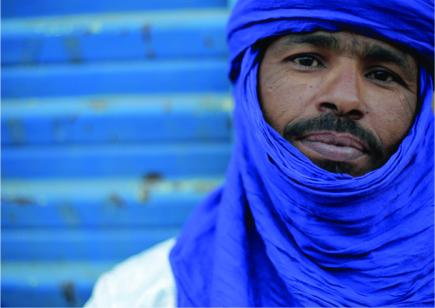 Though initially released in the UK at the tail end of 2015 and premiering at last year's London Film Festival, the film is now set for a screening at Band on the Wall in Manchester's Northern Quarter.
Mali was, and continues to be, a divided nation – as of June this year, 60 UN peacekeepers have been killed while conducting their mission in the country, making it the most dangerous place on the planet for the Blue Berets. The film's director, Johanna Schwartz, spoke about what was like filming under those conditions.
She said: "Mali at the time was a country in conflict, there's no doubt about that. But it wasn't like the entire country was engaged in out and out hand combat at all times.
"Life carried on. People would get up in the morning and they would go to the shops and get their bread or whatever it was that they needed.
"We were there and we carried on as well. Certainly there were times when it was more dangerous than others, but when we knew we were going to be in more danger then we took the necessary precautions."
When the ban occurred, one of the film's protagonists, Moussa Ag Sidi, who was known to Ansar Dine was warned that if he were to play his guitars he would be punished. Moussa had little choice but to comply, but many refused to lay down their instruments.
The United Nations High Commissioner for Refugees estimates that more than 475,000 people have been displaced by the Malian conflict as Malians were forced to flee from northern cities such as Timbuktu and Gao to the south or refugee camps in neighbouring countries like Burkina Faso.
Here, in exile, the musicians continued to play as a way of keeping their spirits up and their culture alive. Fadimata Walett Oumar, nicknamed Disco because of her love of Madonna and 80s cuts, led by example, singing to keep the horror at bay.
Often cited as the birthplace of blues, music has always been a huge part of Malian culture, so the ban came as a crushing blow across the country.
Johanna said: "Every so often you come across a place where music really is everything – a country where music is so much a part of the rhythm of life.
"Music has become so important to Malian society and it's not like it happened over night, it's just such a crucial and integral part of how society evolved over hundred, thousands of years.
"If you watch the film, every single one of our characters had a different experience with it and it impacted every single one of them differently.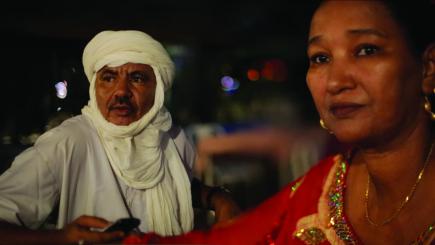 "We have ten people in the film, if you include Moussa's wife, and there were ten completely different reactions.
"So you can imagine for the thousands upon thousands upon hundreds of thousands of musicians and everyday people of Mali, it will have affected every one of them in a different way."
The film's soundtrack – composed by the Yeah Yeah Yeahs guitarist Nick Zinner and featuring several specially commissioned tracks from some of Mali's brightest musical talents – is used as narration for the film with the lyrics providing extra emotional and factual understanding.
Mali's musical activism doesn't exist in solitude. From the Syrian indie band who live-blogged their path from Syria to Germany to Pussy Riot or the emergence of Indonesia's punk scene, music has united people across the globe, enabling them to endure and rise again after years of torturous oppression.
Johanna said: "I think it's really important to talk about musical resistance and I think that's something that we don't see as much of anymore.
"In the north of England this idea of musical resistance has always been quite powerful. In the 60s and 70s that's what music was all about and even in the 80s with the anti-Thatcher movement.
"Music was very political and I for one would love to see music return to the political stage. You'd certainly engage a lot more people in the process."
The fighting in northern Mali is between the state, separatist group National Liberation Movement of Azawad (MNLA) – an ethnic Touareg group who believe swathes of northern Mali, an area they call Azawad, should be independent – and Ansar Dine.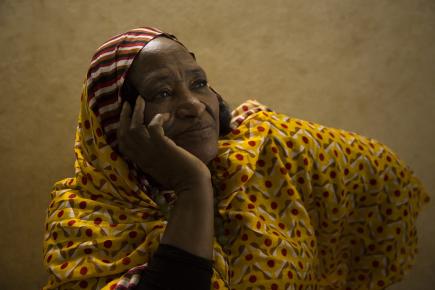 Despite being largely secular, the MNLA formed an uneasy alliance of convenience with Ansar Dine following the deposition of Malian president Amadou Toumani Touré in March 2012. However, the alliance fell apart and the MNLA were driven from the cities by the better funded and armed Islamic militants.
The radical group are also thought to be allied to Al Qaida in the Islamic Maghreb – Al Qaida's North African wing – and Movement for Unity and Jihad in West Africa – a small jihadist group that shares Ansar Dine's Wahabist interpretation of Islam.
Johanna said: "There are a lot of people in our film who feel quite strongly that religion has nothing to do with what has happened in Mali.
"They don't think that religion was the cause of it all, but that it was an excuse to carry out many atrocities and I think that's something you see a lot all over the world."
Mali is a country with a large Muslim population and so attempting to use religion as an excuse was never likely to convince many in the country.
In the film Songhoy Blues' Oumar Touré and Aliou Touré point out that even though the militants claim to be acting on religious grounds, their methods – using modern weapons and technology and trafficking or using banned substances – belie the truth of their motives.
Aliou points out: "It has nothing to do with religion, so to use religion as an argument to come and attack us means nothing."
The music ban has now officially ended in Mali, having lasted from August 2012 until January 2013, when French troops put boots on the ground and forced the Islamic radicals out into the provinces.
However, it took more than a year for music to return to northern Mali, while some areas still lie silent with residents too nervous to enjoy music for fear that the extremists will return.
Music was not the only thing banned during Ansar Dine's reign, as football, alcohol and cigarettes were all banned as the group perpetrated a whole host of human rights abuses in the region.
Summary executions of captured soldiers, forced marriages (with a bride costing below $1000) and the use of child soldiers were among some of the cruelties while rules limiting women's civil rights were particularly harsh – often preventing women from leaving their homes.
Johanna said: "There were so many different angles you could have told that Mali story through, each as valid as the next.
"But the idea of music being banned seems like such an incredible way to reach out to the world because music is universal and speaks to people in a way that other things don't."
The film also spawned the Music in Exile fund and scholarship, supported by Index on Censorship, who have supported They Will Have to Kill Us First from its very beginning.
Index on Censorship have been championing censored artists, journalists and public officials since the 1970s and now with the Music in Exile fund, they are looking to help more musicians who have had their voices taken away.
The programme provides sponsorship to artists and recently took on its first fellow, Serge Bambara, or Smockey, a Burkinabe hip-hop artist, producer and activist.
"Smockey has had a very difficult life with his government in Burkina Faso; his studio was firebombed because he speaks out quite openly about governmental processes.
"Index on Censorship are giving him a year-long mentor programme ensuring that basically anything he needs, we and Index are going to help him get.
"If he needs help getting his studio rebuilt, we're going to do that. If he needs help getting a booking agent, we're going to do that. Whatever it is he needs, we're going to help him to get," Johanna said.
The programme is currently only taking one person a year, but as the fund grows and more and more money comes in, Johanna hopes that it will be able to expand and take on more musicians each year.
But Johanna insisted that the first thing to do to help is to go out and buy an album by a Malian artist, because if you buy the album, they will get paid and amplifies their voices.
Meanwhile, people across the world have been showing their support for the oppressed artists by donning temporary tattoos as part of the They Will Have to Kill Us First tattoo campaign to raise awareness.
Johanna particularly fell for the music of Songhoy Blues, the band that features heavily in the film and was particularly touched when the band chose to name their album Music in Exile after the film and project.
The band was seen touring the UK during the film, supporting Damon Albarn and signing their first record deal and, since then, they have gone from strength to strength.
"I'm head over heels in love with Songhoy Blues' album; I was there when they wrote it and when they recorded it and when they were performing it for the first time. It was so much a part of my life that, for me, that album will always be in my heart.
"I don't know a single person who has listened to that album who hasn't then fallen in love with it – it appeals to everybody," said Johanna.
The film wraps up with artist Khaira Arby organising and playing the first concert to take place in Timbuktu for years in the face of the continuing threat from the Islamists, during which Disco, who is playing at the gig, gives an impassioned speech to a captivated, joyous audience.
Disco's words echo the spirit of unity that Mali so desperately needs, the unity that is denied to them by the continuing disparity between the opposing factions and the terror of the Islamist militants.
"We are one. White, black, red, we are all the same. Whether you like it or not, that's the way it is," she says.
Though Mali remains in a state of instability and trouble, the bravery of the people and the slow return of music provides a glimmer of hope for the future, something that Mali desperately needs.
They Will Have to Kill Us First will play at Band on the Wall on Thursday 14th July.