Top street artists behind some of Manchester's most recognised graffiti will compete in public for the first time ever at this year's underground art battle event, which is set to really 'raise the bar'.
These artists often do their work anonymously and under cover of darkness but for Art Battle V they will compete against each other and the clock at Hope Mill on Pollard Street.
Jon Macaulay, who organises the creative knockout competition with local artist Sophie McNeill, told this year's audiences to expect the unexpected.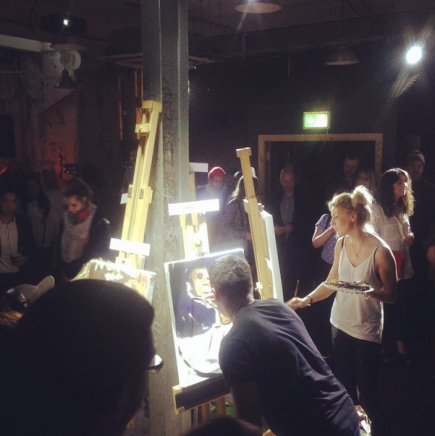 BRUSHES AT THE READY! Artists will compete against each other and the clock
He said: "Every Art Battle so far has been special but this one will surely raise the bar. Where else are you going to see a street artist competing live with a tattoo artist?
"You never know what you're going to see emerge before your very eyes. At Art Battle, you can expect the unexpected."
John and Sophie have always wanted to include street artists in the event but, despite Art Battle never being held in the same venue, the indoor spots used so far meant spray paint was forbidden.
However the AWOL Studios The Engine Room at Hope Mill – a grade II listed warehouse with a 400-strong capacity – right in the heart of Manchester offers both indoor and outdoor battle zones.
"We always wanted to include street artists at Art Battle, but the indoor venues meant we couldn't allow the use of aerosols," John said.
"We'd been looking at suitable locations for two years before finding out about this one – it's a hidden gem and suits Art Battle's broad range of artists perfectly."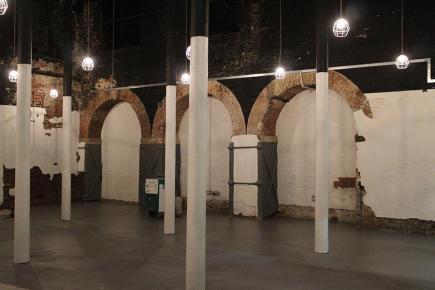 THE ENGINE ROOM: The Hope Mill venue will provide indoor and outdoor battle grounds
Inside easels will be set up 'in the round', and a host of sketching, acrylic and tattoo artists – even a blindfolded painter – will create original pieces in just 30 minutes.
And outside the audience will get a rare insight into the creative process of the city's finest street artists, unmasked as the craft works of art for all to see.
There will also be a licensed bar, street food and DJs along with a few special surprises like a car being spray-painted on site, which should add to Art Battle V's festival feel.
Refereeing the final Art Battle Manchester of 2015, XFM DJ Hattie Pearson will oversee proceedings whilst the audience themselves become the critics, casting their votes via ballot box for an overall winner of The Golden Paintbrush award.
The artwork will be placed under the hammer in a silent charity auction with the proceeds split between the artists themselves and local charity Forever Manchester which helps to strengthen and enrich local communities by inspiring people to do extraordinary creative things together.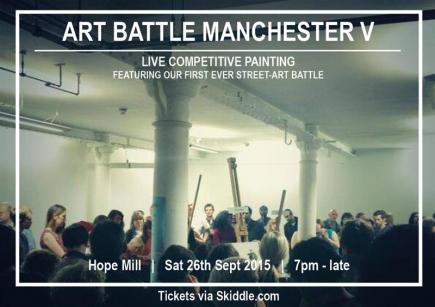 MASTERPIECES FOR THE MASSES: Art Battle remain independent to bring art appreciation to everyone
Remaining staunchly independent despite high demand with each of the previous battles in music venues and theatres having sold out, Art Battle's aim of bringing art appreciation to the masses continues.
Featuring creatives from all walks of life, some of whom have only just picked up a paintbrush, it goes to show that art really is limitless and masterpieces can emerge from the most unexpected of people and places.
Art Battle V will take place between 7pm-midnight – the first battle commences at 7:30pm – on Saturday September 26 at Hope Mill, Manchester, M4 7JA.
Tickets cost £10. To book your spot in the audience for this rare creative knockout competition, click here.