Hundreds headed to Manchester to be among the first gamers in the country to try Nintendo's latest console.
Nintendo declared that the Switch event at Manchester Central was at maximum capacity and controlled the publicity access until the launch.
Fans in Manchester along with Birmingham and London exclusively tried the hands-on opportunities for the public to play the Switch before its release earlier this month.
Games on show at the event included: Zelda: Breath of the Wild, Splatoon 2, Mario Kart 8 Deluxe, Arms, 1-2 Switch and Snipperclips.
MM took to the streets around Piccadilly to ask the gamers in the room what they thought about the Nintendo Switch.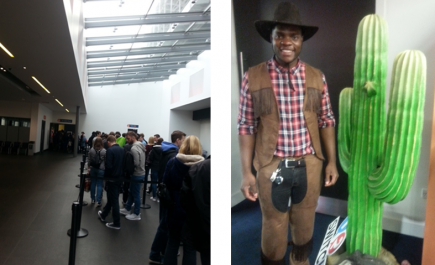 WIDER AUDIENCE: Eager gamers queued in their droves for Nintendo's latest device
AJ, 25, from Chorlton-cum-Hardy said: "The first ever console that I got for my birthday was a Nintendo, I had to see it.
"There are six members of the family here today aged between 13-33 years old and it caters to them all."
Joanne McArvie, 30, from town centre, said: "As a Wii U owner and social gamer. I enjoy fun games. It is a winner of an idea as a portable game boy.
"I feel like I haven't seen enough games to get it yet."
Simon, 32, with his six-year-old-daughter from Manchester, said: "I have pre-ordered it already, as it is a very child friendly."
Andy, Kay and Alfie, 24, 34, 20 respectively and also from Manchester, said: "We just wanted to try it again as I have already played it in London. Nintendo caters for a wider audience.
"It's about having fun. You can go from ninth into first.
"It is a brilliant aspect it being portable that I can take it with me, the best kind of follow up to the Nintendo Wii."
Mancunian David Maguire, with his six-year-old-son in tow, said: "Nintendo is all about nostalgia really. I have bought the Wii U and 3DS for son and pre-ordered this already.
"The game price is not a concern. Bigger concern is the games, Wii U was not that great, but I am hoping for better with the Switch."
Jonny (31) and Kim (29) from Leeds & Halifax said: " We love video games and Nintendo for many years. We like the games a lot more fun, different from other games.
"We want to get it sooner, but are looking at other consoles. He plays too much, but I am more of a casual gamer.
"We thought that it was so cool that it is portable to playing from TV to Work. Play many ways, high quality and so pretty."
Will you buy the Switch?
MM asked the gamers in the room and unsurprisingly after testing the majority of them said they will buy the Nintendo Switch.
This mirrors the Nintendo Switch sales which have shattered sales expectations, with the console rumored to have broken sales records in Japan and had strong sales in Europe and the US as well.
This has been reflected in Nintendo shares which had climbed 1.2% to a two-month high in Tokyo trade.