Get your teeth stuck into the haunting and erotic story of Bram Stoker's Dracula at Manchester's Contact Theatre next month.
The bloody romance is being resurrected by Mark Bruce's company of ten professional dancers, exploring choreographic styles ranging from the subtlety of classical etiquette to visceral contemporary dance.
This is the production's second UK tour and Mark, who wrote much of the score, explained the anticipation ahead of this year's shows.
He said: "I'm really excited about all the venues on this tour.
"We'll be able to stage Dracula in its full glory at all the venues which will be fantastic for us – and hopefully for the audience, most of whom will be seeing it for the first time."
But even if you saw it last year, there could be some subtle touches and a small extra scene that give the upcoming show a bit more bite.
"The new cast members will make it feel different, perhaps a little darker. I've had some time to reflect and push myself further into the heart of the piece," added Mark.
Dracula is a twisted tale of the infamous vampire Count, whose sinister and ruthless ambitions challenge the very fabric of Victorian society.
As his victims and opponents rally against him, they are forced to face the darkness and savagery within themselves.
It is a story that has been the source of enduring appeal for over a century, originally published as a novel by Irish author Bram Stoker in 1897.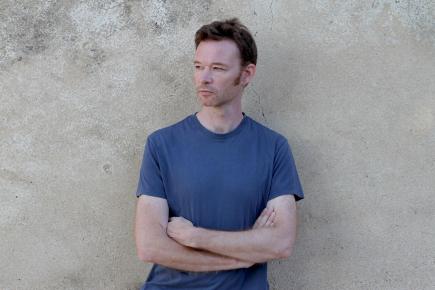 RAISING THE DEAD: Mark Bruce has brought Dracula to the stage (©Duncan Crow with thanks)
Mark shed some light on why he thinks the Victorian vamp still lures people in after all this time – and it is not just his hypnotic glare.
He said: "Bram Stoker's story has an elusive magic which taps into our imagination and dreams.
"Dracula is a very strange novel and its flaws, or simple omissions, cause us to put ourselves inside the story.  All I did was try to capture that magic and it seems to have struck a chord with people.
"You'd probably have to analyse every section of it to work out why, but the fact remains that the story of Dracula gets under people's skin.  I think people identify with him, they find something of themselves in the character – perhaps there's something of the vampire in all of us. 
"I think it's also very much a product of its time, fascinated in what was prevalent in Victorian society such as the emergence of science and its effect on religion, foreign travel, people's fears and inhibitions, social taboos, the development of women's roles and much more."
The music accompanying Mark's dance interpretation of this enduring narrative is an eclectic mix from Bach and Mozart to Ligeti and Fred Frith combined with Mark's own guitar pieces.
He explained how, during the production, decisions on choreography and composition or choice of music bled into each other.
"The way all the dancers moved made me play in a certain way. Having a musical theme with the guitar gave me freedom to use varying music for other sections.  I wanted there to be a sense of classical music because it's set in the past," he added.
"I responded to Jonathan Goddard's movement as Dracula, hitting and bending the strings."
Jonathan, who plays the bloodsucker himself, was the first contemporary dancer to be nominated in the dance category of the South Bank Show / Times Newspaper Breakthrough Award.
He was also the first contemporary dancer to win the Critics Circle National Dance Award for Best Male Dancer and was nominated for an Olivier Award for Outstanding Achievement in Dance.
And Jonathan is not the only award winner behind the production.
The Mark Bruce Company was the winner of this year's South Bank Sky Arts Award for Dance, which came as a shock to Mark, who hadn't even prepared a speech.
He said: "We were up against some really big companies so when we won I was really surprised and very honoured. 
"I hadn't written a speech but was aware of trying to thank so many people and just wanted to speak succinctly – I'd seen enough ceremonies to know I didn't want to go on and on.
"I think the award has helped and probably in ways I haven't even realised yet. I really appreciated receiving it and felt it was honestly given and felt good about the whole production and cast and creative team."
Dracula will be at Contact on Oxford Road on October 10 and 11.
If you would kill for a ticket visit the Contact website here.
The production is just one of many events making up this year's Gothic Manchester Festival, which will celebrate the city's gothic architecture, goth bands, gothic events, gothic experts and its role in horror films such as The Living Dead at Manchester Morgue in the lead up to Halloween.
Gothic Manchester is brought to you by The Manchester Centre for Gothic Studies and The Institute of Humanities and Social Science Research at Manchester Metropolitan University.
Main image courtesy of Colin Hawkins with thanks