Tom Walker brought his eclectic mix of rock, soul and pop to a sold out O2 Ritz in what was a huge hometown gig.
The 26-year-old was raised in Manchester after being born in Glasgow, and brought his headline tour back to the city after stints supporting George Ezra, Jake Bugg and Maverick Sabre.
Upon arriving at 7pm for the gig, those who expected to just slide in were met with a queue of excited revellers bending from Whitworth Street and well up Oxford Road.
The queue showed the audience to be a diverse mix of people, from elderly couples to parents with young children – all of who had seemingly been braving the cold for a long time before the seven o'clock kick-off.
The action started with SODY as the opener, before eighteen-year-old Maisie Peters from Brighton took to the stage. She opened her set with the single In My Head from her upcoming EP, which is released on November 2.
The crowd were unfortunately not quite invested initially, giving her opening few songs a backing vocal of drunken chit chat.
Despite this, her stage presence was strong and the young singer didn't look at all out of place on the massive stage. Armed only with an acoustic guitar and her pianist Christina, she sang the crowd into silence.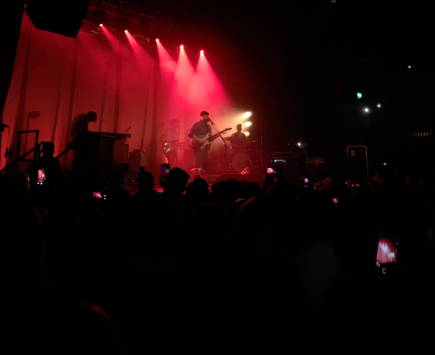 Before her last song, the teen promoted her EP, declaring it as "definitely above-average". It's a good job she chose singing and not sales…
This performance showcased that Maisie has a big future ahead of her, don't be surprised if you see her name in the charts in the not too distant future.
During the 35-minute wait for Walker to grace the stage, Dexys Midnight Runners hit Come on Eileen was played over the PA system, receiving the best crowd reaction of the night up to that point. It left those in attendance fully raring for Walker to come on as they belted out the 80s classic.
Walker's arrival didn't disappoint as he opened with Fly Away With Me, improvising some call and response that Freddie Mercury would have been proud of.
Walker soon declared: "Manchester, this is f*cking mental", before talking about his year-on-year rise from playing at the 700-person capacity Gorilla across the road to the 1,500-person space at the O2 Ritz.
Unfortunately as Walker carried on with the rest of his set the gig began to fall foul of the 21st century curse of gig-goers watching musicians through their phones, leaving the audience somewhat soulless at times.
The minimal stage design made it feel like an intimate performance however, with only hues of blue, red and purple to accompany Walker and his three-man band's soulful pop songs.
Four songs in Walker broke into his new single My Way from his upcoming album. From the second the song started the room temperature increased massively, turning the Grade II listed building into a sauna as revellers danced and sang along.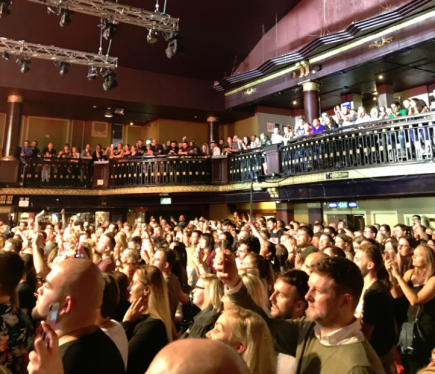 Walker later treated the audience to a brand new song which he exclusively performed live. He warmly dedicated the track to his nan, who was celebrating her 81st birthday.
The song gained huge applause, which only got louder when Walker brought his grandmother onto the stage and gave her flowers and chocolates – all before 1,500 people in attendance sang her happy birthday to her.
Walker further treated the audience with the first ever performance of his upcoming single Walk Alone with Rudimental, to be released on March 1, the same date as his album.
A few songs later Walker let the crowd take over on vocals for Just You and I, showcasing his talent for writing catchy singalong hooks.
Walker finished with the 2017 single Rapture, which concluded in a Hendrix-esque wall of sound as the band beat every inch of sound out of their instruments, showing there's more to the Glasgow-born singer than just those catchy hooks.
Not even a minute after leaving the group returned for an encore, which seemed entirely pointless as everyone knew Walker hadn't performed his biggest hit yet and was obviously going to come back.
Walker finished on his biggest song, the platinum single Leave a Light On.
This, as expected, received the best reaction of the whole night, with the crowd dancing along to the pulsating guitar and belting every word back at the powerhouse singer.