With a distinct lack of quality rock bands emerging from the current British music scene, it is a crime that the Glass Caves aren't more widely recognised.
The Pontefract four-piece have the the look (and a lot of hair, I might add), a dedicated core following and more importantly the tunes that warrant REGULAR airplay on major radio.
The band can often be seen busking from city to city – taking their audiences directly from the street – and it was no different this week when they pitched up in Manchester prior to their headline slot at the 500-capacity Academy 3 venue on Saturday night.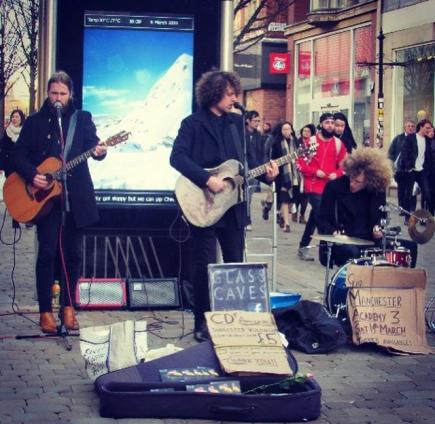 BUSKING: The band performing an acoustic set on Market Street
The Yorkshire quartet effortlessly tore through 2014's self-funded debut album Alive during a short but sweet 40-minute set, giving any new audience member a taste of what they needed to know.
Phil Collins' classic track In The Air Tonight provided an amusing entrance for the band, which was accompanied by a light show, before they immediately launched into explosive single Go – arguably their finest song to date.
Its pounding rhythm, intricate guitar work and soaring vocals echo what you would imagine an English Queens of the Stone Age to sound like and set the tone for what was to come.
Frontman Matthew Hallas joked that it was a privilege to be playing to an audience of more than three people, but he can be proud that the band's fanbase is gradually increasing with the venue being upgraded from the 300-capacity Castle Hotel during their last visit to the city.
The band continued to plough through their setlist, with the undeniably catchy Driving Home followed by emotionally-charged new single Breaking Out.
They then toned the volume down for Match, a more subtle and atmospheric song that show the band can successfully accomplish quieter soundscapes as well as loud.
Penultimate song Why Stay received the best reception of the evening with its Kasabian-esque falsetto inspiring the crowd to bounce up and down, before Out Of Control brought proceedings to a close with a triumphant echo of applause.
It is yet to be seen whether the band will get their break and be catapulted to a higher status or remain a hidden gem among the underground scene.
But their collection of songs and undoubted potential mean it would be a crime to allow them to slip through the cracks of an industry that can be so often caught up with labels and manufactures artists that a humble hard-working four-piece can often go unnoticed.
Images courtesy of VentureAtGoodStock and hopey_101 via Instagram, with thanks.