Stepping out at Manchester Academy on Saturday evening wrapped in monochrome outfits and backlit with plush golds, you'd think Jungle are a band that don't seem short of an ego.
Yet as the seven-member machine embarked on an 80-minute blend of electro-soul and modern funk, you come to realise that they in fact might just be the real deal.
Rather than relying on an outspoken lead singer or a relentless social media presence, the Londoners are a creative collective that bask in each other's talents.
Of course co-founders Tom McFarland and Josh Lloyd-Watson stand centre stage as the two-pronged attack, but without fellow vocalists Rudi and Andro flanking either side, or the faultless backline of drummer George Dodd, guitarist Fraser MacColl and percussionist Dom Whalley, the duo's powers are limited.
Four years ago childhood pals Josh and Tom expanded the live band to a team of seven as they looked to avoid simply playing set after set from their laptops.
And as they appear on stage to a rapturous welcome before breaking into tropical stomper Smile, it already seems to have been an undeniably justified decision.
For all the power the band produce though, it's the unmistaken pitch of the four vocalists that make Jungle so damn danceable.
The arrangement of voices fit together like a Motown jigsaw set at times. 70s jiver Casio had the crowd looking around in awe as the effortless rendition sounded like the record was being played from behind the stage curtain. Rudi Salmon's solo was particularly mesmeric.
The group are masters at setting an easy-going mood that would better suit a lazy beach day than a student union, but nevertheless, they make it work. With ambient disco tracks like Beat 54 and Platoon oozing out into the room, its hard to spot anyone that's not dancing – even those up on the balcony are joining in.
But with all their umph, Jungle pack a punch even with their more slow burning tracks. Not many bands have breakup songs that can define a night, but with the room doused in red lighting, Lemonade Lake proved to be one of the biggest hitters of the set.
Throughout the night, Jungle's hits merged into one single groove with euphoric peaks and lung busting troughs, but one thing that never faltered was the group's effortless ability to put on a show.
The passion of the performers was engulfing, and was only really dwarfed by how well rehearsed and put together the show was. There was no frills or gimmicks, simply seven musicians performing as one singular, ergonomic entity.
The encore consisted of two of the band's biggest hits: every TV commercial's go-to soundtrack Busy Earnin, and the funky three-minute blast, Time.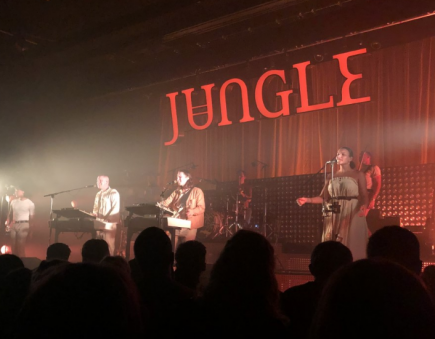 Jungle's sold-out return to Manchester (the city that gave them their first proper gig way back when) solidifies the band as one of Britain's finest.
Now with two albums behind them and a ferocious live reputation, their hectic summer schedule of festival dates gives you another chance to witness the elusive perfectionists in glorious flesh and bone. A chance we recommended not to pass up.