The final night of the Manchester International Film Festival saw the great and good receive much-deserved awards for their endeavours.
In keeping with the modern Manchester feel of the festival the awards themselves were giant yellow bees!
Designed by festival director Neil Jeram-Croft, 34, they were specially commissioned from Barnsley-based company Cutting Technologies.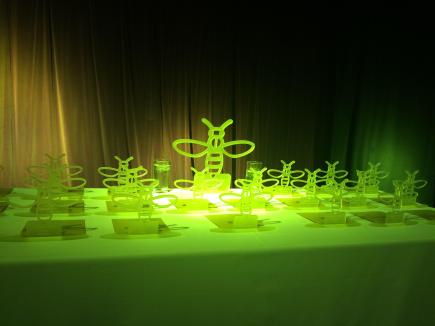 MANCHESTER BUZZ: The bee-shaped awards were designed by festival director Neil Jeram-Croft
But because we know it'd be tough to find the time to watch them all we've put together a list of our favourites.
So without further ado here, in no particular order, are MM's top five films of the festival.
Two Down
The wryly-funny story of an assassin whose hit goes awry and accidentally takes a hostage or two.
Caring for the Recently Deceased
A short zom-com about a town where the recently deceased arrive back home shortly after their funerals and become handy with a duster.
The Imago
Based on an Italian play written by the director, Emiliano Galigano (tk), The Imago is the theatrical and Kafkaesque (or is that Carrollesque?) story of Defendant 47 who must remember why he's in court in the first place.
Samma Som Du (Just Like You)
A powerful short exploring the actions of a young girl who is just hours from an operation to amputate her arm.
Nicht Mein Tag (Not My Day)
A German comedy? Yes! A buddy road trip where one of them is a criminal and the other is a tea total banker. Everything The Hangover should have been.
The full list of award winners is as follows:
Film of the Festival – Desert Cathedral
Best Dramatic Feature Film – Desert Cathedral
Best Dramatic Short – Everything will be OK
Best Director – Sergi Perez (The Long Way Home)
Best Screenplay – Beverly (Alexander Thomas)
Best Actress – Julia Pointner (Everything will be OK)
Best Actor – Borja Espinoser (El camí més llarg per tornar a casa – The Long Way Home)
Best Cinematography – Love is Now
Best Edit – Touch
Best UK Film – Two Down
Best Documentary Short – Dance of the People
Best Documentary Feature – American Native
Best Experimental Film – Sing the Sand into Pearls
Best Music Video – Vertiginous Hole
Best Student Film – Dark was the Night
Best Score – Is this the Real World
Staff Pick – Buskin' Blues
Audience Award – Caring for the Recently Deceased
Best International Film – Samma Som Du
Best Animation – Coyote and the Rock
Best Production – The Imago
Screenplay competition Winner – Zivot Za Vodou