Opera North's The Greek Passion brings Bohuslav Martinů's urgent plea for tolerance and compassion for the displaced and dispossessed to The Lowry, Salford.
Written 60 years ago, the original 'London' version is as urgently relevant now as it was then. 
As elders of a Greek village meet to hand out parts to the customary Passion play, a group of displaced people arrive seeking food and shelter. God demands an act of faith. Passion quickly turns to tragedy. 
"Each man and woman gradually returns to what he must do, good or evil," Martinu wrote. His last opera, based on Nikos Kazantzakis's Christ Recrucified, was a highly personal project for him as he himself had experience of life as a refugee. 
The Priest Grigoris played by Stephen Gadd, displays how juxtaposed humans can be. On one hand he is preaching the word of God, with the other driving out refugees from the village with fear and fallacy. Depicting the contrast of humanity; compassion and self-interest, religion and politics, love and selfishness. 
Katerina, played by Magdalena Molendowska, is the stand out performer of the production. Expressing compassion, vulnerability, love and sensuality, her voice fills the theatre, pulling on every heartstring.
Steven Page as the Captain does a fine job painting a picture with his words and bringing an almost meditative quality to the show.
Garry Walker conducts beautifully throughout, the music at times acting as a platform for the singers, at others heightening the emotions of the audience.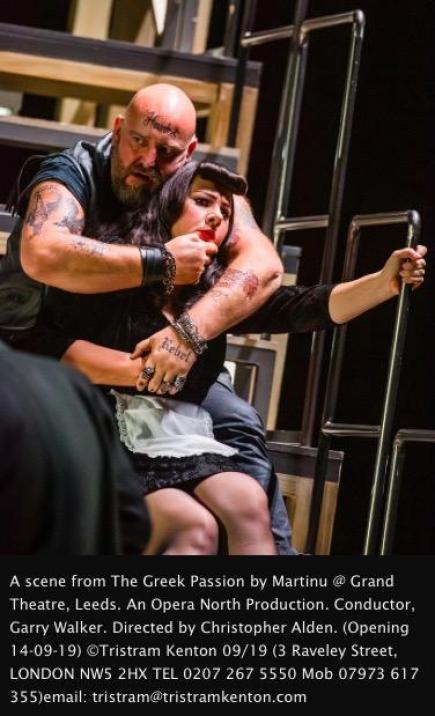 The show, while being emotive and topical, is also surprisingly light and humorous in parts. No mean feat given some of the hauntingly familiar scenes.
The simply staged production is evocative, at times literally spelling out what can be done to help refugees. It's perhaps anticlimactic, in part due to the dramatic ending before the interval, but the audience still left the theatre visibly emotional. 
In a time of polarised politics the arts can bring empathy to humanity in a time where it is much needed. Arousing this feeling in the audience, as this show so effectively does, is a first step towards real action being taken. 
This may not be an obvious choice for someone who has not been to an opera before, but it is sung in English and with the relevance to the refugee crisis currently going on, Opera North's The Greek Passion is something I would highly recommend.