Elizabeth Debicki has been revealed as the next person to portray Princess Diana in hit Netflix series The Crown.
The Aussie actress will join Imelda Staunton and Lesley Manville as Queen Elizabeth II and Princess Margaret respectively to recreate the royal family's lives during the 1990s and the early 2000s.
Taking on a turn-of-the-century Prince Philip will be Oscar-winner Jonathan Pryce, it was reported last week.
Their portrayals will mark the fifth and sixth and final – series of The Crown, which shows the passing of time and the ageing of the characters by replacing its cast entirely every two series.
Based on Peter Morgan's play The Audience, the drama debuted in 2016, beginning with Queen and Prince Philip's wedding in 1947. The third and most recent series dropped on Netflix in November, ending with the Queen's Silver Jubilee marking her 25 years as sovereign.
The fourth series will be released on Netflix later this year. Filming concluded in March, with production including transforming Manchester's Northern Quarter into New York City.
Here is how the cast has evolved over the course of the historical series.
Series one (1947 – 1955) and series two (1956 – 1964)
Our introduction to The Crown takes us through the death of King George VI and Elizabeth's subsequent coronation aged 27, her dealings with prime minister Winston Churchill and her sister Princess Margaret's love affair with Peter Townsend.
Series two sees the family deal with world crises and scandal, with appearances from the Kennedys and royal critic Lord Altrincham.
Queen Elizabeth II – Claire Foy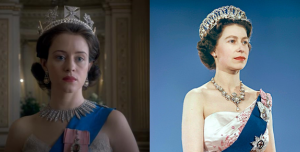 Netflix via YouTube / Wikimedia Commons
Stockport-born actress Claire Foy was the first to take on the lead role as Queen Elizabeth, as the young royal is suddenly thrust into being sovereign to millions of people across the globe.
Speaking on preparing for the role, Foy said: "You sort of have to forget everything that you know or your preconceived ideas that you had."
Foy noted that having grown up with the royal family, as we all have, "it's a very odd thing to then approach them as human beings."
Prince Philip – Matt Smith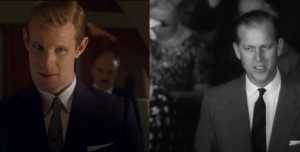 Netflix via YouTube / British Pathé via YouTube
When the series begins, Philip Mountbatten is a navy serviceman with roots in the Greek and Danish royal families. Eleventh Doctor Matt Smith emulates the prince learning to live in his wife's shadow, as she becomes one of the most famous women in the world.
Princess Margaret – Vanessa Kirby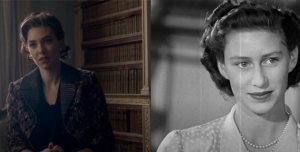 Netflix via YouTube / HISTORY – Australia and NZ via YouTube
Vanessa Kirby was chosen to be the first to depict the late royal. Famously the more thrill-seeking of the sisters, Margaret's love life takes focus in series one and two, first with her heartbreak over not being permitted to wed older divorcee Pete Townsend, and later with her marriage to photographer Anthony Armstrong-Jones.
 Winston Churchill – John Lithgow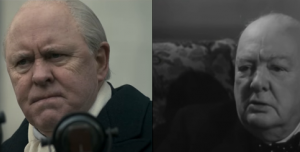 Netflix via YouTube / British Pathé via YouTube
Churchill is the first British prime minister of Elizabeth's reign, having been re-elected in 1951. He meets with the Queen on a weekly basis as he loses support and as she is encouraged to ask him to step down.
Series three (1964 – 1977) and series four (1977 – late 1980s/early 1990s)
The most recently-aired series shook up the show with a total shake-up of its cast. Travelling through the '60s and '70s, it sees the Windsors uncover a close advisor as a spy, watch the Apollo 11 moon landing and work with new Labour Party prime minister Harold Wilson. The series also delves into the personal lives and official duties of Elizabeth and Philip's eldest children Prince Charles and Princess Anne.
Set throughout the 1980s, series four will introduce Margaret Thatcher, Lady Diana Spencer and young Prince William and Prince Harry.
Queen Elizabeth II – Olivia Colman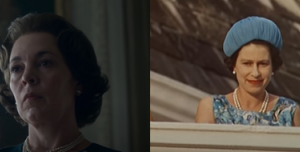 Netflix via YouTube / British Pathé via YouTube
Although Colman's physical resemblance to Elizabeth is perhaps less convincing than Foy's (in the end contact lenses were not used to switch Colman's dark brown eyes to blue), her portrayal of the Queen came off the back of her Oscar-winning spin as Elizabeth's distant relative Queen Anne in The Favourite, and was a favourite for the role. Series three challenges Elizabeth, as she is forced to choose how to act in the wake of the Aberfan mining disaster.
Prince Philip – Tobias Menzies

Netflix via YouTube / ThamesTV via YouTube
Series three jumps into Prince Philip's Greek past, as his mother Princess Alice travels from Athens to stay. Elsewhere, Philip is left in awe of the 1969 moon landing and invites astronauts to Buckingham Palace.
Princess Margaret – Helena Bonham Carter
 
Netflix via YouTube / The Royal Fashion Channel via YouTube
Bonham Carter morphs into Princess Margaret as her marriage to Anthony Armstrong-Jones begins to falter. The last episode of series three is centred around her new relationship with Roddy Llewellyn and her escape to her holiday home in Mustique. Series four will kick-off with the finalisation of her divorce.
Prince Charles – Josh O'Connor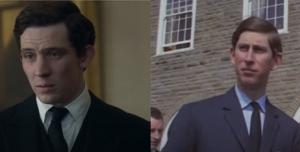 Netflix via YouTube / British Pathé via YouTube
With respect to Charles becoming Prince of Wales, Elizabeth removes him from Cambridge University temporarily and sends him to study Welsh in Aberystwyth, where he becomes sympathetic with the Welsh nationalism movement. Later, Charles meets future-wife Camilla.
Princess Anne – Erin Doherty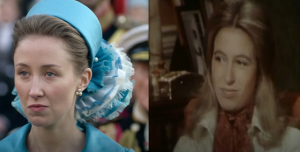 Netflix via YouTube / AP Archive via YouTube
Straight-talking riding-enthusiast Princess Anne's relationship with Army officer Andrew Parker-Bowles (eventual husband of Charles's girlfriend at the time, Camilla) is covered in series three.
Series five and six (1990s – early 2000s)
Originally, The Crown was supposed to end after its fifth series, but upon planning its storylines showrunners realised there was too much to put into just ten episodes. An extra series, however, does not mean we will be brought up to 2020 and see the Prince Andrew scandal and 'Megxit' re-enacted.
"To be clear, series six will not bring us any closer to present-day," Peter Morgan has said. "It will simply enable us to cover the same period in greater detail."
The final two outings of the award-winning programme will return after a year's break, with filming for the fifth set to begin next June. So far, only four cast members have been unveiled.
Queen Elizabeth II – Imelda Staunton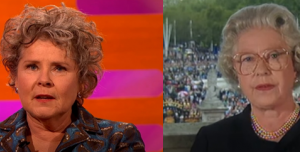 BBC America via YouTube / AP Archive via YouTube
The Crown's Queen Elizabeth will meet her conclusion with Imelda Staunton, who will undoubtedly add to the countless awards nominations she has amassed over her extensive stage and screen career as a result. During the 1990s, the Queen addressed the US Congress following the Gulf War, experienced a fire at Windsor Castle, was attacked with eggs by protestors in Dresden and faced criticism over her reclusion at Balmoral in the days after Princess Diana's death – events we can expect to be covered in the final two series.
Prince Philip – Jonathan Pryce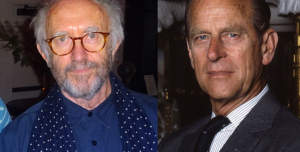 Greg2600 via Wikimedia Commons / Allan Warren via Wikimedia Commons
Prince Philip became a Lord in 1948, but was removed of this title under the House of Lords Act 1999. Pryce, who recently starred opposite Anthony Hopkins in The Two Popes, has previously worked with Staunton in the 1994 film Deadly Advice.
Princess Margaret – Lesley Manville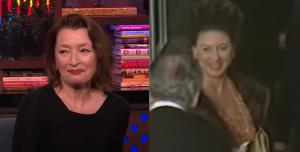 Watch What Happens Live with Andy Cohen via YouTube, ThamesTV via YouTube
After a lifetime of smoking and a lung operation six years earlier, Princess Margaret gave up cigarettes in 1991 but continued to drink heavily. In the following decade, she suffered pneumonia and strokes. It is unclear whether The Crown will finish before or after her death in 2002, but it is certain her health issues will be a key topic of the fifth and sixth series.
Lady Diana Spencer – Elizabeth Debicki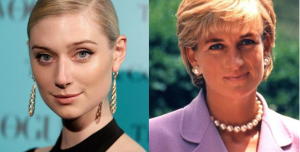 Kingpandaytom via Wikimedia Commons / John Mathew Smith via Wikimedia Commons
Until the release of series four later this year, we will remain in the dark of what The Crown's interpretation of the 'People's Princess' will look like. What we do know is that Debicki's Diana will see the breakdown of her marriage to Prince Charles, her struggles with media attention and the events leading to her tragic death in 1997.
Which is your favourite cast of Netflix's The Crown?