Comic Relief conducted a survey into the UK's sense of humour ahead of Red Nose Day, and found that 73% of Mancunians relied on humour to get through lockdown.
The survey showed 42% of people from Manchester classed witty jokes as their favourite form of humour, 38% found inappropriate jokes mistakenly made by their children the best way to laugh, and 29% enjoyed sarcasm the most.
As many as 78% of Mancunians rated themselves as having a good sense of humour, while 11% thought their children were the funniest people they knew.
Some even saw themselves as a bit of a comedian, with 52% claiming to be funnier than their partner.
Comic Relief's study on 2,000 UK adults also found Liverpudlians had the best sense of humour in the country, coming first in the poll.
This comes as no surprise, considering it is the birthplace of well known comedians John Bishop, Ken Dodd and Kenny Everett.
London, which has given us the likes of Rob Beckett, Jo Brand and Michael McIntyre, came second.
But the north of England and beyond, largely dominated the top five with Newcastle, Manchester and Glasgow in third, fourth and fifth respectively.
Rounding off the top 10 cities were Birmingham, Leeds, Edinburgh, Belfast and Cardiff, coming in sixth through to 10th.
Fatima Ribeiro, Executive Director of Fundraising and Creative, at Comic Relief, said: "Manchester is widely renowned for its northern charm and great sense of humour, so we were delighted to see it voted as one of the country's top five cities with the best sense of humour.
"At times, laughter really can be the best medicine.
 "Humour has helped so many of us over the past year and we hope this Red Nose Day will bring some moments of joy over the coming weeks as we build up to the big day."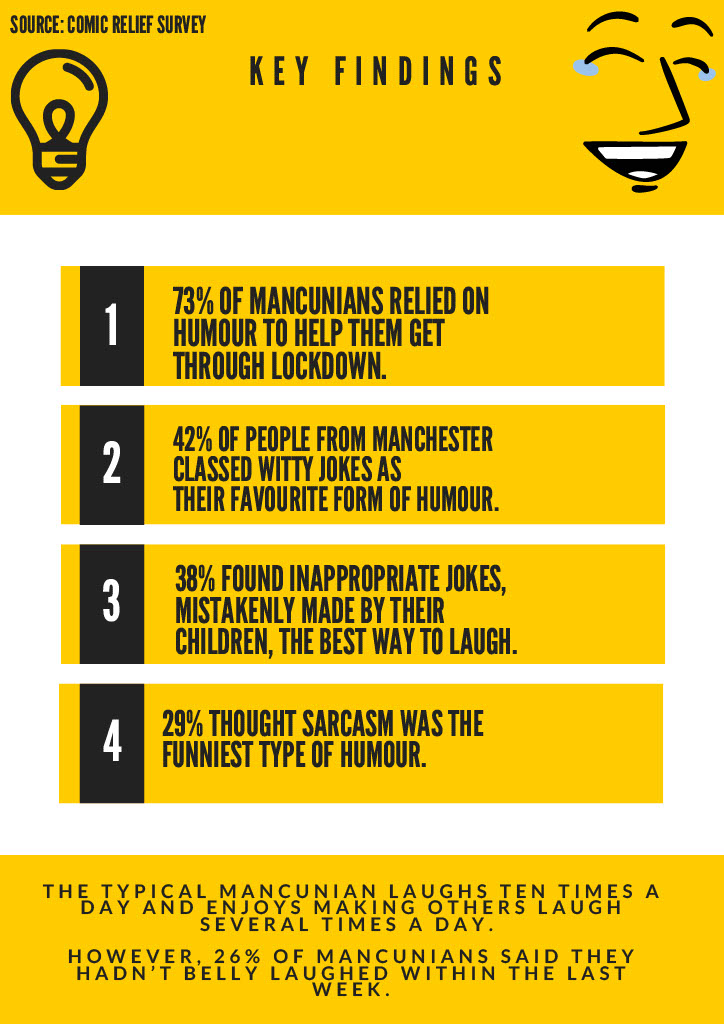 The survey also highlighted how much Mancunians enjoyed laughing, with the typical Manc laughing as much as ten times a day, whilst enjoying making others laugh several times a day.
However, 26% of Mancunians said they hadn't belly laughed within the last week.
Red Nose Day hopes to change that this year with their Share a Smile campaign, aiming to bring more joy to homes across the country.
The campaign asks people to write their favourite joke on the Comic Relief's downloadable poster and put it in their window to make people laugh.
Comic Relief co-founder, Lenny Henry, said: "We all need cheering up, so this year Red Nose Day will be a bit different.
"Of course we want to raise as much money as possible for people who really need it in the UK and around the world.
"But we also want to make you smile and bring you some laughter over the coming weeks."
As Covid-19 continues to impact people all over the world, there has never been a more important time to raise smiles and money for those who are struggling more than ever.
For 35 years, Comic Relief has shown how laugher can make a difference, raising over £1.6billion to help change millions of lives.
Comic Relief will support more than 250 organisations working across the UK this year, including Southway Housing Trust's peer support network for older residents in South Manchester.
The network is run by trained older people to develop activities to improve health, independence and wellbeing, helping to reduce social isolation.
Ms Ribeiro concluded: "We'd love to see everyone in Manchester get involved this year and there's lots of ways people can support if they feel able to, whether it's sharing a joke, wearing a Red Nose or watching the TV – donations will help vulnerable people in the UK and around the world, including people affected by the pandemic."
Red Nose Day will take place on Friday, March 19 and aims to unite the nation once again by spreading joy and humour.
To find out how to get involved visit www.comicrelief.com/funnyispower or follow @ComicRelief on social media for the latest on Red Nose Day.
Photo credit: Wikimedia Commons