It turns out you can soften up The Damned's notorious Captain Sensible before an interview with the mere mention of a drunken Dad, pizza and a pub.
MM spoke to Cap ahead of his new band The Jack Tars' gig at Manchester Club Academy on December 3, the supergroup comprising Sensible, Mike Peters of The Alarm, Chris Cheney of The Living End and Stray Cats' Slim Jim Phantom.
But before our chat begins I tell Cap my Dad once attempted to coax him out of a Pizza Hut and into a nearby watering hole after a gig a few years ago.
It's something the punk rock legend can't quite place – as expected – but it brings an early laugh out of the Balham-born guitarist.
He said: "That's really nice. I get a lot of people shouting at me as you could probably imagine but it's usually 'What the hell were you thinking with that Happy Talk (below) rubbish?'"
The term "Jack Tar" stems from the name given to sailors during the time of the British Empire, where they would use tar to waterproof their clothes ahead of voyages out to sea.
According to Sensible it was the Stray Cats' drummer that came up with the group's name and theming.
Cap said: "We started writing original songs and we thought we'd choose a proper name and Slim Jim's got a thing about all things nautical.
"He's got a really British sense of humour, he reads Viz comics and he likes Big Vern."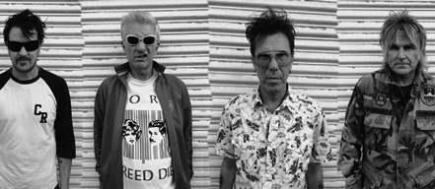 NAUTICAL BUT NICE: The Jack Tars' Slim Jim (middle right) influenced the band with his British sense of humour as fellow 'wacky characters' Cap (middle left), Mike Peters (far right) and Chris Cheney (far left) prepare to rock Manchester
Cap had known some of his bandmates prior to the formation of the group and most notably about inviting himself into his fellow musicians' dressing rooms.
He admitted: "I took full advantage of my notoriety and I would march into anyone's dressing room, straight up to the beer and demolish it, saying 'Gentlemen, I'm here!'
"You'd see people's faces drop but I'm generally a sociable bloke so I'd always invite myself onto people's stages."
He also spoke of jamming with The Stray Cats when they made the move across the pond from America.
"People don't realise that when they arrived in Britain they were penniless, had no record deal and were sleeping on people's floors.
"I knew them back in those days and we used to jam together, so we [The Jack Tars] are just mates who jump on stage and play each other's tunes."
The newly-formed band embarked on a tour of the West Coast of the States to test the waters, playing a string of hits from each of their respective bands as well as songs that helped define a generation.
The tour proved to be a success, with audiences of all ages clamouring to hear legends revisiting classic music, and it was decided that a UK tour was the next logical step for the band.
Cap said: "I'm playing songs that I've never thought I'd play on a guitar like Stray Cat Strut, Rumble in Brighton, Runaway Boy and 68 Guns.
"I just wanted to bring it over here and give people a laugh at Christmas."
The band's UK tour spans 10 separate dates, with their opening four gigs taking place all around the country, with Bristol, Cardiff, London and Newcastle all covered within five days.
However, what seems a busy schedule is par-for-the-course for the Captain and his fellow crew.
He said: "I've just never known any other lifestyle than being on the road and I can't believe my luck.
"You make as much noise as you want and you behave like a juvenile delinquent and all the beer's free.
"I get to sit in the back of the van with these wacky characters, swapping conspiracy theories and talking about what Big Vern would do. It's just marvellous."
When The Jack Tars weigh anchor in Manchester next month they return to one of the breeding grounds of punk and alternative music, with Cap all-to-familiar with the city.
He admitted: "We go way back. I remember the first gig I did in Manchester was supporting T-Rex at the Apollo in 1977 and that was a dream come true for a glam-rock fan like myself.
"I got to hang out with Marc Bolan who was really nice to us, a genuinely nice bloke and quite humble as well.
Captain Sensible and Marc Bolan, photo by Robert Ellis 1977 pic.twitter.com/QzMzlSYsJr

— PuNk-and-StuFF (@PunKandStuff) October 23, 2013
"I think he'd come out of the rock star phase and he really liked punk rock so I've got nothing but praise for him."
Cap also has good memories of The Russell Club and its enigmatic overseer, Tony Wilson, as well as running into the likes of Gordon the Moron, aka Graham Fellows, serving drinks amidst the chaos.
He said: "It was just general mayhem there. I used to go onto the stage absolutely plastered and I think the audience were in the same state.
"I've always had nothing but fond memories of Manchester and I always ended up on Curry Mile after playing."
In recent months much has been said about the current state of the city's DIY punk scene and its future, with concerns following the closures of gig venues such as the Roadhouse as well as event cancellations.
However the underground community has consistently rallied against the threat of demise, with the Manchester Punk Festival set to return for its second year in 2016. 
The Captain spoke about his close bonds with the punk rock movement and the importance of keeping it alive, some 40 years after it initially took off.
He said: "You're talking to an old fogey now; I guess it's somebody else's job nowadays!"
"I still live and breathe punk rock. I'm not an establishment 'toady', I still want to change the world and I'm still angry about stuff.
"There's nothing better than a thrashing drum kit, a cranked up guitar and an anti-establishment lyric with a sing-a-long melody. I think it's fucking great!"
And how did the good Captain sign off? Just as one would expect…
"Smash it up baby!"
For more information on The Jack Tars and their tour, visit: http://www.thejacktars.com/