English author, journalist and commentator Will Self took to the stage at The Lowry theatre last weekend to discuss his memoir, Will.
The memoir, published by Penguin, offers a frank look into Self's drug addiction and life as a young man in London in the 70s and 80s.
The engrossing conversation was led by Stuart Kelly, Scottish author and literary critic. One of the 2013 Man Booker Prize judges, Kelly expressed sincere regret that he had not been the judge the previous year when Will Self's novel, Umbrella, was shortlisted.
Introducing Self's memoir, Kelly said: "I loved this book but it frightened me and it saddened me. I genuinely wondered if Will was going to survive."
Kelly revealed that his brother used to take heroin and struggled to understand why. The eventual answer was that he simply enjoyed the experience. However while delving into the few potential positives of taking drugs, Self reiterated that this time of his life was "terrifying, actually terrifying."
Self's drug habit started from the age of 17 and lasted until his mid-20s.
"I remember being 25, 26 and walking around with a syringe full of blood, because it is connected to a vein, and knowing that if you push the plunger in you'll die of an overdose."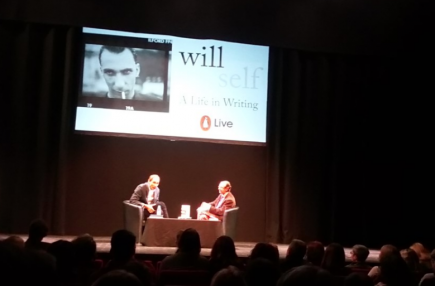 When Self read an excerpt from his memoir, two things stood out from the reading. Firstly that it was full of astonishing detail and dynamic prose, secondly that it was written in the third person.
Kelly opened the conversation on this point, commenting that while the likes of Julius Caesar used third person in an arrogant way, in comparison Self's use was humbling.
"It was too painful to dare write it in the first person," Self revealed.
"I felt considerable pain for my younger self. It is not fun being a junkie."
However Self added that while it's not fun, "it's often quite funny" to talk about. Self joked with the audience that without intoxication people of a certain age would have nothing to talk about.
On writing the memoir Self suggested life writing should be driven by feelings rather than events.
"The feelings you have about something 10, 20, 30 years ago are easily accessible to you – especially if you have character defects, like everyone," he said, with laughter from the audience.
Kelly and Self pondered on some philosophical ideas behind the memoir and personal identity, including philosopher Derek Parfit's concept that the past and present versions of yourself are not the same person. Self referred to the 'Will' in the memoir as a 'character' rather than himself throughout the talk.
Self said that he was not "a super rememberer" but his girlfriend at the time, who was the first to see extracts of his memoir, was. She also kept diaries and photos which helped with some of the fact-checking.  
The conversation arched into a wider conversation about the "heroin epidemic" of the 70s and 80s that Self argues was part of a subculture that is being forgotten.
Self also delved into other taboo subjects including paedophilia, in particular the liberal movement in the 70s, which he feels has been revised from our history.
He recounted seeing pro-paedophile leaflets being handed out by the Paedophile Information Exchange – a group of activists who wanted to abolish the age of consent in the 70s and early 80s.
"It's funny how people want to revise their memories of this period and their understanding of it." he said. "People lost the plot!"
Self told the audience that his brother, Jonathan Self, was a victim of sexual abuse during this period.
In spite of all the heaviness and weighted topics up for discussion Will Self's witty conversation and dashes of humour offered a lighter tone to the talk. 
Self compared the current use of data by tech companies to William Burroughs' quote on heroin: "It's the perfect product, you don't sell it to people, you sell people to it."
Though the memoir does discuss his drug addiction, he made it clear that it's not just about that. He also writes about his travels to places like Kashmir and offers interesting observations of daily life at the time.
"It wasn't all drugs," Self said humorously.
Will, by Will Self is available now.