Don't underestimate the vocal capabilities of 15,000 teenage girls. That's the first lesson.
These guys are crazy. Before I'd even seen any pictures of the fans, I knew they weren't going to be the quiet, unassuming type.
And they delivered – from jumpsuits embroidered with Taylor's face tessellated over and over in a kind of walking pop star Magic Eye puzzle book to groups of eight screaming girls holding individual neon letters spelling out 'Swifties'.
It's not the kind of gig where you can just sit back with a pint and take in the atmosphere. Right from the get go, the volume was cranked up to 11, the fairy lights were out in full force and the idea of sitting down? Not a chance.
And then, just when we wondered if we were ever going to see her, the Nashville songstress burst out of a trap door in an explosion of light, colour and sound, stopping for a brief moment amidst all the screams to mouth 'oh my God'.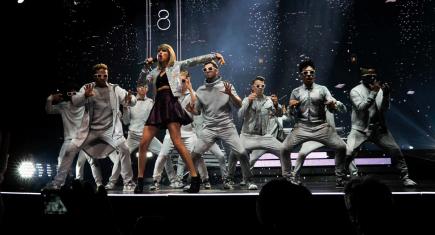 EXPLOSION OF LIGHT: Taylor burst onto the stage with Welcome to New York
From the punchy beginnings of Welcome to New York to the almost tribal, alt-pop rhythms of Out of the Woods, every song was a hit, and it all seemed a long distance from her early days as the good-girl country singer we remember.
Even Love Story, perhaps the most sickly sweet of all her songs, was given a generous dose of 1989 synth to see it transformed into a track more reminiscent of Eurthymics than Enya.
Taylor was accompanied every step of the way by a dozen all-male muscular backing dancers, with the concert taking on a particularly sensual tone during I Knew You Were Trouble as the guys abandoned their tops for a few heated scenes with Tay.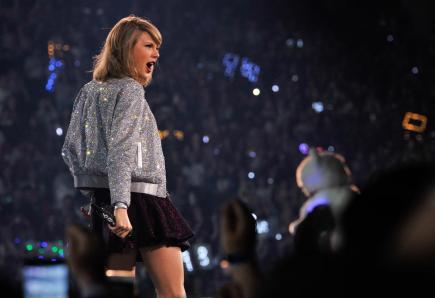 CONNECTION: Taylor bonded with her young fans on relationships, jealousy and friendship
Introducing many of her songs with a lengthy monologue on topics like relationships, jealousy and friendship, the seven-Grammy award winner took it upon herself to be a big sister figure to the little splinter groups of teens.
In a tribute to all her internet fans, she said: "It doesn't matter if you're in France or Germany, you're my silent friends, my internet friends. You teach me all the teenage words I should know."
There was almost a tear in her eye as she opened up about choosing the wrong friends in the past, and revealed to the audience her two rules for anyone who wants to be mates with her.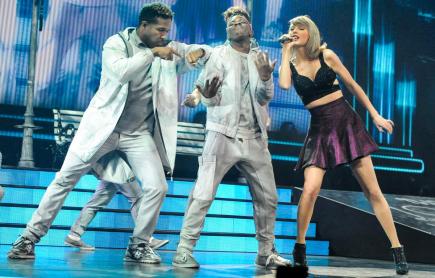 I LOVE THE INTERNET: The songstress said thank you to all her online fans
"I need you to be a bit like me, and to want to spend time with me," she said, in a outburst which from any other artist would seem egotistical, but with Taylor just seemed lovely.
"I love the internets, but there's also this dark side," she admitted, just before rising up into the audience on a platform for her rendition of Clean.
"We see the behind-the-scenes in our own lives, and then compare it to the good parts of other people's lives.
"So I say to you, when you start to compare yourself to other people, change the channel. We're really mean to ourselves.
"If there's one thing you remember from tonight, it's that you need to look into the mirror and tell yourself you are your own definition of beautiful.
"You are somebody who could be at this moment right now going through whatever you're going through, but you've got out of bed and put out an awesome outfit, and now we're all having the best time ever!
"So I'm here now with 15,000 of my friends!"
And, as she said it, almost like a film, I watched her fans connect. Like, truly connect, as couples, families and groups of friends all across the stadium looked across at each other and hugged.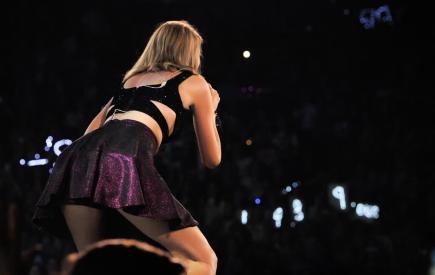 CHEEKY: The star's glittery outfit had all the girls looking on in awe
In between songs, we were treated to video clips from Taylor's celeb mates like Cara Delevingne, Haim and Selena Gomez, all sharing nuggets of feminist wisdom, insights into Taylor's life and why she's the best person in the world.
It did get a bit narcisstic at points.
But then she brought it back in a nod to all the foreign fans who'd travelled over to Manchester for the gig, and those who'd sacrificed more than just a Wednesday night.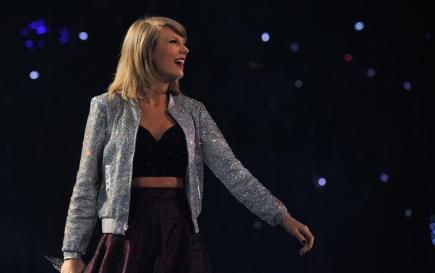 SHAKE IT OFF: 15,000 members of the audience took to their feet for the encore
"It's really amazing to know you want to travel, to get out your passport. We wouldn't be in this room together if we didn't have something in common," she said.
"I knew that Manchester was going to show up and blow all the other crowds away. And from the moment I stepped on stage tonight, you've done exactly that. Thank you!"
And then it was all over. Almost as soon as it had begun, the encore of Shake It Off happened, with 15,000-strong admirers taking to their feet to do just that.
With this being her first time back in the city in four years, let's just hope we don't have to wait as long again.
Images by Koray Erol