London-based female wrestling promotion Pro-Wrestling: EVE is set to make history this Sunday with their event Wrestle Queendom II in the historic York Hall in Bethnal Green.
Following their successful 2018 Wrestle Queendom, the Wrestle Queendom II card has some of the best female wrestlers from across the world in what's set to be the largest women's wrestling event to take place in Europe.
Starting in Brighton on Friday, with a small show in London on Saturday before the main event on Sunday, the promotion has made a weekend out of their shows.
Pro-Wrestling EVE was founded by Emily and Dann Read in 2010, who built the company in a time where change was needed in an industry.
It was a period where, no matter how hard they worked, women weren't being taken seriously at all and weren't being given opportunities.
After having their daughter, Emily and Dann wanted to make a change in a society.
They didn't want their daughter to think that, no matter how hard she works, because of her gender she isn't going to get the same opportunities as men.
They wanted somewhere that children of all ages and genders could see real-life female superheroes.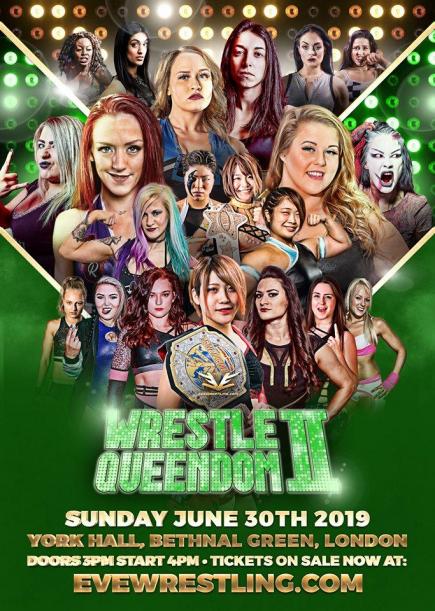 Speaking to Emily and Dann, they explained where the inspiration for the Wrestle Queendom show came from and how it stemmed from similar beliefs that formed the company.
Emily said: "We are very much about two things in EVE. Number one, in order to actually enact change, you have to make bold moves and you really to make people take notice.
"Number two, the confidence and knowledge in our wrestlers. They are women wrestlers, but they are also some of the best wrestlers on the planet and so why shouldn't they be running the best venues?
"Especially in terms of York Hall, it's known for hosting men's boxing. So it's really a case of saying, we'll go into the boys club and we'll show everyone we can put on the biggest women's wrestling event in Europe in history."
When asked what fans can expect from the show, Dann makes it clear that they are holding a show with some of the best wrestling in the world and doing it on a global scale.
He said: "We are bringing people from the states like Su Yung and Jordynne Grace in addition to people from Japan like those from Stardom and Kagetsu.
"When you factor those in with the best talent you have in Kay Lee Rae and Viper and Nina Samuels and the upcoming talent such as Roxxie and Night Shade, it really is a platform for showcasing the best in wrestling today and the best in wrestling tomorrow.
"This isn't just a UK show – it really is the best wrestling in the world."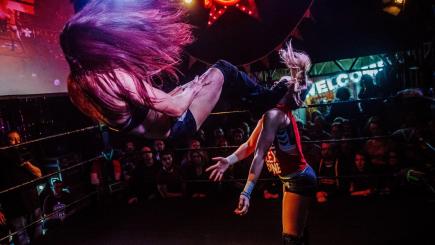 Looking at the card, it is impossible not to see what Dann is talking about. Combining so many different types of matches, wrestlers and styles, there is something for everybody whether you're a diehard wrestling fan or not.
To start the show, Wrestle Queendom II has some amazing singles matches.
Alongside a match between America's Roxxi and the 23-year-old Japanese veteran Arisa Hoshiki, there is the STARDOM Presentation Match between the amazing Kagetsu and an unknown opponent.
As Dann emphasised, Pro- Wrestling EVE prides itself of bringing the best talent in the world and, with the amount of talent from Japan's all female promotion Stardom, it's showing off two pioneering female promotions.
Traditional championship and tag matches are amazing to watch, however, sometimes a bit of unpredictability adds another layer to a wrestling show and EVE has done this perfectly.
In an 'Anything Goes', this match is perfect for two competitors. On the one side, we have Impact's 'Bloody Bride' Su Yung and then the equally chaotic Irish Session Moth Martina.
It seems silly to even try to imagine what this match is going to be like; it could be brutal, it could be funny or even a mixture of both.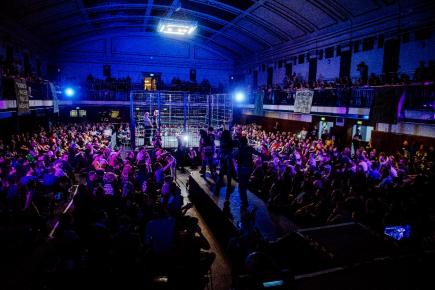 Another match on the card is the 'Grudge Match' between Jordynne Grace and Laura Di Matteo and the possibilities for what is going to happen in this match are endless.
Grace perfectly combines power, strength and grace whether wrestling men or women and doesn't let anyone intimidate her.
Di Matteo is also an extremely strong-willed woman with the ability to make any opponent weak at the knees.
Within both matches, there is no stand-out winner. No matter what happens, these matches are going to be intense and definitely have the chance to steal the show.
Like all wrestling shows, championships are on the line at the show with three title matches with a range of extremely talented women.
The first of three title matches is for the tag team championships.
With four extremely strong women across the match, there will be no shortage of action between the teams Medusa Complex (Mille McKenzie and Charli Evans) and WrestleFriends (Erin Angel and Jetta).
Those watching will see a range of holds from the submission skills of Millie McKenzie to the high flying of Erin Angel.
Both teams have great chemistry and, with the titles on the line, they will be putting everything on the line.  
As part of a co-main event, Utami Hayashishita is out to retain her EVE International Championship against two opponents after winning the title in Japan at the Stardom 8th Anniversary show.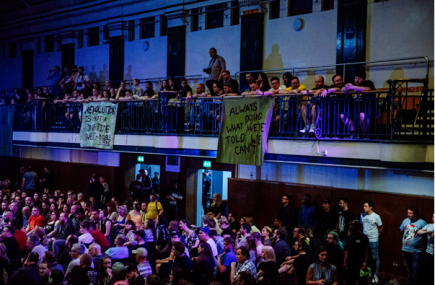 However, with two other opponents and being able to lose the title without being involved, she isn't in for an easy fight.
The versatile Jamie Hayter and former EVE champion Nina Samuels are going to be tough competition and show the world a range of styles and offence.
The second of the main events is for the EVE Championship where champion Kay Lee Ray defends her title against the challenger Viper.
With two of the top stars in British wrestling and the added history between the two, including over 50 matches between the two in single or tag competition, it only increases the stakes in this match.
Champion Kay Lee Ray is out to cement her legacy in EVE in her first reign as champion.
However, the domineering and dominant Viper will be out to spoil that fun and get her first reign as EVE champion to add to her already huge list of accomplishments.
As a wrestling fan, it's impossible not to look at this card and get very excited with the depth of the card and the variety of talent from across the world with different specialities.
Through Wrestle Queendom II, Pro- Wrestling EVE are showing why women's wrestling is at the top of its game and can hold its own in such a huge event after the success of last year's tournament.
Although last year's Wrestle Queendom was a huge success, Pro- Wrestling EVE are not taking it for granted and feeling satisfied with the past.
After the response from some wrestling fans was less than positive, believing that after one show they should be happy, it seems as if the promotion is only at the start of their journey.
Emily explains how she didn't want to settle for just one show compared to the brief WWE Wrestlemania moment this year that the company claimed to emphasise their 'women's revolution.'
Dann said: "For us, it's not a journey that has one stop, it's a long journey that we're on and very hard.
"You're up against people who say there isn't a problem when there is. For us, what are we going to do next? How are we going to make this bigger? How are we going to make this different from a creative standpoint?
"It's us doing our part in correcting the misjudgements of many. We were very happy with last year, but what we can't do is keep focusing on what we have done. It's a society thing."
The company prides itself on putting on shows accessible to everyone, whether young, old, a wrestling fan or not.
Rules are set in place before every show to allow everyone to enjoy the show, rules that are less about control but being a decent human being.
The main purpose of Pro- Wrestling EVE is to create a positive and safe environment to entertain people and Wrestle Queendom II is no exception.
When asked why people should attend Wrestle Queendom II, both Emily and Dann have very similar answers. If this doesn't persuade you to watch it, then nothing will.
Dan said: "If you're a wrestling fan, come and watch the best wrestling in the world. I wouldn't say that if I didn't genuinely think that.
"If you've never watched an EVE show before, put all your preconceptions of what you think women's wrestling is, and come watch this wrestling show."
Emily said: "Do you want to be wowed and entertained? Watch Wrestle Queendom II!"
*Wrestle Queendom II takes place on Sunday, June 30 at York Hall, Bethnal Green. You can buy tickets HERE.