In just nine short years, the Warehouse Project has become an institution, famous not only in Manchester, but around the UK and indeed, the world.
And while this year, the brainchild of Sacha Lord-Marchionne and Sam Kandel has scaled down, moving from the vast Victoria Warehouse back to the far more intimate Store St location, WHP's charismatic energy has not been lost.
By moving back to what Lord and Kandel call WHP's 'spiritual home' albeit possibly for one year only, they reiterated what makes Warehouse Project so special: no pretences, just a committed fan base and incredible music.
And this Friday, those three values came together in sensational style as Jamie Jones, co founder of music label Hot Creations arrived in the heart of Manchester, with some of his regular collaborators in tow.
After battling a massive queue stretching half way to Piccadilly Gardens (only a slight exaggeration), the night truly got under way as Richy Ahmed took to the decks in Room 1.
With the venue filling up rapidly, Ahmed seized on the growing excitement and delivered a sensational set bringing elements of disco and funk to his house music.
New single 'Sneaky Acid' was the highlight of an engaging and bold two hours and he left the stage at 1 am to rapturous cheers from the engrossed crowd.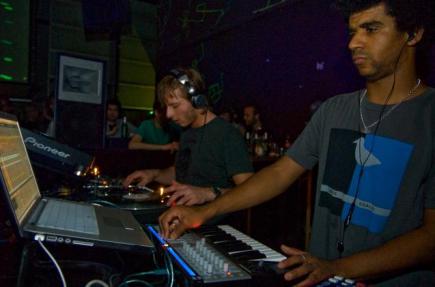 SUPERSTAR DJ: Jamie Jones takes to the decks 
As special guest Davide Squillace followed Ahmed in the main room, Patrick Topping took to the decks in the smaller but no less impressive second stage.
Coming off the back of a groundbreaking year, in which he was named best newcomer at the DJ awards and granted a residency in Ibiza, Topping showed exactly why he has experienced such a meteoric rise.
One of the best exponents of tech house working in the UK today, Topping's instantly recognisable basslines impressed everyone from veteran ravers to fresh-faced youths.
As well as showing off new track 'Too Much', Topping provided probably the best individual moment of the night as he played 'Forget', undoubtedly the house song of the summer.
With headline act Jamie Jones still to come, the night was shaping up to be a classic, but, while Jones was by no means a disappointment, his subtle and intimate set didn't quite provide the floor filling quality many expected.
Instead it fell to wAFF, another young DJ, mature beyond his years, to steal the show and close out the night.
His infectious set will certainly launch the East Yorkshire-born DJ onto bigger and better things and it would not be surprising to see him headlining the main stage at a WHP night in the not too distant future.
As 5am struck, the 1800-strong audience, weary, bleary-eyed but elated, emerged back onto the cold, dark Manchester streets, happy with a night that will live long in the memory.
Image courtesy of Merlijn Hoek, with thanks.