Pop queens The Saturdays have just announced a new single ahead of their Greatest Hits tour and record – but there's no game, set and match for this fabulous five-piece.
Mollie King and her four pals have faced split rumours since the announcement of their 20-track smash-hit collection, which will hit stores on August 11, with new tune What Are You Waiting For? arriving a day earlier.
But with Mollie juggling a modelling career, a clothing line and even appearance on ITV's The Cube, she has denied the girl band are bringing their seven-year hit-laden career to an end.
"We're definitely not splitting up – people keep asking us that!" the 27-year-old singer told MM.
"The record is just a celebration of everything we have achieved. We've just had our first number one and our 18th single after all."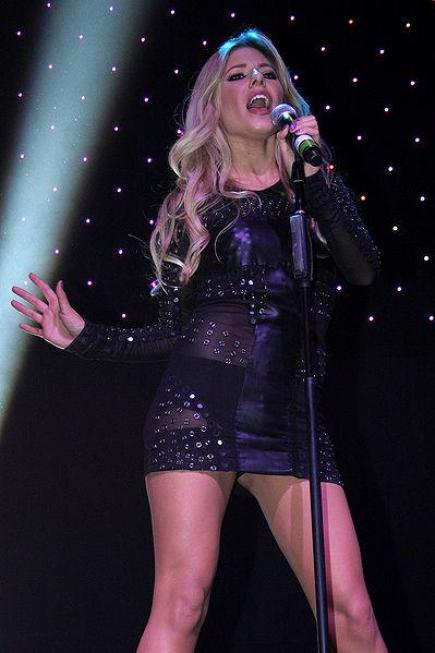 NOT GOING ANYWHERE: Mollie says The Saturdays are definitely not splitting up
Far from throwing in the towel the ladies are looking to return to the studio next year to record their fifth album and add to their five million worldwide sales.
The Saturdays hit the road in September for a whistle-stop Greatest Hits Live! UK tour where they will be treating fans to a nostalgic trip through their back catalogue.
From first single If This Is Love to biggest hit yet What About Us, which topped charts in March 2013, the ladies are promising fans a show that will hit new heights.
And Mollie insists that the chance to revisit her beloved trio like synth-filled favourite Notorious, Flo Rida collaboration Higher and sing-along anthem Ego is one she is relishing.
"It's great. It's going to be our biggest and best tour ever," said Mollie.
"I can't wait to do all the songs from the past. It's a proud moment for us."
The tour will also give Sats supporters a first chance to hear the three new tunes on the Greatest Hits record in their live form for the first time.
One of the fresh tracks is single What Are You Waiting For?, which reunites the girls with super producer squad Xenomania who helped fashion the sound of 2011 dancefloor favourite All Fired Up.
And Mollie is confident that the new number will make a similar splash in clubs across the country when it hits a day before the record.
"It's a real party anthem and it is definitely going to be a real summer smash!" said Mollie
More at home at Wembley Arena than Wimbledon, Mollie has had a brush with tennis this week  ahead of an appearance on Saturday's celebrity special of ITV's The Cube.
In an attempt to train up for the physical and mental teaser Mollie has been enlisting the help of her mum – who opted to hurl tennis balls at her daughter to whip her in to shape.
"It was unbelievable. I'm such a fan of the show, when I went on it was such a blast," said Mollie.
"And I've been training hard. My mum has been throwing tennis balls at me and toppling things over to help me out!"
It remains to be seen whether Mollie won or whether she trained in vein – but the pop star is looking forward to watch the airing of the show with bandmates Una Foden, Frankie Sandford, Vanessa White and Rochelle Humes in their hotel at the weekend.
Aside from making inroads in music and the small screen, Mollie – who signed with Next modelling agency last year – is also making moves in the fashion world.
"I have a collection out with Oasis at the moment too," said Mollie, who is undeterred by her busy schedule.
"It's nice to do everything all at the same time."
The Loved by Mollie clothing range includes of the star's top picks for the summer and hit the shelves in April.
The Saturdays will perform at the Manchester O2 Arena on September 14.
Main image courtesy of The Saturdays media, with thanks, inset picture courtesy of Liton Ali, with thanks.