Clad in a red unitard, with two space hoppers strategically positioned to create a bulbous and grotesque form, the Red Bastard turns heads wherever he goes.
A cackling, mischievous provocateur, the Bastard is in his element wreaking havoc and causing disorder.
A quick YouTube search will reveal multiple videos of the creature gyrating against unsuspecting members of the public, dragging them around on chairs, demanding their attention.
An invasive style is certainly at the heart of this act, the twisted creation of award-winning clown Eric Davis, but the Bastard is striving for more than laughs, a deeper reasoning lies behind his hands-on approach.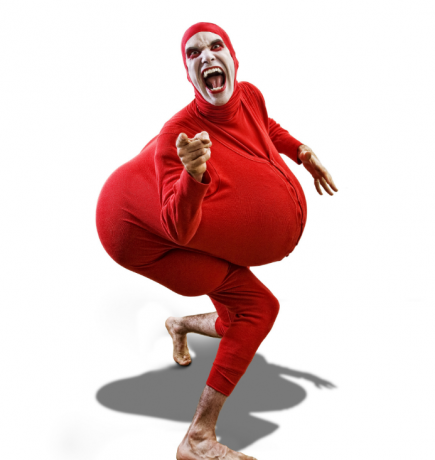 DANGEROUS & SEDUCTIVE COMEDY MONSTER: The Red Bastard will bring his surreal style of comedy to the Lowry on September 28
Davis, who brings his unique brand of surrealism to Salford when he plays the Lowry Arts Centre this evening, says he is looking to create an experience in which the crowd is shifted from a detached observational position to centre stage.
"The show is a form of provocation, Red Bastard is here to present you with information about yourself and ask the question 'What you are made of?' 'Who are you?' And this delivers very different results," he told MM.
"I don't want my audience to be sitting down, watching the show passively, so it's great to get them engaged early and enjoy the show together."
The Bastard definitely demands more of his audiences than most comics, but Davis stresses that this is an enjoyable and rewarding process.
"The show is, I hope, very funny and enjoyable for the audience, but it also allows for moments of deep introspection and sometimes people even make life-changing choices at the show."
Indeed this alternative form of therapy appears to work well for many, and Davis has witnessed how drastic life decisions are often taken and personal revelations are achieved at his shows.
"People have quit their jobs, proposed marriage. There was a guy in London who was in his 50s and had never told his father he loved him.
"When I asked why he said he was waiting for him to say it first. He called his father to tell him he loved him right there at the show and it was a wonderful moment for everyone involved."
In Davis' mind the Bastard is from an ancient tradition, and this is part of the reason audiences engage so well with him.
"I like to think of Red Bastard as a dangerous, seductive comedy monster.
"He is a sort of age old creature that has been around for longer than recorded history. He comes from the tradition of a trickster, and is a projection of something within all of us."
Davis says his unique look is was discovered through experimentation.
"I was taking a workshop, and the leader asked us to create a body for ourselves that felt more comfortable than our own bodies to move in.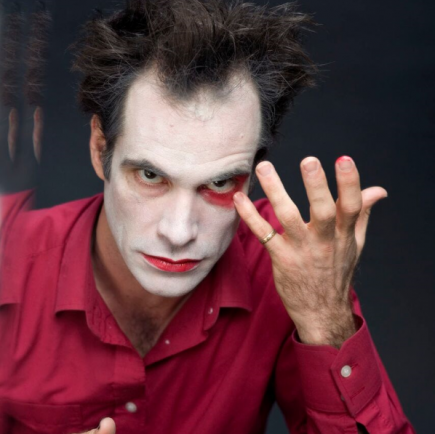 UNIQUE LOOK: Eric Davis' experimentation led to the creation of the Red Bastard
"As a tall angular person, I thought it would be fun if I could become voluptuous."
Red Bastard has received rave reviews, and has enjoyed two consecutive sell out seasons at the Edinburgh Fringe, but Davis continues to be excited at the prospect of introducing the character to a new audience.
"You never know what each audience is going to give you though, it's kinda like a blind date!"