The sequel to Charles Dickens' A Christmas Carol at the Hope Mill Theatre is full of charm, heart, and a great deal of joy.
An Aria Entertainment production, The Astonishing Times of Timothy Cratchit follows the plight of young Timothy from the home of his benefactor, Ebenezer Scrooge, to the theatrical madness of the great Victorian clown and comic, Joseph Grimaldi.
For those of you scratching your heads wondering why the name 'Timothy Cratchit' sounds familiar, he is Bob Cratchit's son, also known as 'Tiny Tim', from the original Charles Dickens tale.
It's difficult to imagine how a sequel could be as heart-warming as the original Christmas Carol tale. The production was a brave step into the unknown.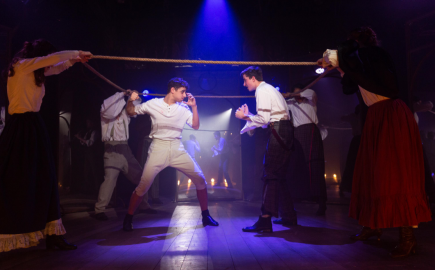 However, from the moment Timothy appears from behind the curtain and introduces himself, his optimism and youthful spirit shines through and becomes progressively infectious.
Nearly 16-years-old, Timothy is striving to find his place in the world, and Ryan Kopel's performance draws you in to his likable character and brilliantly captures the awkwardness of growing from boy to man.
Playwright Allan Knee opens the story in 1851 at London's Great Exhibition – a time of great innovation. Timothy laps up the excitement of new technologies and the new worlds this opens up to him.
Knee's other works include Hope Mill Theatre's hit musical and The Times Critic Pick Little Women in 2017.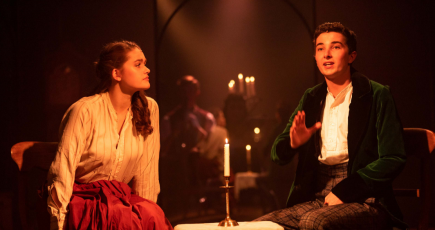 Timothy announces to Scrooge, played by Paul Greenwood, that he's leaving home, and a secure job as his business partner. This restlessness to find his own way in life makes him instantly relatable and becomes the driving force for the adventure of a lifetime.
Scrooge is the same character that we know and love from the classic tale. With Timothy's departure we see him retreat from the world and become the grouchy Scrooge from Christmas past. The strong bond between Ebenezer and Timothy is something that strikes a chord of emotion.
Helen Pearson plays Timothy's hilarious and no-nonsense landlady, Mrs Poole. Although her character doesn't have many lines she certainly makes a lasting impression. She also plays the comparably gentler and milder Mrs Linden who resides with Ebeneezer Scrooge.
Grimaldi, played by Michael Matus, is brilliant, lively, and melodramatic. Allan Knee decided to incorporate Grimaldi into the story after uncovering his biography written by Charles Dickens. Timothy meets Grimaldi and his travelling circus while looking for work and in spite of an unwelcome introduction strikes a bond with the curious characters.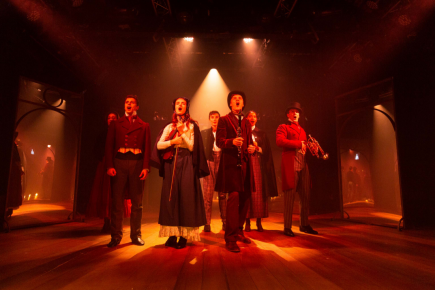 Despite being an original story it feels familiar. It captures a lively spirit and the characters, particularly Grimaldi, are larger than life. The production, choreography, and special effects create a fantastic spectacle, with clever use of see-through mirrors, shadows, and instruments played on stage.
From Victorian hall music, to the circus and a few contemporary influences the music is rich, emotive, and fun. It is musical theatre at its finest and a real festive treat.
The small theatre venue means the audience is close enough to see the actor's facial expressions which makes you feel more immersed in their story – something that you don't get in a larger venue.
The intimate venue is in a grade II listed building and former Cotton Mill in New Islington.
The theatre maintains the former industrial look with bare brickwork and the vintage decor offers a cosy retreat for a pre-theatre snack. The restaurant and bar serves a fantastic selection of beverages from pizza and beer to mince pies and mulled wine. The decor includes large ornate mirrors, pianos, and a large Christmas tree with a Venetian mask.
Hope Mill Theatre's inconspicuous exterior makes this a hidden gem of Manchester, and an award-winning one at that, having scooped Fringe Venue of The Year at The Stage awards in 2018.
A great alternative to your usual Christmas pantomime, we can't recommend seeing this delightful musical enough!
*The Astonishing Times of Timothy Cratchit is running at Hope Mill theatre until Sunday, December 29. You can buy tickets HERE.