A Manchester café is challenging foodies who go potty for pancakes to step up to the plate and conquer their belly-busting challenge this Pancake Day.
American-themed Moose Coffee is offering a 10,000-calorie food mountain as a one-off challenge with prizes for anyone who has the stomach to wolf their way through within the 30-minute time limit.
Weighing in at almost half a stone, the 18-inch Moose Pancake Mountain Challenge will be a sweet deal at £15.
It includes a stomach-churning six 10-inch Moose homemade American pancakes, 10 large glazed donuts, 10 quarter-pounder burgers, one litre of maple syrup and 27 rashers of streaky bacon all topped with cream, marshmallows and pecan nuts for good measure.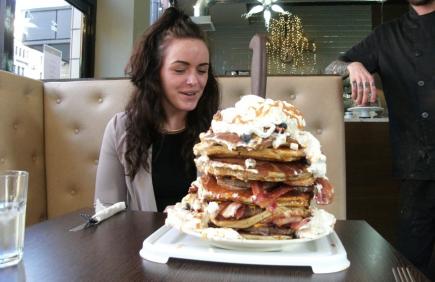 STOMACH-CHURNING: Pancake mountain has entered the building
MM reporter Nikki Moorhouse submitted 23 minutes into the challenge after making only a small dent in the sweet leviathan.
Regional Head Chef Ben Breet, the evil genius behind the creation, believes it is 'almost impossible' for anyone to finish.
"When I worked for (Northern Quarter burger bar) Almost Famous, we did a Christmas tree burger and that was all savoury. I've never seen anyone finish that," said Ben.
"So for anyone to finish that, which is all sweet, I think that's virtually impossible.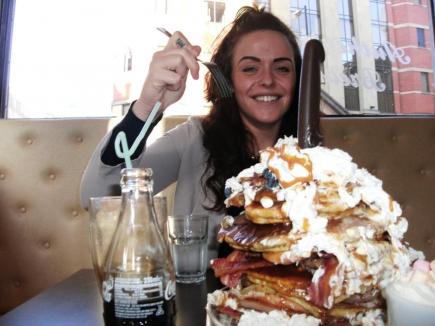 TUCKING IN: MM's Nikki Moorhouse starts out with great gusto
"And if someone does do it I'll give them a high five!"
Tough as it is to chomp your way through, the jumbo meal also proves to be something of a test for the cooking staff.
Ben explained: "It shuts the whole kitchen down. It uses every bit of cooking space that we have.
"As soon as people see it, they are going to want one. Tuesday is going to be incredible."
The café chain, owned by Nick van Breemen, has only one branch in Manchester and two in Liverpool but plans are afoot to expand nationally as pancakes prove to be a big hit with UK diners.
 "People just go mental for the pancakes. We have queues out the door every morning.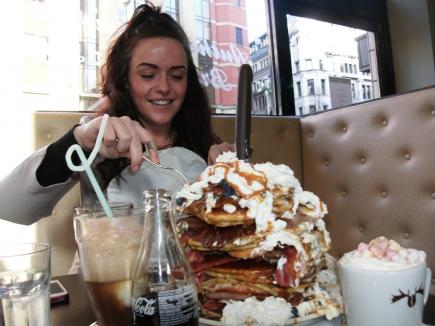 BRING IT ON! Nikki tucks in to the gigantic food mountain
"The North American and Canadian breakfast; no one's doing it, we're doing it really well and our shops are constantly busy so we must be doing something right."
The challenge, which is the first time Moose have run a 'Man v Food-style' event, is already a big winner with staff at the cafe. 
Six of them shared a test stack but still could not complete the gargantuan test.
"It puts a smile on everybody's face here," laughed Breet.
"Customers just go 'oh my God I want one' and if people are happy for it we could end up putting it on full time. Everyone likes a ridiculous challenge.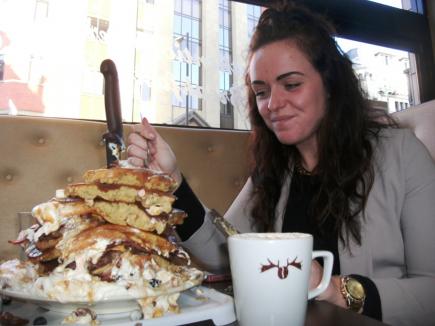 UNSURE: Just how much more can she eat?
"It could be a good sharer for six adrenaline junkies. It's absolutely insane."
With Ben given pretty much free reign to work on his creations, there could be more on the way as well as the holiday-themed menus the café has dabbled in before.
 "We trust them a lot and we let him loose in the kitchen. It's (the challenge) very big and very impressive," said owner's daughter Jessie van Breemen.
Ben agreed: "They'll give me something and say 'put something else together'.
"For example, with this they just said 'go crazy with pancakes and burgers' and this is what we came up with."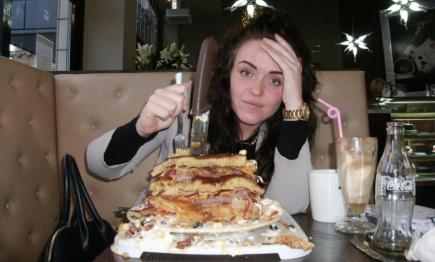 I SUBMIT! Nikki made a decent effort with the calorific challenge
The proceeds from the mammoth meal, which takes a team of three chefs up to 15 minutes to make, will be going to the Moose Foundation, Moose café's registered charity.
The foundation will raise money for various causes, but the earnings from this event will be going to Footsteps for Thomas, raising money for three-year-old Thomas Cropley from Liverpool, who suffers from Cerebral Palsy.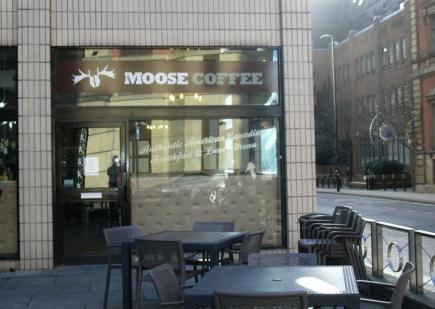 MAMMOTH MEAL: Moose Coffee café
"As well as £30-worth of gift vouchers and a Moose gift bag, there is a bigger price at stake: the respect of Manchester," Ben explained.
But Ben reckons that the prize could change depending on the outcome.
He joked: "What the prize is depends on how sick they are to be honest!"