One of the Northern Quarter's best-loved burger bars is boasting a new beer garden – and its grand opening is refusing to be dampened by the absence of the predicted heatwave.
Solita have opened a 60-seater beer garden in a bid to provide a space for people have their food and or drinks in the great outdoors this summer.
The restaurant received some funding from Paulaner brewery and their space is the first Paulaner beer garden in the UK.
Restaurant owner Franco said: "No one wants to be inside in a restaurant on a sunny day so we'd lose out in the summer heat.
"The Northern Quarter isn't a big outdoor drinking place so we thought if we can get a large outside space we can capitalise on that and brighten up what was once a bit of an eyesore."
Although it took 18 months sorting out planning permission and licensing, Franco claims the beer garden has been backed by local residents.
He explained that many feel it has breathed life into a corner of the Northern Quarter that had almost been forgotten.
Franco said: "We're really excited to see it used and we've just got to wait for the weather now!"
This should keep the crack heads off our new beer garden. pic.twitter.com/Df3ViOTvCB

— Solita Manchester (@SolitaNQ) July 4, 2014
The funders of the beer garden, Paulaner, are one of the most famous German brewers across the globe but are currently looking to break the UK.
Solita stock their wheat beer and their standard lager and the bevvies have been a real hit with customers.
Franco said: "You know what the Northern Quarter's like, everybody is a beer purist and all the beardy types are going mad that we're selling it already.
"We thought people would be coming down on the terrace, but we've had a lot of people through the door just for the beer we're selling."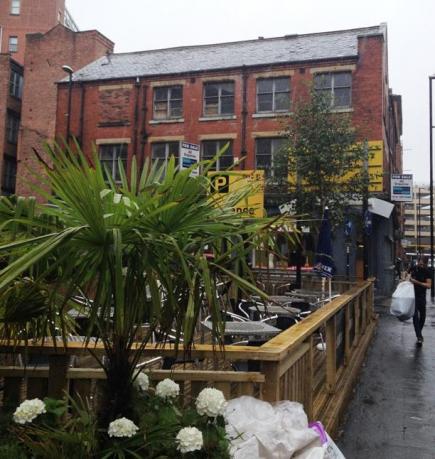 Solita, famous for its 'Big Manc burger' opened nearly two years ago and since then the popularity of the burger and cocktail joint has rocketed exponentially. 
The restaurant started on the ground floor, extended into the cellar but is still 'bursting at the seams'.
On weekends staff often have to tell diners to drink in other Northern quarter boozers until their table was ready, so the beer garden is an innovative response to the demand for space.
The beer garden will be heated during the winter and the restaurant will also be getting some canopies so it can be enjoyed throughout the year.
Flowers for the area have also been provided by David at the florist Frog who are based just next door to Solita.