Manchester diners were treated to a taste of Asia last night as exotic restaurant Tampopo became Tampop-up as part of its £30million redevelopment.
Hungry punters attended the grand opening in Exchange Square as the restaurant has temporarily taken up residency there.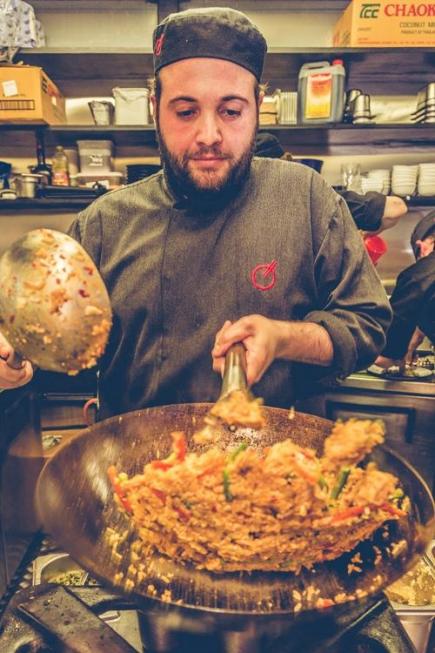 WOK ON! The head chef stirs up a treat
The pop-up is Tampopo's home during the redevelopment of the Corn Exchange into a 'food and drink emporium' which will host 13 independent restaurants and a hotel.
All 35 seats in the covered restaurant were taken as diners enjoyed a range of pan-Asian street food and cocktails last night.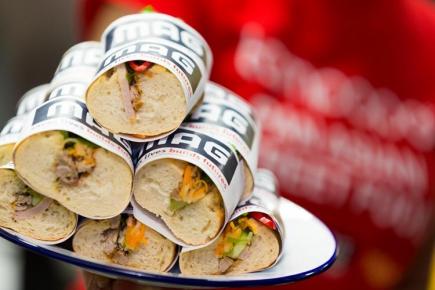 ROLL UP, ROLL UP! An example of some of the street cuisine on offer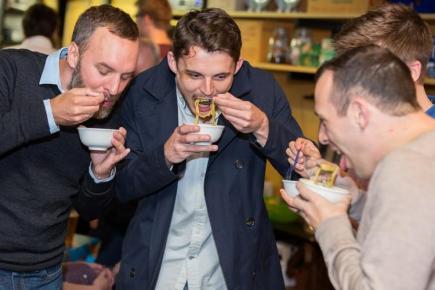 BOWLED OVER: The noodles are a hit at Tampop-up 
A DJ supplied laid back tunes as waitresses served dishes such as coriander and chilli, marinated chicken and a variety of rice and noodle dishes.
The pop-up features covered and al fresco dining areas, a grab-and-go option and a bar.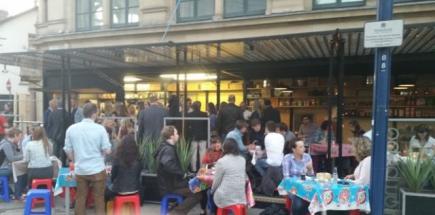 TOUCH OF ASIA: The pop-up restaurant is open in Exchange Square
Speaking in July, co-founder of Tampopo David Fox said: "We're really pleased with this arrangement made possible with the collaboration of the Corn Exchange landlord and Manchester City Council.
"Street food is at the centre of all things Tampopo anyway, so this latest incarnation for us feels really natural.
"Its allowing us add something new to the city for a few months, and keep trading while the works continue."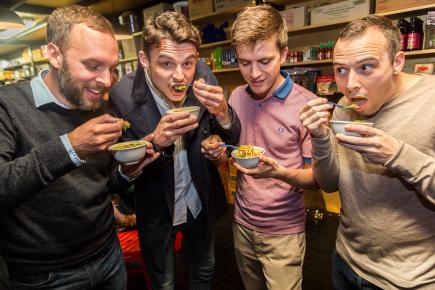 HONG KONG FOOD-IE: Four diners get a taste of the action
And diners have been impressed with the food outlet so far.
Kieran McCullough, 33, from Stockport, was impressed with the pop-up.
He said: "Tampopo is my achilles heel. The food tastes authentic and fresh. I came far for this event but it was worth it."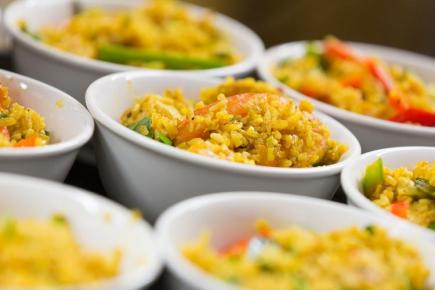 THE RICE STUFF: Diners loved their brush with asian street grub
Another punter Josh Robinson, 23, from Rochdale, also loved the range of food on offer for such a small place.
"It really is great, even if it is a bit cramped. But the food was fantastic and I'll be coming back again."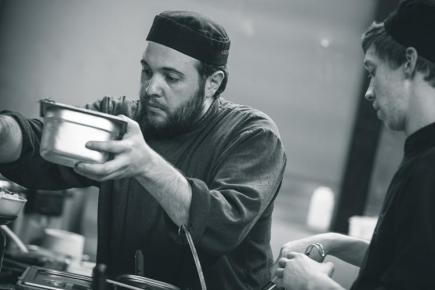 FOCUS: Cooking up more street treats
Other happy customers also took to social media to show their satisfaction.
Checking out the new #Tampopo pop up in #exchangesquare v nice. @ Exchange Square (Manchester) http://t.co/9MLAc8wSb9

— Kara McCabe (@karamccabe) September 9, 2014