Heaps of hard work, spoonfuls of determination and a generous sprinkling of kindness saw Forever Manchester's Caketober stir up a record breaking charitable donation last month.
There may only be a couple of days left, but we couldn't miss out on @Caketober, could we @4EVERManchester?! pic.twitter.com/QPxYabsiGJ

— Peppermint Soda (@Peppertweets) October 29, 2014
But they are still setting their sights on being bigger and better next year.
This year's event, in which companies across the city baked and sold hundreds of cakes all the while in fancy dress, raised a total of £4,635.67 in aid of the Manchester charity.
Definitely a contender for @Caketober Cake of the Month! @harringtonbks @4EVERManchester pic.twitter.com/4GNpUB5Pe8

— Sophie Bell (@SophieBellMcr) October 31, 2014
Caketober is regarded as a huge community effort and businesses from all over the area head down to Trafford's E-Word to sell their baked goodies.
MM spoke to the head of the event, Rachel Bell, about the camaraderie in businesses the event whips up.
She said: "It's just something fun, baking isn't hard and you don't have to put loads of money into it, it's just easy and something that people really enjoy, I mean, everyone loves cake!"
Absolutely fab @ANSGroup cakes supporting @4EVERManchester with @Caketober pic.twitter.com/jyRfpdLsNQ

— Jean Mills (@JeanieFM) October 31, 2014
This year's frosted fundraiser coincided with the final few weeks of BBC's Great British Bake Off.
Rachel believes this led to a wider range of participants as well as encouraging those who have never tried baking before to give it a go.
She said: "People will see it on TV and then really want to try it, I think it works well to have it on TV, as it gets in people's minds and many in the office were just baking randomly, bringing in cakes whenever they wanted."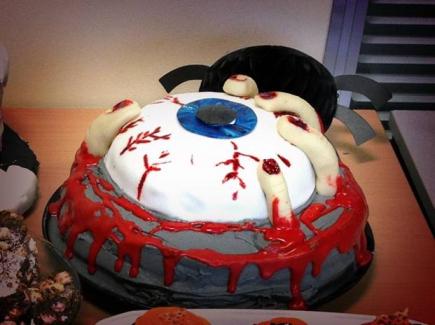 HERE'S LOOKIN AT YOU CAKE: All eyes were on this baking bonanza
This year's total eclipsed the previous year's of just over £3,000, and Rachel is now targeting a total of £6,000 for next year.
She thinks social media could also be the key towards getting more public attention.
"This year's done absolutely great, we had such a bigger presence on social media this year. People heard about it on Twitter and wanted to take part straight away," she said.
The team @Colemansctts doing @Caketober supporting @4EVERManchester So creative. pic.twitter.com/zX2zx23ud4

— Jean Mills (@JeanieFM) October 31, 2014
Caketober pioneered a twitter campaign this year where after receiving 100 packs of cake from The Co-op, they invited bakers to submit a vine where they had to eat as many cakes as possible within 6 seconds and share it with the hashtag #cakeface.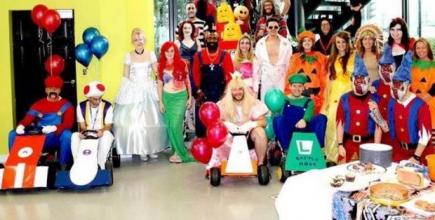 FRENCH FANCY: Just having colourful cakes wasn't enough
Melanie Hill, content officer for Forever Manchester, said: "Caketober is all about funding community groups and encouraging local people to do extraordinary things.
"The campaign was all about raising awareness as well as bringing all sets of different groups together that wouldn't normally talk together."
Love this photo we have been sent by CDL! 🙂 pic.twitter.com/YoUh5IP28Z

— Caketober (@Caketober) November 4, 2014
Over 30 Greater Manchester companies took part over the month, with 40 cakes baked just the E-Word office, and a minimum of 10 cakes baked from each business involved.
In the E-Word office over, 45 bags of sugar were used, showing the scale of the effort from just one company.
Some more of our creepy cakes for @Caketober @4EVERManchester @LvKingston pic.twitter.com/A7MKDgR1ih

— Colemans-ctts LLP (@Colemansctts) October 31, 2014