Jim Morgan is fanatical about pizza.
Starting out as a hobby, the 28-year-old former TV location researcher taught himself all about the art of the perfect dough from the school of YouTube.
When Jim eventually conceded to his obsession, along with partner Kate Wilson, 27, the two left their London-based jobs to bring a slice of Naples to Manchester.
In September this year, Rudy's Neapolitan Pizza opened on Ancoats' Cotton Street, with Jim in the kitchen and Kate as front of house.
Ancoats may formerly have been known as Little Italy, but speaking to MM, Jim – who has no personal Italian connection – said: "Pizza is a universal food. Everyone loves pizza.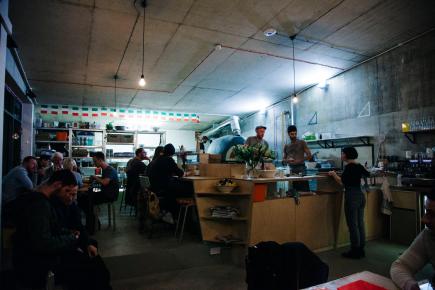 LITTLE ITALY: Rudy's is restoring Ancoats' Mediterranean heritage
"My parents set up a bakery which is quite well known for sourdough and artisan bread, so I suppose baking is in the family. But pizza is quite a strange thing as it is so specific."
Named after the couple's pet dog, everything about Rudy's pizzas is specific.
From the tomatoes that have to have exactly the right salt content, to the dozens of mozzarella balls sampled before the right one was chosen, it may take 60 seconds for each pizza to cook, but it has taken a lot longer for each one to be made.
Dough is made from scratch each night, and every effort is made to source local and fresh produce where possible.
First introducing itself to Manchester as a pop-up, Rudy's has not had to spend a penny on marketing, with the success of their grab-it-before-its-gone ventures attracting considerable hype in advance of the restaurant's September opening.
"There are so many different styles of pizza and this is just one from a region of Italy that does a pizza in a specific way," Jim explained.
"I think this is the best style and tasting pizza but others will say they prefer Roman pizza or American style pizza or New York.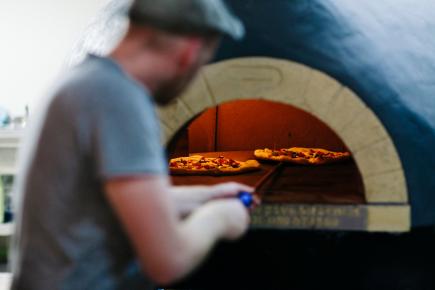 PIZZA IS QUITE STRANGE: But Jim insists the Neapolitan style is the original
"They're still very nice, they're just different. This is really the original, when people think of style."
The world's first industrial suburb, Ancoats once teemed with Italian immigrants, forming a home away from home community.
But following the area's rapid decline in the 1980s, and subsequent regeneration in the last decade, few would today associate the cobbled streets and former cotton mills with the Mediterranean.
In spite of obvious connections, Jim commented: "To be brutally honest, we both absolutely loved the area and if we could have chosen anywhere we would have chosen here, but it was the only place that was possible."
A recent spate of restaurant openings in Manchester has meant that the area's food scene is now finally taking off.
But when looking for a space, Jim and Kate were taken aback by the difficulty of securing anywhere.
"The city is not set up to support independents. Not in an unsupportive way, just in terms of the infrastructure," he said.
"The units that are available are too big.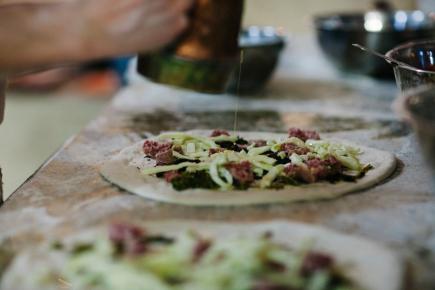 THE BEST: Rudy's pizzas only uses the finest local ingredients
"If they build new units they are always 3 or 4000sqft, which can only be given to a Tesco or a reputable restaurant, so there are extremely limited opportunities.
"I went to Cork recently and that place is just lined with tiny places. Every bit of floor space is a unit and most of them are independents.
"There are so many of them because there is choice and people are given the opportunity there to get something going.
"You look at the Northern Quarter, which is traditionally the independent part of Manchester. It is changing but it's still got small units.
"That's why they have got going because with small, cheap units you can experiment with ideas.
"You can't do that in a great big unit, and they wouldn't allow it as well. Nobody would take us because we're nobody. We haven't done anything before.
"I think it's really frustrating because I think it's what makes cities interesting, and I think there'd be so much more to Manchester if there was something to help."
Although the wave of mill conversions has done much to breathe new life into Ancoats, there is little there currently in terms of restaurants and culture.
It might have been a gamble then, to choose the area as a location, but Rudy's has acted as a trailblazer for the surrounding locale.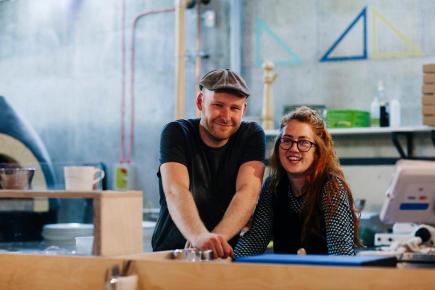 LABOUR OF LOVE: Jim and girlfriend Kate work long hours, but Rudy's is thriving
"Nobody really had come to this area so everyone has been waiting for something and now all of these units are filling up" he said.
"There are so many flats and so many people here that we were never worried about it."
And worry they need not, with demand for their pizzas being such that the kitchen manages to completely avoid wastage.
A true labour of love, Jim and Kate – along with dog Rudy – are in the restaurant each day from 9am to 11 at night.
And since its opening, Jim has lost two stone whilst still maintaining a two pizza a day diet.
Images courtesy of Paul Daly, with thanks