A Manchester steakhouse is celebrating the city's American connections with a brand new selection of burgers – so MM went down to sample the fare.
The Grill on the Alley has added the patties to its menu inspired by New York, Boston, Miami and Los Angeles to coincide with the announcement of long-haul flights to those cities, direct from Manchester Airport.
Launched earlier this month – somewhat predictably on the 4th of July – the 'United States of Amancunian' burgers will take pride of place alongside the eatery's usual fare for one month.
Manager Lee Smith said: "We wanted to give people a chance to get a taste for travel to these cities with a variation on this most American of comfort foods."
Hungry hack Gareth chose the Boston burger, on the surface just an average burger, revealing a disarming combination of gherkins, crispy bacon and the piece de resistance: prawns.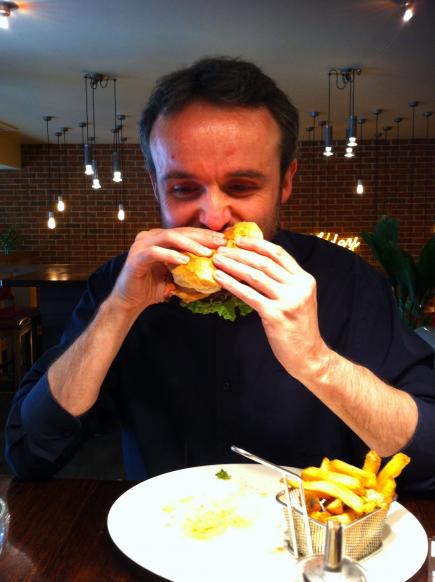 HUNGRY HACK: Gareth tucks into the Boston burger
Colleague Will, meanwhile, chose the Miami burger, boasting a combination of tangy tropical taste and fresh crunch of coleslaw for the perfect summer patty.
Head chef Craig Kirk explained the idea behind the burgers: "We just looked at what each individual city is famous for."
MM noted one glaring exception to the menu, however: a Mancunian burger!
Before we knew it we were off on a Gorton bleu menu of fantasy Manc burgers, bursting with Northern Quarter pounders, Piccadilly sauce and a Moss Side order of Bury Bury fries – that won't leave a Denton your wallet.  But mind you don't leave Crumpsall over the place. Eccles cakes for afters? 
"It might be something I have to look into," said Craig.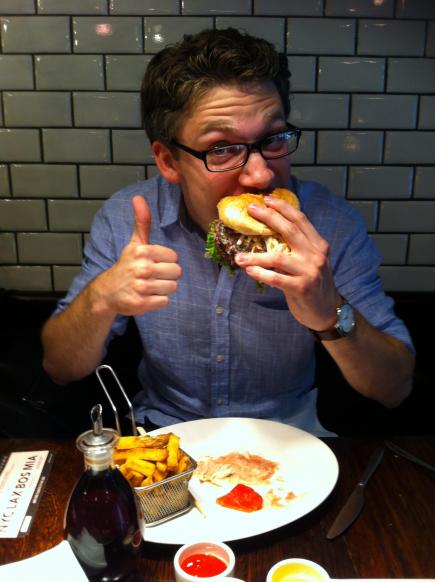 THUMBS UP: MM's Will Harris enjoyed his Miami burger
Starting this summer, Thomas Cook Airlines are increasing direct flights to New York JFK and Orlando, with new flights to Boston and Los Angeles starting in summer 2016.
Ben Todd of Thomas Cook Airlines says he's happy that what is exciting news for the airline is exciting news for Manchester.
"We hope to see not only more people going to the US but people coming from the US to see sports in Manchester and Liverpool," he said.
The Grill on the Alley is on 5 Ridgefield, Manchester, M2 6EG. Tel: 0161 833 3465. www.blackhouse.uk.com/grill-on-the-alley
For more information on the new long-haul flights visit www.thomascookairlines.com