With the schools shut and population on lockdown, parents and kids are trying to find a way to keep entertained without scrolling through their phone or watching the TV.
Baking is a great way to get children involved in the kitchen and excited about a cooking, as well as being an important life skill.
There is something deeply satisfying and comforting about pulling a cake or biscuits you have made out of the oven. A little comfort we could all use right now. 
The sweet, vanilla aroma that fills the kitchen will make staying at home seem much less of a bore.
To keep little hands busy for a while these recipes are quick, easy and are sure to put a smile on their face as well as yours.
The recipes are designed to use staple, long life ingredients such as margarine, sugar and flour, as well as other little bits you may have hidden in your cupboards.
The first recipe, store cupboard cookies – sometimes called kitchen sink cookies – are great for using whatever treats or snacks you have to hand, added to a basic cookie dough.
You can use a mixture of dried fruit, nuts, chocolate, your favourite cereal or any of your favourite snacks – I've even seen people add crisps to the mix!
A good mix of stuff is what you want, just remember to keep the extras to about 150g otherwise the cookies won't hold together too well.
Get your kids to mix it up with a wooden spoon or spatula, throw in whatever treats they like and roll into cookie dough balls.
The raw dough balls can be kept in the fridge for up to three days, so you can bake off when needed and enjoy at their best, fresh out the oven.
They can even be frozen for up to a month, ready for whenever you get a cookie craving (just give them a bit longer in the oven).
The second recipe, quick 'cup' cakes must be the quickest cake recipe in the world, they cook in a teacup in the microwave in under a minute!
It's a simple sponge to which you could add some chocolate chips or some dried fruit, or warm your favourite jam or some golden syrup and pour on top once cooked.
Store cupboard cookies (main picture above)
Makes 15
200g dairy-free margarine
200g caster sugar
3 tablespoons of non-dairy milk
3 tablespoons golden syrup (or maple syrup)
1 teaspoon vanilla extract
300g gluten free self-raising flour (or use ordinary self-raising flour)
100g vegan chocolate chips (or broken bits of a chocolate bar)
50g oats
150g mix of dried fruit, nuts, cereal etc.
In a decent sized bowl beat the margarine and sugar together until light and fluffy – about three minutes.
Add the milk, golden syrup and vanilla extract and beat well.
Add the flour and mix until thoroughly combined.
Then fold in the chocolate, oats and whatever treats you have chosen.
On a large baking tray lined with baking paper use an ice cream scoop to portion the dough on to the tray leaving plenty of space in between as the dough will spread as it cooks. Press down on top of the dough slightly, then cover and chill in the refrigerator for at least an hour or up to three days if you want to keep some back to bake off fresh.
Bake in a preheated oven at 170°C for around 18 minutes. They should be light brown around the edges and golden in the middle.
Leave to firm up for five minutes before transferring to a wire rack.
Quick 'cup' cakes
Makes two cakes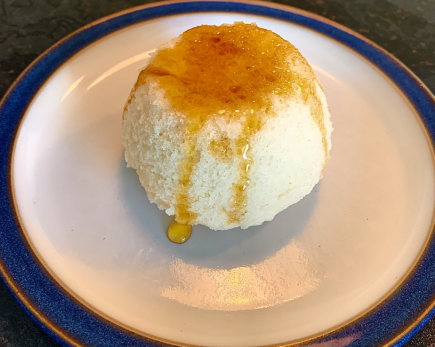 30g oil (olive or any light flavoured oil)
30g caster sugar
1/2 teaspoon vanilla extract
40ml non-dairy milk
90g gluten free self-raising flour (or use ordinary self-raising flour)
2 tablespoons of your chosen extra, such as, vegan chocolate chips, dried fruit, jam, golden syrup
Grease two teacups with a little oil.
In a bowl mix together the oil and sugar for a minute.
Add the vanilla, milk and mix until fully combined.
Add the flour and mix until you have a smooth batter. 
At this point you can fold through chocolate chips or dried fruit if you choose.
Divide the mix between the two cups and microwave one at a time for 45 seconds to a minute on high, or until puffed up and springy to the touch.
Leave to rest for a minute, turn out and at this point top with your warm jam or golden syrup if that's the direction you've chosen.
Serve with dairy free custard or ice cream if you like.