Celebrity chef Marco Pierre White has launched a 'Mo-burger' that will be served over Mo-vember to raise cash for testicular cancer and prostate cancer.
A pound will be donated to the men's health charity for every burger bought at Marco's New York Italian in MediaCityUK.
Next month, millions of men will put away the razors and grow a 'tache for the charity in a bid to beat the life-threatening diseases.
Francesco Merola, restaurant manager, said: "Movember has quite literally grown over the years to become one of the most recognisable and well supported men's health campaigns.
"We're really pleased to lend our support to the cause and want as many mo bros and mo sistas to order the Marco Mo-burger.
"If they fancy it, customers could also add a side of monion rings, garlic mo-shrooms or moyannaise. And to accompany the meal why not enjoy a lovely bottle of morlot, cos-mo-politan or mo-jito.
"Those who want a soft drink can of course go for a le-mo-nade or J2-mo!"
Marco's Mo-burger is a devilish 8oz steak monster with a stiff upper lip 'spicy' dressing, 'hairy' lettuce, melted cheese, tomato and mayonnaise in a brioche bun and served with seasoned paprika fries.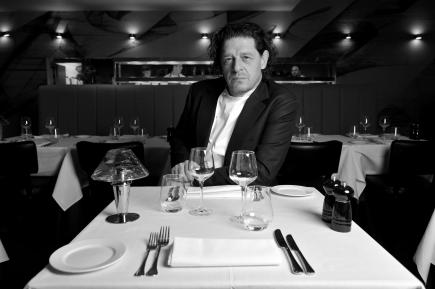 THE WHITE STUFF: Macro Pierre is getting involved in Movember
The eatery is hoping people will fork out for the mammoth meaty treat and pay into the Movember pot, adding to the coffers of the supported charity programmes.
Nick Taplin, Marco's business partner said: "Men are traditionally very reluctant to speak up and seek help about their health.
"The Movember campaign really has changed all of that and involving Marco's restaurants will, we hope, help raise the awareness further and add funds to help with the research and support programmes."
Since its conception in Melbourne, Australia 11 years ago, 4,027,688 men and women have done their bit for the cause, raising £346million.
Movember is now a truly global affair, with people from all corners of the world getting involved, with hairy top lips cropping up in all four corners of the earth.
"It's about having a bit of fun and doing something good to change the face of men's health and we can't wait to see customers sporting their own impressive moustaches and tucking in to Marco's very own Mo-burger," said restaurant boss Merola.
To reserve a table at Marco's New York Italian, MediaCityUK please call 0161 813 1040 or click here.