Foodie influences from across the pond have been a fabric of English culture since the mid-20th century, with an influx of large chains gracing the shores with mediocre and generic interpretations of American classics.
In more recent times, the industry has become rejuvenated, with independent American style food joints, dives and diners – whatever you want to call them – offering 'artisan' burgers, hot dogs and pizza.
Fast food is becoming a popular choice amongst English diners especially in the last couple of years. This trend exploded in the capital and filtered out into other major UK cities – Manchester is no exception.
Opening last February, Oxford Road's Kitchenette is part of Mud Crab Industries, a quirky concept that boasts five restaurants in the North of England – three in Manchester and its suburbs, one in Nottingham and one in Sheffield.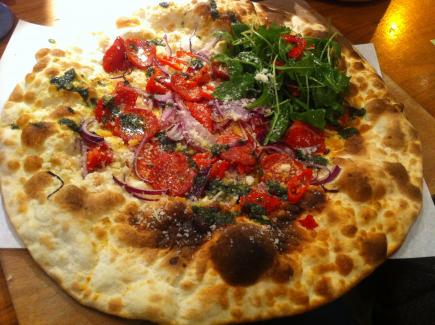 BASE vs. TOPPING: Kitchenette's pizza was a little lacking
Looking to be an eclectic alternative to a run of the mill burger bar or pizza place, they look to provide 'high class junk food'.
The menu is dotted with Asian influences, using ingredients unrecognisable from a fast food menu with sriracha (Thai hot sauce), teriyaki, kimchi and yuzu amongst a few.
As well as the standard pizzas and burgers the menu has a whole section of steamed buns along with main course specialities.
However, my friend and I stayed clear of the fusion dishes and went for more classic options. I opted for the Spicy Calabrese Sausage Pizza (£9.25).
A plethora of toppings accompanied the sausage – roasted red pepper, onion, roast garlic, red chilli, parmesan, tallegio and basil oil.
On paper it sounded promising, I could envisage a multitude of flavour but in delivery it didn't quite fit the bill. The main sensation was a hit of chilli and sweetness from red pepper and onion.
There was nowhere near enough topping to pizza ratio, with the pizza resembling more of a crisp bread, than a traditional pizza dough.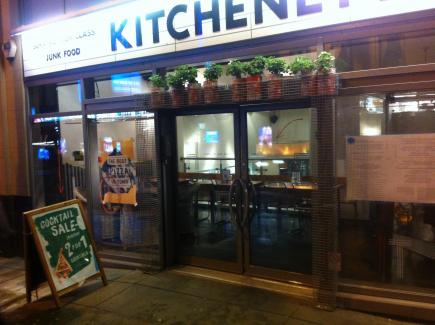 THE AMERICAN DREAM: Diner-style outlets have popped up all over the country
It was all a bit too subtle and there was not enough of the intense roast garlic and fragrant basil oil taste or the necessary salt from the tallegio and parmesan cheese, which would have elevated this dish.
My friend went for the Original Dirty Burger (£12) – a beef patty topped with pulled BBQ pork and cheese. The sweet, smoky pork along with salty cheese was a classic combination for any burger.
Barring the gimmicky serving style – to me it was comparable to a lasagne dish you would use at home, but my friend offered a less flattering description saying it resembled a washing up bowl and the mountain of fries – it was a pretty non-descript dish.
When it came to dessert, I was intrigued by the lemon and yuzu meringue pie with toasted rosewater marshmallow and pistachio crumb (£5.50).
But not being too keen on rosewater I went for a safer option and sampled the ice creams and sorbets (£3.50 for 2 scoops) – raspberry sorbet & peanut butter ice cream to be precise.
Served in a wafer cone, unfortunately the sorbet tasted synthetic, with no fresh raspberry flavour in sight. The child in me loved it, though sickly sweet almost resembling bubblegum.
The peanut butter ice cream was a lot better- smooth, creamy and nutty with a hint of salt, which just made it sweeter and more indulgent.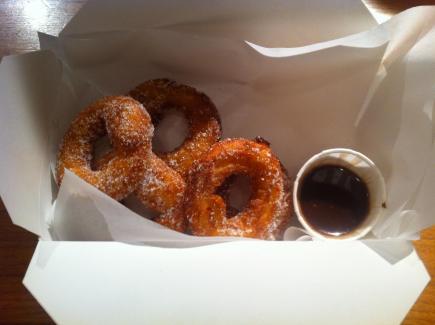 BITTER SWEET SYMPHONY: The doughnuts were a perfect balance of flavours
My dining partner had doughnuts with chocolate sauce (£4). Golden brown and crisp on the outside, soft, enriched dough on the inside – just what you expect.
The dough wasn't too sweet either, which made the bittersweet chocolate sauce a perfect accompaniment.
The promise of 'high class junk food' was not quite achieved but with the bill at just over £35 you couldn't deny that Kitchenette is superb value for money and one of the better cheap eats in Manchester.
Their fusion twist on typical fast food fast should leave them in good stead as this trend becomes more saturated and everyone seeks something a little bit different.