The opening date for what is probably Manchester's most eagerly awaited new restaurant has been revealed… and foodies don't have to wait long.
The Rabbit in the Moon – the brainchild of Gary Neville's GG Hospitaility group and Michelin-starred chef Michael O'Hare – will open its doors on the fifth and sixth floors of the Urbis building January 3.
O'Hare's protégé Luke Cockerill, will run The Rabbit In The Moon as head chef having worked under his tution since leaving college, and most recently worked at the Michelin-starred The Man Behind The Curtain, in Leeds.
Describing itself as a Space Age Asian restaurant, The Rabbit In The Moon will serve a 17 course tasting menu, including dishes such as Wagyu Nigiri and Edible Plum Stone.
O'Hare, said: "We've been very true to ourselves in designing the menu and although we aim to stand out, being noticed is not the most important thing to us.
We've been extremely precise in making sure every detail is executed to the highest level and myself, Luke and the rest of the team have had great fun in designing it.
"We've done away with tradition and used familiar flavours to help us create a 'Space Age Asian' theme Manchester hasn't seen before."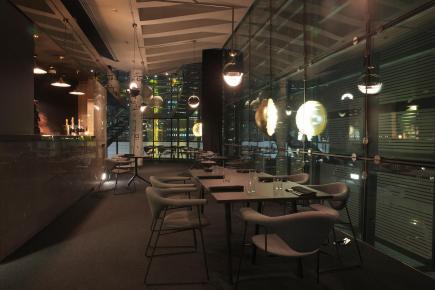 STUNNING: The restaurant promises to be unlike anything Manchester has seen before
The tasting menu will be complimented by a drinks offering curated by illustrious bartender Matt Whiley, owner of London based drinks company Fantastic Mr Fox.
The cocktails have been specifically designed to enhance dishes on the menu.
Neville, who co-owns GG Hospitality with fellow United legend Ryan Gigs, said: "The Rabbit in the Moon will be very different to anything Manchester has seen before.
"The team have created an unbelievable menu, which tastes phenomenal, and the cocktails Matt has created add a unique edge to Luke's dishes. It is incredibly exciting to open The Rabbit In The Moon and we think Manchester will be blown away by what has been created."
The restaurant is open for evening dining, Tuesday – Saturday and guests can call 0161 804 8560 to book a table.  The 17 course tasting menu is priced at £75 per person.