Manchester welcomed the exclusive launch on Friday of Gino D'Acampo's new restaurant venture, 'My Pizza and Prosecco Bar', situated in the heart of the city centre in Next, Manchester Arndale.
The 200-seater venue faces sister eatery 'Gino D'Acampo – My Restaurant', and offers a more casual and quick alternative, focusing its menu on pizza and Gino's favourite Italian dishes.
The Italian chef's first collaboration with the acclaimed retailer opened its doors for the first time on Friday evening, to share Napoli's distinctive culinary style with the Northern town for a second time: particularly the exclusively sourced Prosecco and wine selection from Gino's native land.
A 23-metre island bar takes centre stage, serving 30 different types of Prosecco, a range of Italian wines and cocktails, beers and Neapolitan coffee.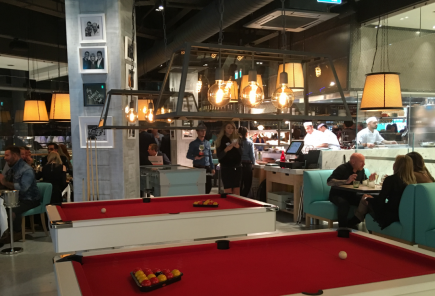 COOL CASUAL: Gino D'Acampo's taste of Italy is evident at his Pizza and Prosecco Bar in Manchester's centre
Opposite the bar area is a tell-all open kitchen, giving guests an insight into what it's like in a Napoleon restaurant. The kitchen also includes two handmade copper Italian wood-fired pizza ovens, ensuring an authentic taste of Napoli even from 1,499.3 miles away.
Despite the prominent Italian influence, the restaurant perfectly fits into modern day Manchester too, featuring dedicated Apple workstations, a 'magic mirror' photo booth, and free Wi-Fi.
Continuing the theme of modernity, toilet facilities in the restaurant are not gendered either.
Gino, who was crowned the North West's 'Best Restaurant' at the 2016 English Italian awards, was more than happy to socialise with his guests and enjoy some of what his new restaurant had to offer.
Today is the official opening of #MyPizzaAndProseccoBar #Manchester and we're kicking things off with a @ClubIndividual party with @Ginofantastico tonight! #Opening #FridayFeeling #Celebration pic.twitter.com/n4CUTM2W0i

— Gino My Restaurant (@GinoRestaurants) November 24, 2017
The Pizza and Prosecco Bar allows a casual, all day, drinking and dining experience, also incorporating a games area, and Gino's personal touches of photographs of him and his friends (with some familiar celebrity faces). 
Managed to catch a sneeky pic of @Ginofantastico picking some new boxers last night His new restaurant in @manarndale is great! pic.twitter.com/uSViRGAAOX

— Adam Wareing (@Adam_Wareing) November 25, 2017
The dessert menu includes ice cream and cakes from Gino's very own bakery, as well as a 'build your own sundae' station.
Friends Caroline Tulloch and Elaine Cunningham were two of the first lucky diners to try the cuisine, and had nothing but praise for their selection of sides.
Caroline, from Inverness, travelled to Manchester to taste what Gino's had to offer, and she said: "I had the Calamari, and it was absolutely fantastic and the garlic bread was excellent."
Elaine added: "Honestly everything was perfect, I've got to say I was very impressed."
Positioned at the front of the restaurant is 'My Grocery Store', which supplies many of the Italian ingredients used in the dishes and copies of Gino's cookbooks.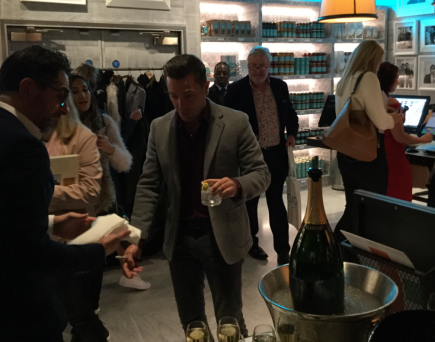 STAR QUALITY: Gino greets guests and his decision to help raise funds for the Royal Manchester Children's Hospital was lauded 
Gino, a father of young children who will use the opportunity to team up with the Royal Manchester Children's Hospital, said he was dedicated to help them raise a "fantastico" amount of money.
"I was devastated by the terrible event at Manchester Arena earlier this year. The way in which the medical team responded that night, many of whom were from the Royal Manchester Children's Hospital, is nothing short of incredible.
"I am both humbled and honoured to be in the company of just some of the response team and to be able to contribute to their ongoing work."
Gill Heaton, Chief Executive of Royal Manchester Children's Hospital, said: "We are absolutely thrilled to have Gino's support through this exciting charity partnership. 
"Each year our Children's Hospital treats over 260,000 children so support like this is invaluable in helping us to provide the very best treatment, research and care to the poorly children treated there."