Scores on the doors are an unwelcome afterthought after a badly packed kebab.
But after 367 eateries in Greater Manchester have been marked with dismally low hygiene ratings, it might be worth bearing in mind that you are what you eat.
Marked on the likes of food safety, how clean the outlet is and how eateries' food is cooked and stored, an unwelcome horde of takeaways, restaurants and even after-school clubs failed to make the grade in 2016.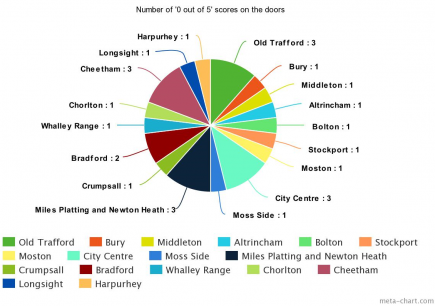 The results, which come from last year's Food Standards Agency inspections, see as many as 42 eateries in one area marked as needing major improvement.
28 food providers in the city have scored a dismal '0 out of 5' in their 2016 inspections, the lowest inspection ranking available.
Old Trafford, Cheetham and Miles Platting and Newton Heath are home to three of these dire low scorers a piece.
42 eateries in the city centre have been marked by the FSA, as well as another 12 in Ancoats.
Neighbouring Ardwick is also home to eight of the eateries inspected.
Outside of the city, the student haven of Withington tops the list, with 27 food vendors marked as needing significant improvement.
Fallowfield can also boast 11 '1 out of 5' ranked eateries on its doorstep.
Gorton secures the third-place title with 23 places marked in the inspections, with the home of the curry mile, Rusholme, closely following with 22 dismally ranked eateries.
Cheetham and Longsight come next in the findings, with 19 and 18 no-go restaurants and takeaways.
Although it's a legal requirement to display the scores on the doors in Wales, Northern Ireland and Scotland, England's view on displaying the ratings is still under review.