On King Street, there is an obvious jewel in its crown.
The Northern thoroughfare is famed for finance and fashion – and now, Hotel Gotham.
Residing in the former premises of the Midland Bank, the imposing castle of stone and steel is the personification of style and substance.
This luxury five-star hotel oozes opulence and an air of opportunity – straight from 1920's New York.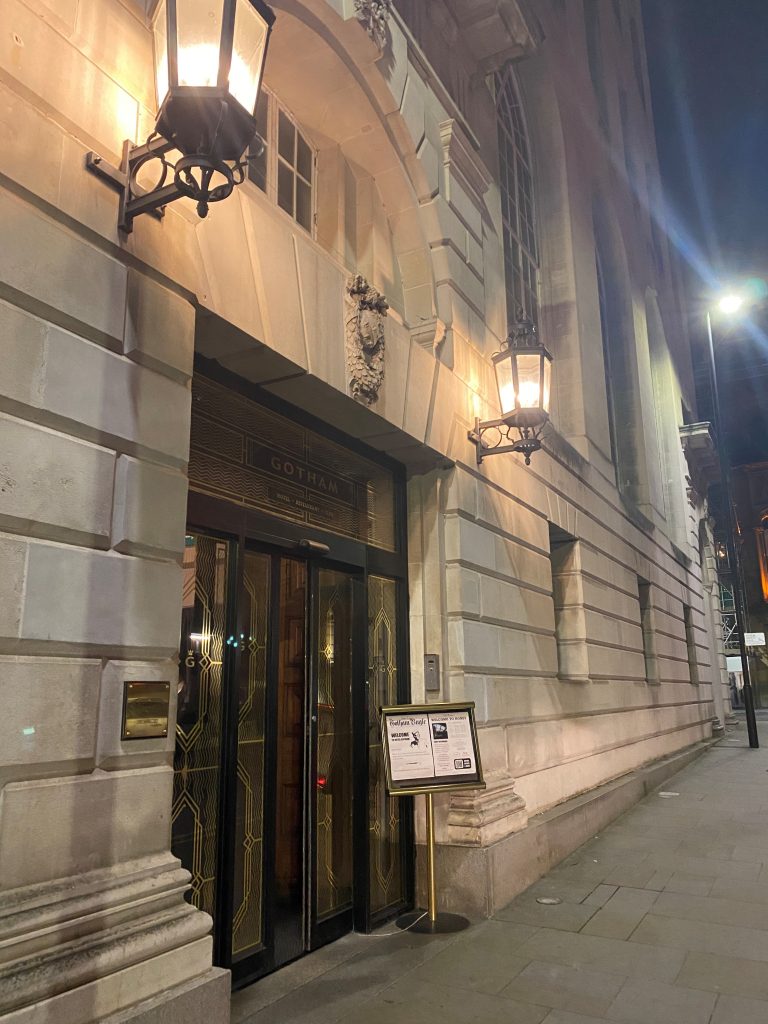 But as we are all painfully aware, the beginning of this decade has been far from parallel to the Roaring 20s.
They enjoyed the technological boom of radio, cinema, and aviation – while we've been palmed with a doomed Track and Trace system and closed borders.
The only similarity I can draw upon is Boris closing the boozers and the beginning of prohibition.
Maybe it's time to revisit the bootleg bathtub gin and call it a day.
Yet, stepping into Gotham delivers a dose of distraction that we are all desperate for.
Of course, they even operate throughout a global pandemic in style.
The usual warm welcome remains – albeit now including a temperature check and the obligatory pump of hand sanitizer.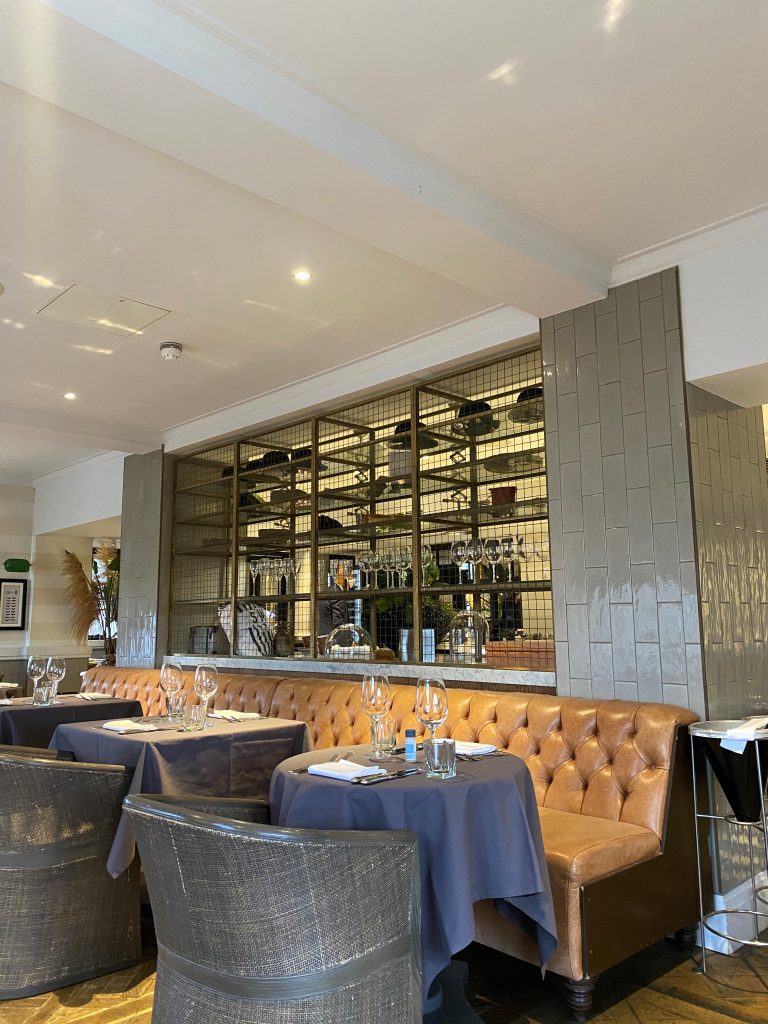 Designed by world-renowned architect Edwin Lutyens in 1928, its neoclassical structure and unusual proportions make this building an attractive addition to the Manchester skyline.
As one of the city's most notable listed buildings, it's only right that the curtains match the drapes.
It boasts 60 individually designed guest rooms – think Art Deco meets the Batcave – earning it the title of one of 'Europe's sexiest hotels.'
Geometric carpets, lavish textiles of faux fur and leather, bespoke furniture, and a theatrical monochrome colour palette all work harmoniously to create a busy yet beautiful interior.
It's easy to feel like an extra in the Great Gatsby as upon your entrance – I'm half expecting a swarm of flapper girls to pop out of the lift.
It's always a concern that concepts can be overdone, but Gotham stays on the right side of themed.
For guests, it's an experience rather than just a stay, with consistent reminders of the buildings banking past.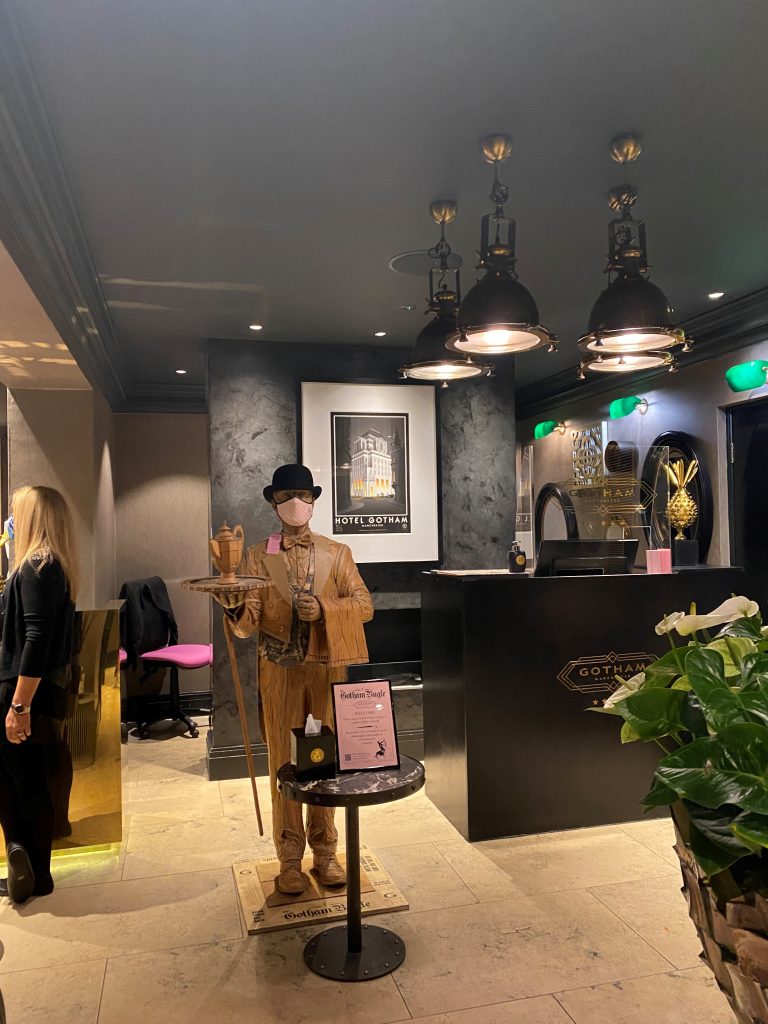 Bedrooms are equipped with moneybag-style laundry bags, Honey Restaurant has typewriters suspended on the walls, and Club Brass, the exclusive private members club, uses inverted briefcases as light fittings.
It also inspired the names of the latter – honey being cockney rhyming slang for money, and you know our Northern one: where there's muck, there's brass.
We bump into a beautiful bride and groom descending the stairs of Club Brass, offering a quick congrats before they bustle into a private dining area.
Despite the limited guest list, they look as blissful as Meghan and Harry on their big day – and just like Honey's a la carte menu, it's quality over quantity anyway.
The AA Rosette restaurant is situated on the sixth floor, offering a sanctum from the hustle and bustle of Manchester city centre.
Half-moon windows provide stunning views of the moody Manchester skyline – it is October, what do we expect?
Bowler hats, gold bars, and green glass wall lamps add decoration, and subtly show dedicated attention to detail.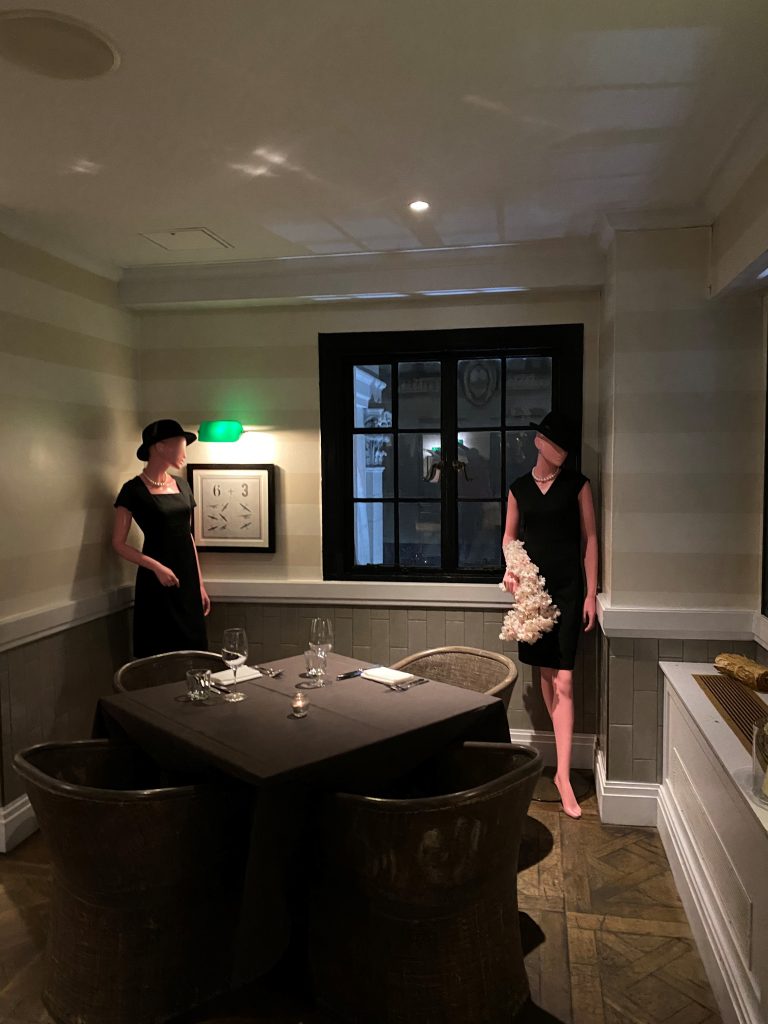 It's somewhat calmer than the other quarters, with glimpses rather than gushes of Gotham. Instead, they let the food do the talking.
New York is left at the door, traded for a selection of unapologetically British cuisine.
Ingredients and produce are sourced from local North West producers: Gotham's little yellow van is often tootling around town, collecting Mrs. Kirkham's Lancashire cheese, chocolate from Slattery's, and old English sausages from Lancaster.
Which is what sets Gotham apart – they constantly outdo themselves, continuing the charade far beyond the walls of 100 King Street.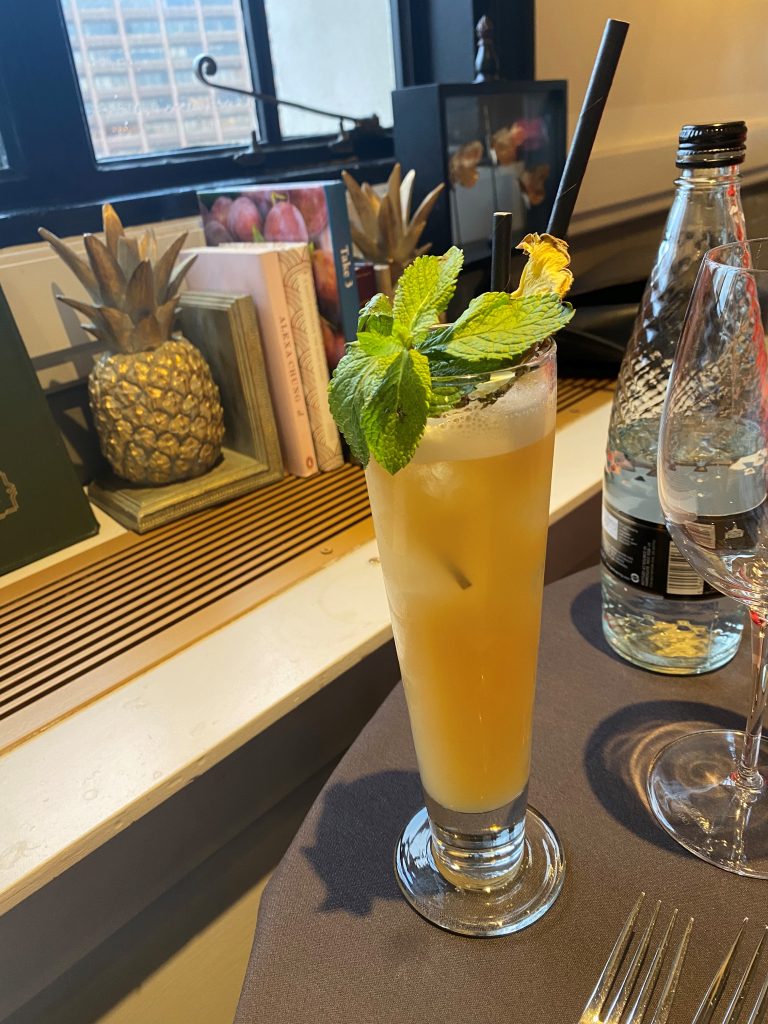 We start with a cocktail and snack on some sourdough with beetroot hummus, while mulling over the dinner menu.
I opt for the Fleur D' Oranger, meaning 'orange blossom' in French, made up of Salford Spiced Rum and Fair Açai Liqueur.
There is a lot of things Salford is known for, but this rum could swipe the top spot.
It's smooth and sweet, acting as the perfect catalyst for each fruity element: pineapple, lime, and orange.
The flavour blossoms, much like its namesake, making for a saccharine and scented tipple.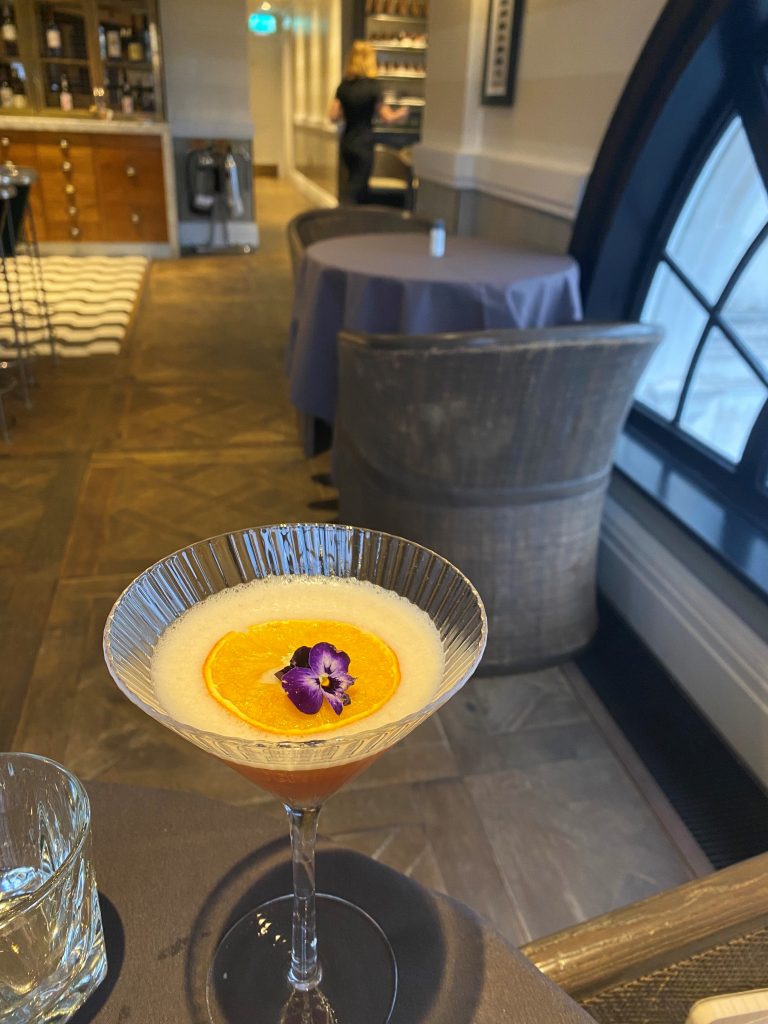 The Revenant is much more boisterous, in both taste and appearance.
It seems a full mint leaf has got lost in here in the process, giving it the appearance of a sprouting palm tree.
Which is quite fitting, as it's a taste of a holiday in a glass (the closest I'm getting to a sabbatical at the minute).
It's most likely thanks to a good helping of 1800 Silver Tequila and El Dorado 3years White Rum.
Pineapple, grapefruit, lime, and cinnamon are paired with Orgeat syrup in this clever creation, which certainly puts hairs on your chest.
The scallop starter (£15) is a classic amalgamation of hearty flavours, that serves well as a winter warmer on this brisk evening.
The presentation almost resembles a raft – a nod to its ocean origination – propped up by apple segments, imitating masts.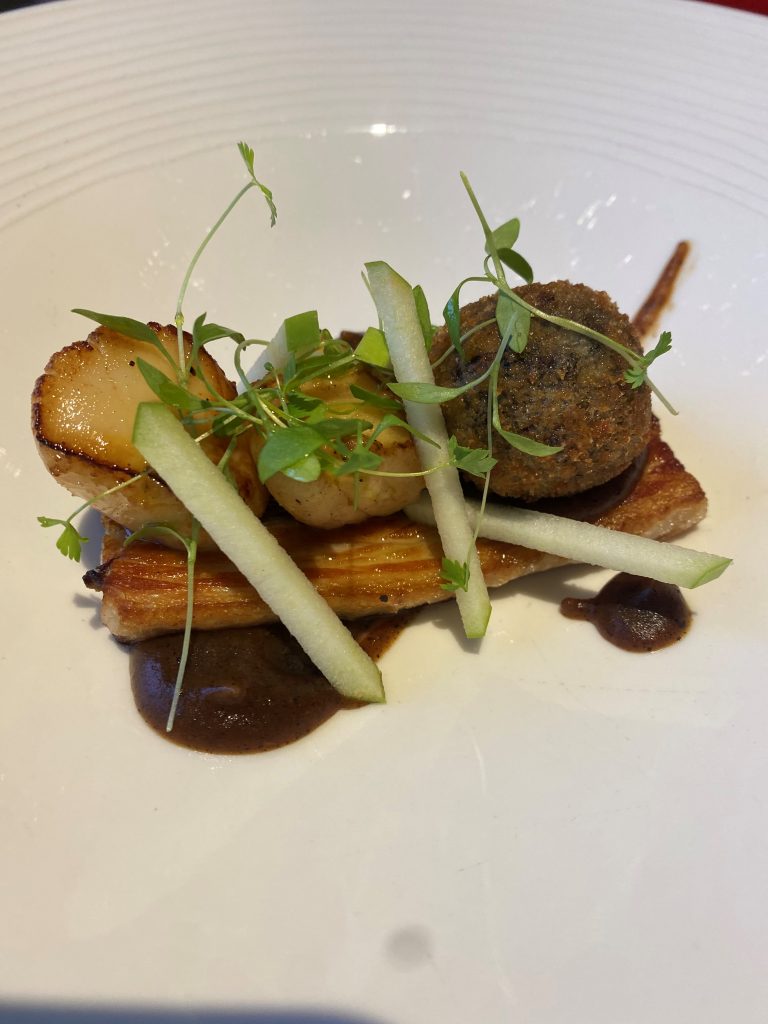 I'm ready to set sail on this and do one into the sunset, but the scallops seem to have got their first.
Expertly seared and sporting a crisp halo, they are as soft as they are succulent.
Its pork belly base is golden and crisp, with the perfect symmetry of fat and flesh. It's salty, tender, and full of flavour.
I normally contentiously object to black pudding – quite a shameful shameful omission from someone raised a stone's throw away from Bury, a Mecca for black pudding buffs.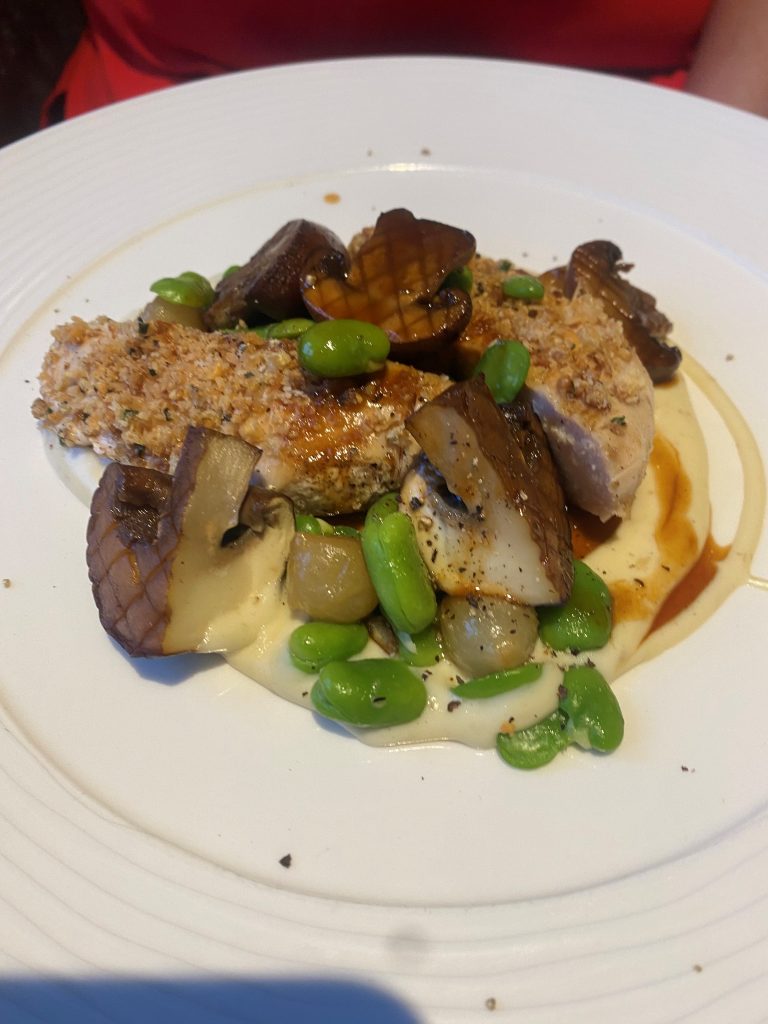 But Honey may well have just changed my mind.
Despite its size, its grainy texture dominated the dish, making this starter tactile and tasteful.
If the scallops were a raft, the salmon was the vessel.
Firstly, bowler hats off to the chef for the presentation, as it's quite challenging to dress up a simple salmon.
But it didn't need many accessories anyway – cured, not cooked, its natural flavours are sealed.
It retains its moisture, delivering a silky texture that makes for a refreshing appetizer, priced at £9.50.
Cool diced potatoes provide some sturdiness to this starter, topped with clusters of caviar and delicate swirls of cream cheese.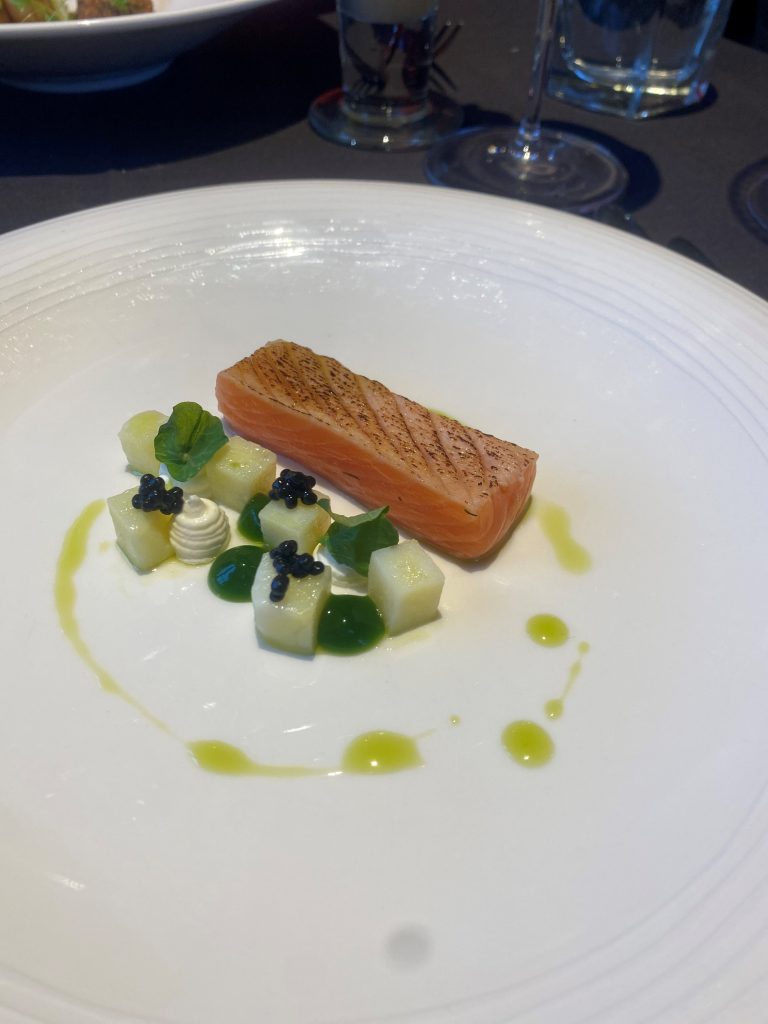 Despite the harmony of these classic salmon pairings, I much prefer it deconstructed.
It's a dish full of rich flavours, and this allows me to appreciate each one without overpowering my tastebuds. It is only the first course after all.
For our mains, my dining partner opts for the chicken (£22.50).
It's a dish screaming nostalgia and a taste of British country cooking.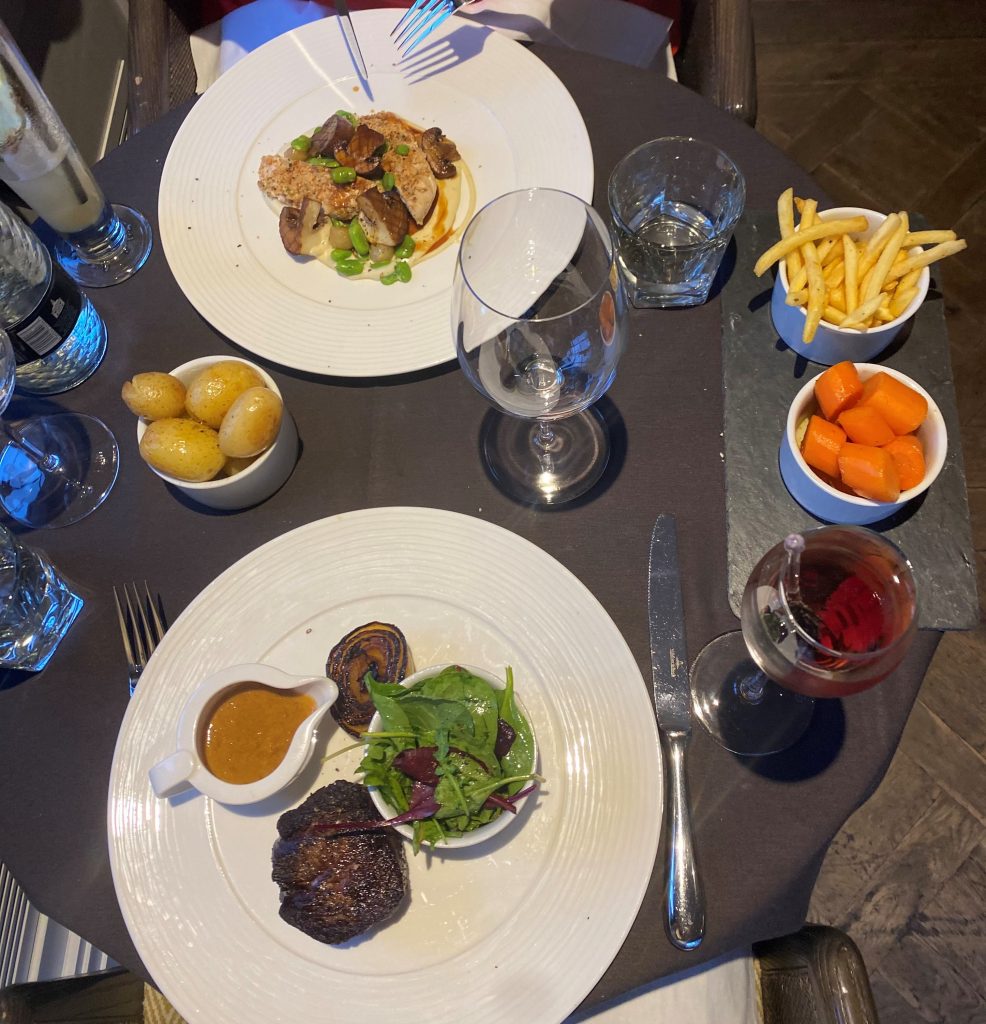 Two succulent chicken breasts are lay upon a jersey royal puree, if you can just make it out under the throng of produce piled on top.
It's lighter than your usual mash, acting as more of a sauce than a side.
Which is a good job, as there is already a lot to get through.
Its appearance is a little overwhelming for a la carte, as less is certainly more.
Despite this shortcoming, the pine nuts and broad beans add a welcome splash of colour to this neutral coloured course.
The chicken is coated in a delicate crumb, creating a nice contrast to the softness of the protein.
Chestnut mushrooms top it off, the age-old partner in crime to a chicken dish.
It's a little safe for Gotham's standards, but enjoyable all the same.
We ordered sides of roasted potatoes, carrots, and fries, to share.
It's a trio of comforting carbs and veg to substantiate our mains.
I longed for the carrots to come with a little pizazz – even a drizzle of honey and a quick roast would have livened them up a little.
They were a welcome pop of colour, but I craved some creativity.
The fries, covered in a rosemary salt, tasted like a high-grade Mcdonald's portion.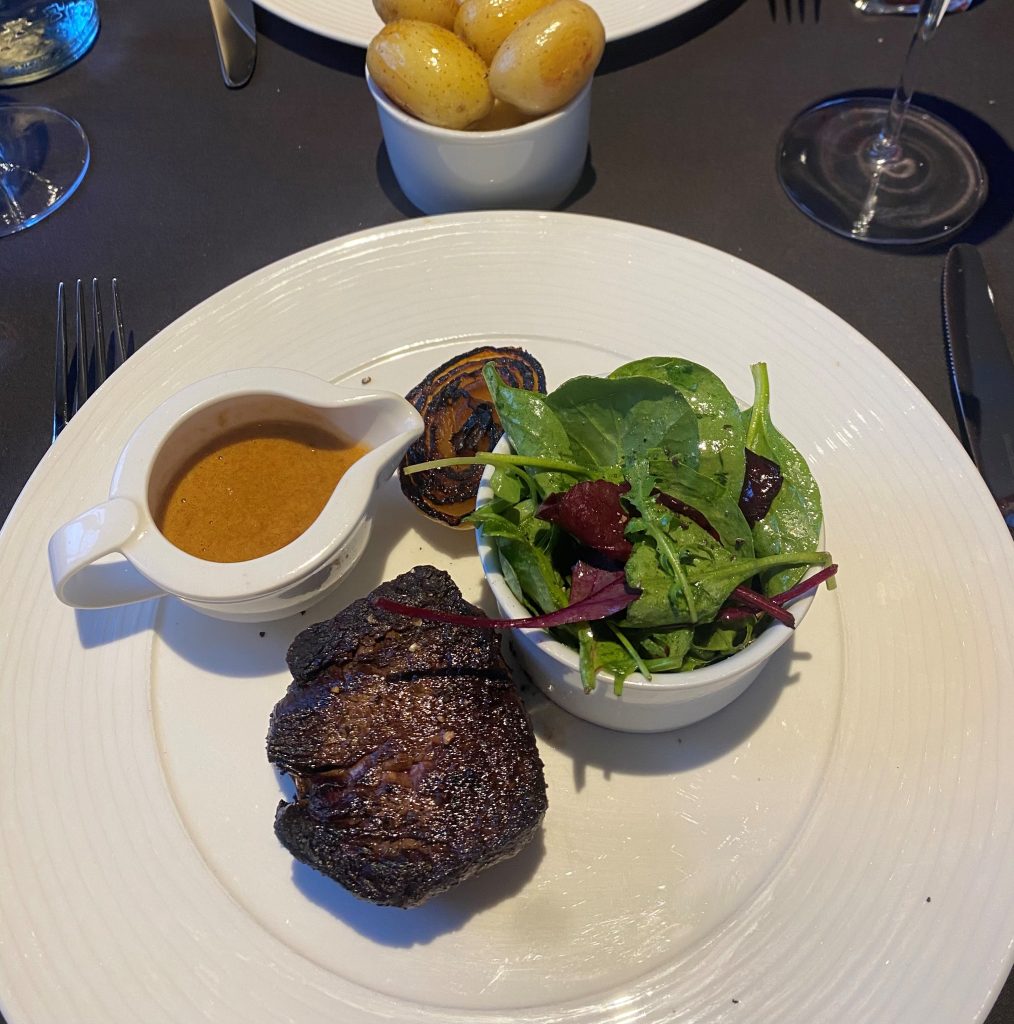 And I say that in the best way possible – isn't this the fry we've all been waiting for?
I go for the grill section, selecting the 8oz filet steak (£32.50), served with peppercorn sauce.
Can you go wrong with steak and chips?
It's a bit overdone on the outside for a medium, but a look inside softens the blow a little.
The quality of the 28-day dry-aged beef more than makes up for it, as it remained a succulent steak.
It's pretty and pink, but I'd opt for medium-rare next time.
It arrives with beef fat braised onions, giving me a taste of home and my Gran's steak and onions, (sorry Honey, no one beats our Kitty in the kitchen).
However, this was a good onion. Slightly too dark like the steak, but after knocking a few lumps of charcoal off, it's softer layers could be appreciated.
It all ends up drenched in peppercorn sauce anyway in the end, so who can tell?
Our server, Polly, is the perfect hostess.
Keeping the distance of a gentleman's umbrella, she's eager to explain any queries and is constantly doing the rounds, checking if our glasses are full.
It's refreshing to enjoy a small slice of normality, and a chat with someone outside of our little bubble.
It's quieter than your average evening 12 months ago, but Gotham remains in high demand.
They cater to the economic climate as well as any of your dietary requirements, such as The Honey Dining Experience for 2, offering two courses and a glass of prosecco each for just £60.
The generous offers even extend to the magnificent suites, and I can assure you it's worth every penny.
I think I *just* have enough room for dessert – if I undo a button or two.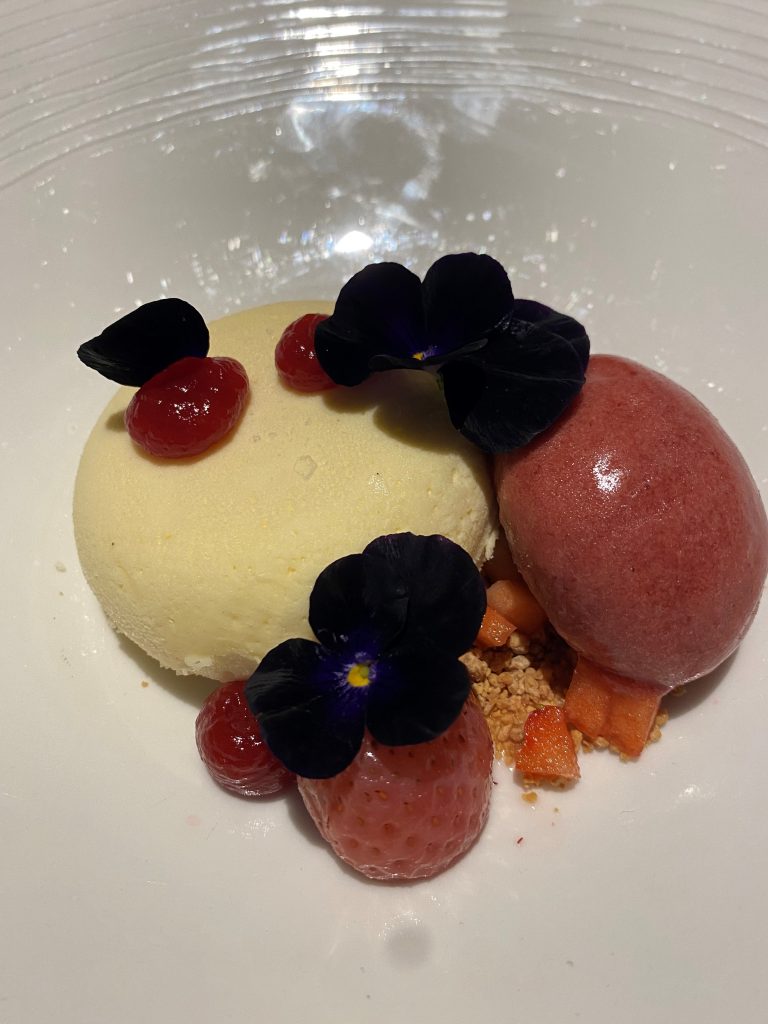 I choose the buttermilk parfait, at £8.50.
Parfait means 'perfect' in French, and this dreamy dessert is just that.
It's dainty, delicious, and genuinely a little slice of heaven.
Although it shares the appearance of ice cream or a macaroon, this little parcel is deceiving.
It has a slightly firm exterior, protecting its gentle core.
Delicate yet decadent, its airy texture pairs exquisitely with a scoop of strawberry sorbet.
Tenderly decorated with viola flowers, dots of cherry red jam, and strawberries, it is almost too pretty to eat.
It's delicious without being overindulgent. Sat on a bed of a crunchy and caramelly milk crumb, I couldn't have asked for more.
You can find me in one of the Sanctum suites surrounded by this dessert for the foreseeable future.
Next, 'the organised mess'.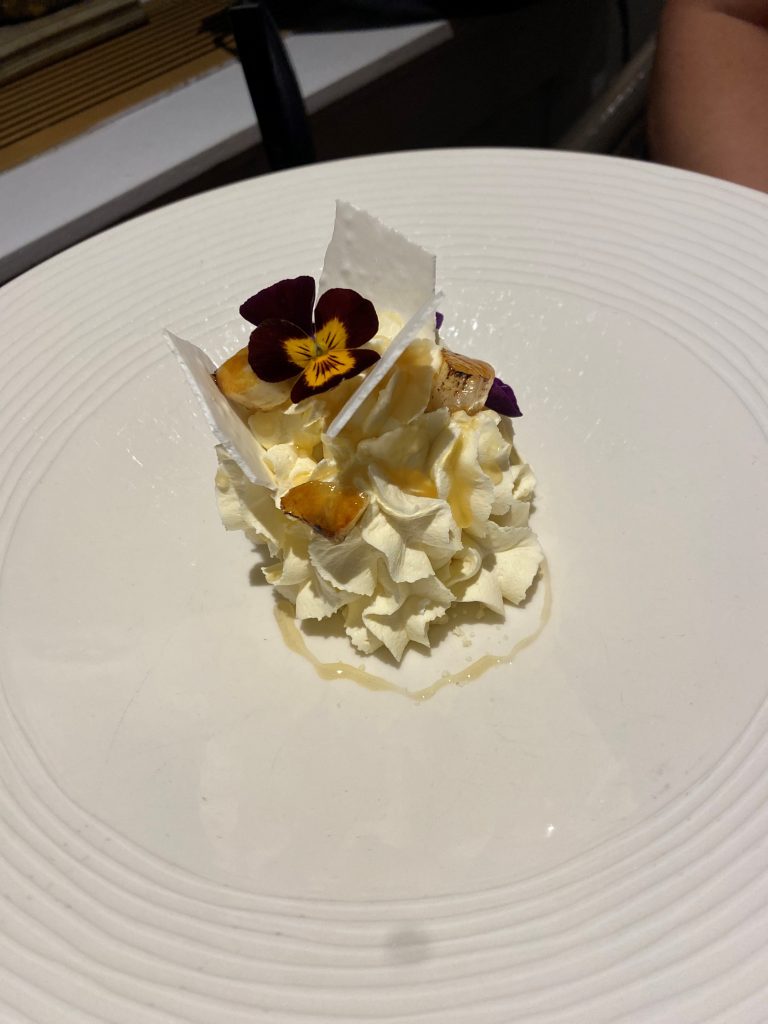 Well, if ever a name called to me – it's a loose description of my life.
It's largely influenced by the classic Eton Mess, but with Honey's own stamp on it.
Literally. It's more subdued than its usual berry concoction, instead incorporating salted honey, brown sugar meringue, and banana.
Poised upon a flurry of light cream, each shard of meringue is meticulously positioned, reassuring me that the pastry chef has the hands of a heart surgeon.
There's not a hair out of place, despite the unpredictability of the ingredients – well, I suppose it did state it was an organised mess.
The 'mess' part gives them the room for error.
The caramelised bananas are a flawless fusion of sticky and sweet – move over Eton, Honey has knocked you off the top spot.
It's safe to say Honey has left me with a sweet taste in my mouth.
Now, we take the staircase to heaven for a couple more cocktails.
Club Brass is the sexy older sister of Honey – it's a laid-back and luxury hideaway open to members and Gotham guests only.
It's a 21st-century speak-easy, with an exclusivity long forsaken by most Manchester bars.
Despite the dark and dismal evening, we have to enjoy a tipple on the stunning roof terrace.
Finishing with an extraordinary view after an extraordinary evening, I can't wait to return to Hotel Gotham.