Manchester is set to Sparkle this weekend as the world-renowned event is back to celebrate all things transgender.
The annual festival's centerpiece, Sparkle in the Park, will see Sackville Gardens taken over by a range of live, onstage performances from both trans and non-trans artists, a talent show, the Miss Sparkle Pageant and plenty of stalls.
There will also be more than 40 talks and workshops in the city offering everything from makeup advice to 'de-stressing' clinics and a focus group for transgender people from Wales.
MM caught up with some on the trans community's movers, shakers and equality makers to chat about the events humble beginnings and significance to the city, country and, indeed, the world.
Sparkle trustee Anthony Cooper said: "It's an amazing event which brings the trans community from all over the world.
"It's expected 6,000 will attend this year – we've got visitors coming from Australia, America, everywhere."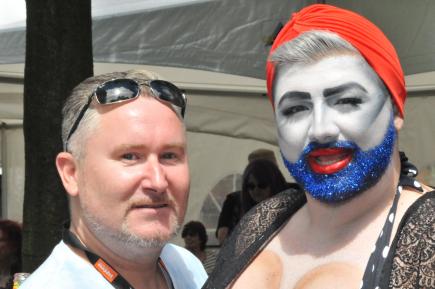 SPARKLE BEARD: Danny is one of Manchester's biggest trans celebs and winner of this year's Drag Idol UK
Sparkle has become something for Manchester to be incredible proud of and this is especially true for TransForum's chair Jenny-Anne Bishop OBE, who has attended every year since its start in 2005.
She explained the importance of this festival to trans men and women, in particular those who are struggling to come out, and non-trans people who need to realise we're all just the same when it comes down to it.
She told MM: "Sparkle's a great festival, because it gives [people outside the community] a chance to get to know trans people and understand them, because we're just ordinary people,  just like everybody else when it comes down to it.
"People who are not out, it gives them confidence, and for people who are out, it enables them to meet others and exchange views."
Tonight we also have a free champagne reception in Sackville Gardens. http://t.co/GppnukccBm #sparkle pic.twitter.com/F1Khzq3fpi

— Sparkle Celebration (@SparkleWeekend) July 10, 2015
Mr Cooper agreed that this event could have a 'massive effect' on some transgender people by allowing them to 'express themselves' and 'release some of the pressures' they might experience from family, friends or society.
He said: "Any event that gives people the ability to be themselves and express their gender is always going to have a positive effect on them."
The festival also welcomes families and anyone interested who's interested in popping along – indeed, more than half of those who attended last year were non-transgender, Transforum estimated.
A Sparkle Fringe, a range of events and activities to entertain, involve and educate about transgender issues, is also taking place throughout the city, ending on Wednesday July 14.
Despite its current size, Sparkle had humble beginnings.
Imagined in the back room of a pub by a couple of transgender people 11 years ago, it was hoped the event would bring a local transgender community together.
Don't miss the party… our @SparkleWeekend now includes Roxy Hart on Saturday #sparkle #nynymcr pic.twitter.com/QTGh8T0Z6G

— New York New York (@newyorkbarmcr) July 10, 2015
Mr Cooper told MM: "It was always intended to be an annual event but nobody at the beginning ever thought that Sparkle would turn into the huge major event that it is today.
"The support from the community builds year on year [as] people start to be more educated about issues."
And it's the power of community which has got Sparkle to where it is today as the event runs purely on donations of time, dedication and money.
"The local businesses are amazing. The businesses in Manchester gay village have absolutely backed the event whole-heartedly," Mr Cooper said.
"Every venue has bought supporters packages to help fund the event and are also providing artists for us. [They] and the Business Association are absolutely key to make sure Sparkle is a free-to-attend event.
"We absolutely, absolutely cannot do the event without the people that volunteer to help us run the event.
"Everyone that works for Sparkle does it for the love of the event."
Hard at work? #sparkle pic.twitter.com/7HQhVQ3NqO

— Sparkle Celebration (@SparkleWeekend) July 10, 2015
Mr Cooper himself, is the only trustee who's not on the trans spectrum and he explained that his own motivation to get involved was because he saw the challenges his transgender friends faced.
He told MM: "The struggles that they've had to go through, through their years, and the fact I've got those certain skill set to help the event, is why I'm involved.
"All people, not matter where they are on whatever spectrum, should have the equality that everybody in mainstream societies have."
And it's not just the volunteers and business which have been essential to Sparkle.
Mr Cooper added: "I don't think Sparkle would've been as successful as it is now if it had been in any other city. Manchester is an amazingly diverse place.
"Over this weekend we'll have trans women and gender-diverse people all going shopping in the town centre, shopping in the Arndale, with no issues."
2/2 You should never accept #hatecrime on the railway network (we don't!). Have a fantastic @SparkleWeekend. #Sparkle pic.twitter.com/iHBRVUKDcz

— BTP Diversity (@BTPDiversity) July 8, 2015
He added: "I can't personally see that happening in any other city but that's because we work on the back of great events like Manchester Pride that have turned Manchester into an absolutely diverse and accepting city."
Sparkle is supported by the LGBT Foundation, a charity who have today been awarded the 'Reaching Communities' Big Lottery Fund for their last two years of work with the transgender community.
Paul Martin OBE, Chief Executive of LGBT Foundation, said: "LGBT Foundation is incredibly proud to be [involved in] Sparkle this year.
"I'm absolutely delighted that we have won this funding. We recognise that there is a real need for people-centred gender identity services, particularly for trans people."
The foundation aims to use the funds to deliver new and ongoing specialised services to transgender people, to help them combat common issues such as isolation, discrimination, and depression.
Mr Martin added: "This is an important step towards increasing visibility and equality for trans people in the UK."
Come and say hello to us all @NetworkRailMAN @BTPDiversity @BTPManchester #sparkle pic.twitter.com/KCz8keBODy

— Sparkle Celebration (@SparkleWeekend) July 10, 2015
Sparkle will also be supported by the British Transport Police and Greater Manchester Police, who will raise the transgender flag outside Manchester Police Headquarter's today.
During Sparkle, the two organizations will also instate high-visibility officers and encourage attendees to use the 61016 text service, which allows incidents on railway journeys to be discreetly reported.
Dave Rams, Inspector of the British Transport Police, said: "We want people to feel confident travelling into the city by train and to feel safe and secure.
"Any incidents of abuse or hate crime will be taken seriously and dealt with swiftly. Be yourself, be proud and don't tolerate hate crime."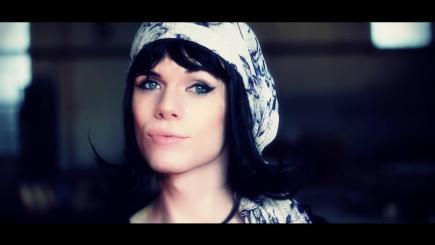 SHOW STOPPER: Jordan Gray is just one of the performers joining this year's Sparkle weekend
Additionally, Tony Lloyd, Police and Crime Commissioner, will give a speech at 2pm on Sunday, about how the police can work together with the transgender community to provide protection and stop discrimination.
He said: "We have come a long way in challenging prejudice and building a society of acceptance and equality. But sadly, trans people still face victimisation, violence and even death because of who they are.
"We all have to play our part to challenge those who victimize, and stand together in solidarity with trans people to promote cohesive communities where everyone can be free to be themselves.
"Raising awareness of hate crime and encouraging people to speak out is [key to this] and I urge anyone who has been a victim of transphobic hate crime to speak to the police."
"Sparkle plays a huge role in building understanding, respect and acceptance of trans people in our society."
PHOTOS: ACC Rob Potts, Deputy @GMPCC Jim Battle and @TransForumMcr raise the trans flag for @SparkleWeekend #Sparkle pic.twitter.com/xzdd7Mniwh

— G M Police (@gmpolice) July 10, 2015
To find about more about the Sparkle weekend click here.