Manchester's Lesbian and Gay Foundation will now become a trans* inclusive charity – to work alongside other existing services 'struggling to meet the needs' of people looking for support.
For the past ten years, the LGF has mainly focused on supporting lesbian, gay and bisexual people in dealing with issues surrounding their sexuality.
Chief Executive for the foundation, Paul Martin OBE, has been reaching out and leading discussions with trans* communities who feel that many groups are currently facing real hardship – particularly since the Trans Resource and Empowerment Centre (TREC) was forced to close its doors.
Mr Martin said: "There is a real sense that trans* people here in Greater Manchester have a number of needs that existing services are really struggling to meet.
"There is also a strong sense of community confidence emerging, and a recognition and acknowledgement that trans* people need to be treated better and differently than they are currently.
"The LGF is very keen to support trans* groups to develop more tangible and comprehensive services for trans* people, run by trans* people here in Greater Manchester."
The momentous decision came following 18 months of discussions, meetings and consultations with representatives of the city's trans* community.
Changes have been supported by TransForum Manchester, MORF, Sparkle, BUFF, Trans Ramblers, Butterflies, Marlin, SOFFAs, Trans 5-a-side Football, Press For Change and Manchester Concord.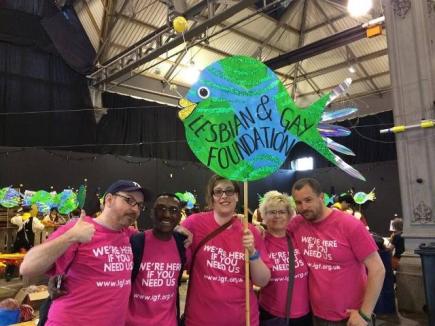 TRANS* INCLUSIVE CHARITY: The decision comes following 18 months of discussions, meetings and consultations
A formal request from the local trans* groups were submitted, welcomed and accepted by the LGF board.
David McGovern, Chair of the Board of Trustees at LGF said: "I'm delighted to announce that the LGF is to expand its current practice of trans* inclusivity to support more trans* specific work in the future.
"We will now enter a period of further discussion and negotiation in order to ensure that the LGF becomes fully trans* inclusive.
"We are keen to identify a number of priorities where we can achieve swift progress, and we expect to publish more details about these as soon as we can."
This latest move by the LGF hopes to encourage closer integration between them and the community, whilst still maintaining the independence of the various groups and helping to ensure their future longevity.
Commenting on today's announcement, Jenny-Anne Bishop, Chair of TransForum Manchester said: "We are delighted to have helped initiate this journey together with the LGF.
"We feel empowered by the chance to help diversify further the LGF and improve cooperation across all the Trans* and LGB communities."
She added: "We are thrilled to be working with the LGF on these projects which will further cement the increasing inclusion of the Trans* community in the LGF."
Elliott Brooker, Chair of MORF said: "It's been really positive and exciting to bring the community together and already we're seeing the benefits of collaborative working. 
"We're very much looking forward to working with the LGF to strengthen the LGBT community in Greater Manchester".
The charity is currently working towards its next strategic plan, which will be published early next summer, and until then continue to work with local trans* groups to prepare for the necessary changes.
Projects in the pipeline include producing trans* specific guidance about sexual violence, seeking funding for a trans* specific worker and undertaking a trans* community survey.
This will further help develop the evidence base and understand trans* people's needs and experiences.
Images courtesy of the LGF, with thanks