A homoerotic calendar is arousing the intrigue of people across the globe thanks to the stunning photography of muscular, almost naked models wearing symbols of the Orthodox religion.
One of the models looks an awful lots like a certain Russian ruler but, of course, no participants have been named.
But, as titillating as these beautiful images may be, there is a much more serious and pertinent message behind The Orthodox Calendar which is now in its fourth year running.
Recognised as the only organised global effort against homophobia in the Russian Orthodox religion, The OC art project in Russia has found a big following in the UK.
They want to break down boundaries of the ideological norm of relationships. The group says that desire does not know gender, sexual orientation, color, ability or any other status.
The project is a response to Russia's repressive regime on LGBT people, and Patriarch Kirill of Russia and Putin's negative influences in Orthodox Churches in both Russia and worldwide.
Magdalena De Iona from the OC group said: "Sancta Paraphilia is a message of solidarity for our brothers and sisters from Russia, but also a tribute to acceptance all over the world.
"Daily hate and violence are rising, especially anti-LGBT skinhead violence, to which the police often fail to respond.
"Young LGBT people are sexually assaulted with glass bottles and brutally killed. Harassment, threats and acts of violence targeting LGBT individuals occur daily.
"Government officials and TV personalities publicly make derogatory comments about LGBT persons.
"Promotion of discrimination and violence against the Russian LGBT community is like a free license to kill."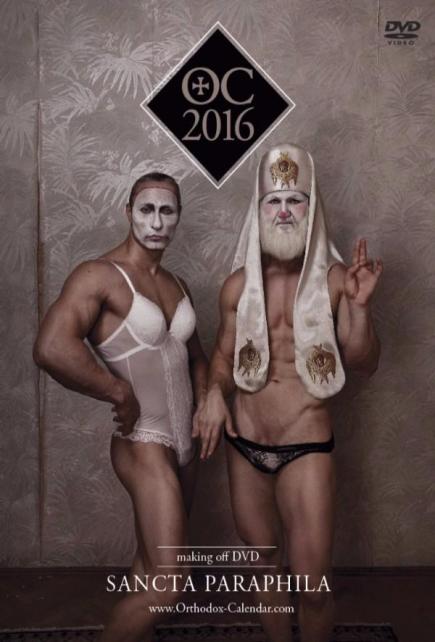 'FREE LICENSE TO KILL': Magdalena says the Russian government promote discrimination and violence against LGBT people
The Proud Trust in Manchester offer support to LGBTQ people in the UK, and worldwide, who are affected by discrimination.
Ali Hanbury, from The Proud Trust said: "We have had several Russian people come to the groups and contact The Proud Trust via our website.
"Those who have fled often experience mixed-emotions of sadness to have left their home country and relief at having relative freedoms from discrimination.
"The youth groups we run have delivered workshops about LGBTQ awareness and discrimination in Russia and other countries globally and often take part in campaigns of LGBTQ solidarity."
The OC art project want their calendars to be 'raw, provocative but above all political' and inspire younger generations both LGBT and non-LGBT to want to live in a fairer society.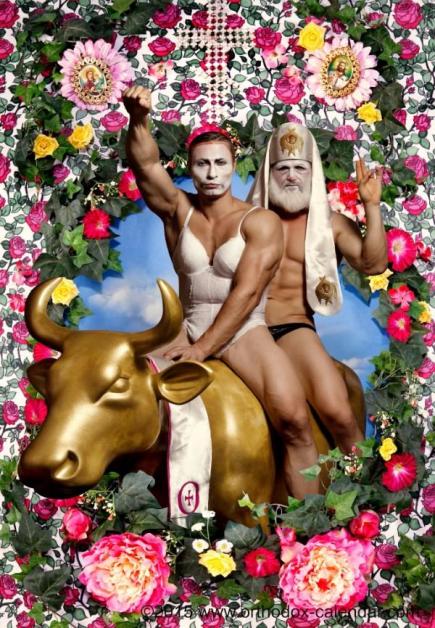 'PROVOCATIVE AND POLITICAL': The calendar is a response to Russia's repressive regime on LGBT people
Magdalena said: "LGBT youth are known for being more sensitive than other youth, so by not providing them social support, access to information regarding STDs and physical protection, you condemn them slowly to a certain death, increasing the risk of suicide."
And Ali added: "In the UK we have clear protections against LGBTQ related hate crimes.
"The consequences of being suspected to be LGBTQ in Russia, leave many living a life of secrecy and fear.
"But in Manchester we have strong LGBTQ communities and services that can offer support.
"These remain under-resourced however and often the young people we work with suffer multiple discrimination based upon other prejudices people hold such as racism, sexism and ableism."
Here in Manchester the Proud Trust are planning many activities and events that will cover the theme of Religion, Belief and Philosophy within the LGBTQ communities, for LGBT History Month in February next year.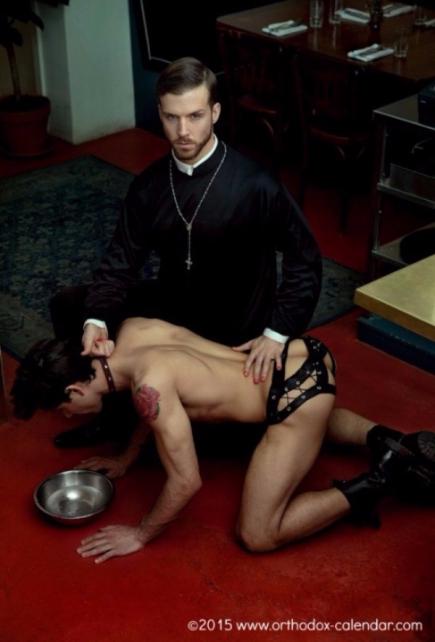 BREAKING DOWN BOUNDARIES: The OC want to show that desire does not know gender, sexual orientation, color, ability or any other status
Ali said: "Some religious interpretations prescribe a set of limited rules by which people should live.
"Thankfully there are many people of faith who are open and inclusive and who interpret positive messages from various religious texts."
Magdalena added: "Change might not come quickly to Orthodox Pachyderms, but we believe that at least it can encourage the younger generation to reflect and realize that there is an urgent need for an update in values as part of modern society."
MM contacted Russian Orthodox church, the Patriarchal Parishes of the Holy Virgin in Manchester, but they declined to comment on the campaign.
To buy your Orthodox Calendar and support the campaign, click here.