Manchester Pride partygoers have been handed a queer alternative this weekend without stumping up the hefty price for wristbands.
Thousands from the city and across the country will arrive today for the Manchester Pride Big weekend, excited to see Anastacia, All Saints and Pixie Lott.
But disco quartet Drunk at Vogue (DAV), throwers of some of Manchester's most wild, wacky and glamourous alternative gay nights, have joined forces with other innovative and off-the-wall LGBT event organisers to create the Queer Alt Manchester collective. 
They argue that party people need some variety this bank holiday weekend.
One quarter of DAV Gary James Williams told MM: "It's important to give people a non-paying alternative during Pride. You shouldn't have to pay a premium to have fun.
Thom Docking, Gary's partner-in-crime, said: "We're very proud to be a part of the Queer Alt Manchester collective that showcases all of the amazing, alternative events that are happening outside of the Village over the weekend.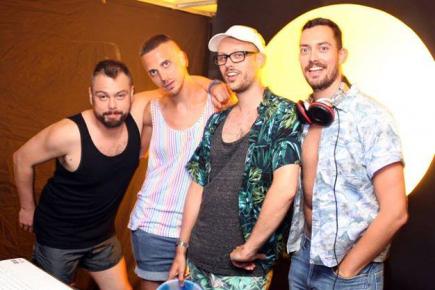 STRIKE A POSE: The Drunk at Vogue team
"It really contributes a lot to the diversity of Manchester Pride weekend and hopefully offers something for everyone.
Gary added: "The best Queer Alt Manc events during Pride focus on the Alt and give you something that the village doesn't generally give you."
Tickets for the Pride Big Weekender have increased in price over the week from £12 for a day ticket to £19. The cost of a weekend ticket currently stands at £27.50.
Over the course of the three days, the Queer Alt Manchester Collective will be putting on a host of kooky and colourful nights that are a step away from the mainstream.
On Friday, revellers can visit Mothers Ruin: Roundhouse Rehab, an exciting, funny and subversive new queer cabaret experience.
Also taking place is Cha Cha Boudior's Ugly Bug Ball, the outrageous and eccentric drag party which delivers a night unlike any other.
The Star and Garter will play host to Bollox is the New Black, which is describing itself as 'the correctional facility for any wayward queens attending the festive weekend'. Inspired by the Netflix series Orange is the New Black, guests will be given prison costumes, mug shots and contraband hooch on arrival.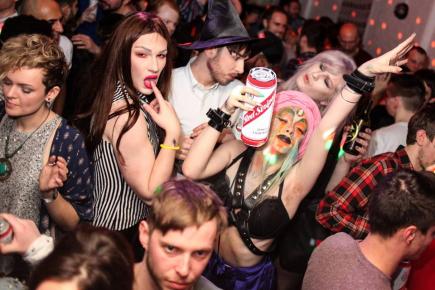 FINGER-LICKIN' GOOD: You don't need to spend money to have fun during the Pride weekend
On Saturday, Drunk at Vogue will host a boat party that takes punters up the river Irwell while blasting out big hits throughout the day. This is followed by their LOVE party, which this year has 'an early 70's San Francisco hippy vibe'.
Over the last three years, the Drunk at Vogue boys, made up of Thom, Gary as well as Greg Thorpe and James Sizen Bell, have gone from strength to strength. Playing disco tracks until the early hours at their regular spot Kraak gallery in the Northern Quarter.
They blend music and drag performance seamlessly and have taken the party up to London, Festival No.6 as well as hosting the opening night at the Manchester International festival 2013.
Gary said: "This weekend, it'll be a love-in for all of Manchester with performance, disco, house and pop music from the past and present.
"The décor is going to be floral and there's going to be dancefloor surprises galore!
"There isn't a night like ours in the Village. But I'd love to do the night in the Village for the rest of the year.
"The village is the reason I came the Manchester and I wish you could find a bar or club owner like Kraak's Jayne Compton, who supports and is 100% behind new interesting, queer nights, parties, bands and art in the village."
Also taking place on the Saturday is Pop Curious, the party where drag acts will recreate famous award show performance moments.
An alternative is Rapture vs Black Angel, the alternative women's club night at Bangkok bar will be playing everything from reggae to soul to deep house.
On the other side of the coin, RockHARD! at Retro bar, Manchester's only rock and metal gay night will also be out to play this Pride weekend.
Thom said: "Aside from our own parties of course, there's so many fantastic alternative events happening over the weekend, none of which you require a wristband for.
"I'm particularly looking forward to Bang, a free yard party happening down the alleyway next to Kraak on Sunday afternoon and evening.
"Also keep an eye on Bangkok, a venue right next to the Village that is hosting loads of different events over the weekend as part of Queer We Are, including some TED-style talks on Monday."
Sunday's street party at Band will be followed by Kraak galley loft party  Madonna Aid.
One of Manchester's longest-running club nights HomoElectric will also be shaking things up at the old Paradise factory site on Princess Street with Little Boots, Will Tramp and Jamie Bull will all be on the bill.
Monday will see film screenings from the Manchester scene and discussions before the candle-lit vigil.
Gary said: "Choice and diversity is at the heart of the LGBT community and I'm really proud to be part of a group that is trying to add a little more to our city's Pride celebrations.
"Manchester Pride are doing it with the Fringe and we're doing it with Queer Alt Manc.
"Pride is traditionally a city's celebration of its LGBT people, not just one organisation, but imagine if we all came together in the spirit of collaboration. We'd be unstoppable."
Full listings of the Queer Alt Manchester weekend are available here.
Images courtesy of Facebook with thanks