Geek Pride is calling all LGBT geeks to join forces in the name of 'love' and march in the Manchester Pride parade this August bank holiday weekend.
The group is collection of geeky students, professionals and even political party leaders from across the country.
Following on from the success of the first Geek Pride, the celebration is now an annual legacy event to recognise Alan Turing, his achievements and his LGBT identity.
Mike Stephens, Co-founder of Geek Pride and self-proclaimed über-geek, said: "Today, 102 years after Alan's birth and 60 years since his death, we live in a society that simply could not have been realised without this man's incredible insight, ability and vision.     
"This year's theme for the Parade is 'love' and we're calling for geeks of all kinds to unite and celebrate our love for Turing, Time Lords, literature and LANs."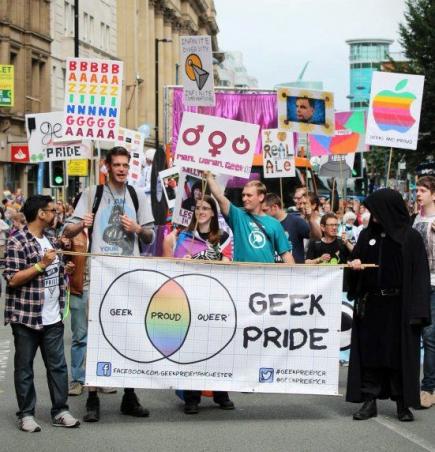 GEEKS UNITE! Geek Pride march for Manchester Pride last year
Geek Pride positively encourages people who may not have previously identified with Pride events to give it a go, try something new and pay tribute to Alan Turing while celebrating Manchester's geek community
There will be an opportunity for people to get creative, with a workshop where geeks can make flags, placards and banners between August 8-9.
Rob Taylor, Founder of headline sponsor Codethink, said: "We're thrilled to support the local geek community and get involved with such an important event in the city's calendar.
"Codethink loves geeks, with over 60 of us working within the City and we're all excited to celebrate geek and LGBT culture!"
Turing is considered to be the father of modern computer science and artificial intelligence, and played a major role in breaking the German Enigma code.
After his work at Bletchley Park, he was a reader at Manchester University and did some of his most influential work here.
In 1952 Turing was convicted of gross indecency for having sex with 19-year-old Arnold Murphy. Once convicted, he was banned from working with the government, subjected to barbaric treatment, and was forced to undergo a chemical castration.
He died of cyanide poisoning two years later, which an inquest deemed as suicide. He was 41 years old.
In 2013 he was pardoned by the government after years of campaigning and earlier this year the Homosexual code breaker was honoured  with a £42million institute in his name was recognized as being a 'true British hero'.
Anybody who fancies getting involved should sign-up at http://GeekPrideMCR.co.uk, and attend an initial meet on July 24 at TechHub Manchester.