This weekend will see the long-awaited return of Manchester Pride.
The annual four-day festival is set to feature a whole host of events in and around the Gay Village.
Whether you bought your ticket well in advance or you're planning to purchase one last minute, plenty of fun awaits in the area surrounding Canal Street.  
Here's everything you need to know ahead of Manchester Pride 2017.
When does it start and end?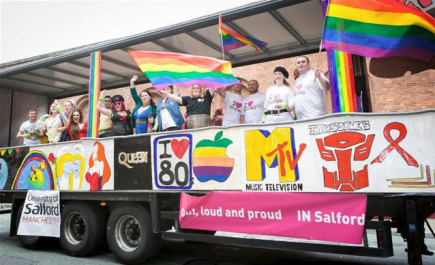 The fundraiser will begin on Friday, August 25.
After day one it will be non-stop action until Bank Holiday Monday.
The event will eventually bow out with the annual candlelit vigil to remember those who lost their lives to HIV/AIDS.
When does the parade kick-off?
Hundreds of floats – along with thousands of people – will be making their way through the city centre on Saturday.
The first signs of it will be seen at 12:30 when the procession moves through Liverpool Road.
The parade will finish later in the afternoon on Fairfield Street.
You can see the full route below.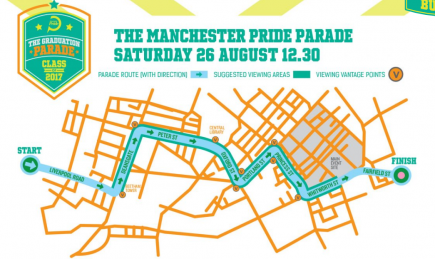 What is it all in aid of?
The point of Pride is to raise money for LGBT charities and strengthen the community through increased awareness.
Last year the fundraiser brought in a record £149,000, which went to different LGBT organisations across Manchester.
Don't forget to dig deep on the day and do what you can to help!
What is the theme?
This year's theme is Class of 2017: The Graduation.
Essentially this means there will be a lot of US-inspired gear, such as varsity jackets.
Explaining the theme, Manchester Pride chief executive Mark Fletcher said: "Education is the key to equality.
"Every year our festival has an issue which we champion through our campaigning, events and marketing and this year we have chosen to focus on education and the continuing fight that, not just LGBT people, have to gain equality across every element of their lives.
"But we aren't here to preach – we're a creative and forward thinking organisation which is committed to delivering an engaging and fun Manchester Pride Parade each year.
"This parade is our way of bringing our theme alive through the personalities and creativity of the people, community and businesses who march with us."
How many people are expected to attend?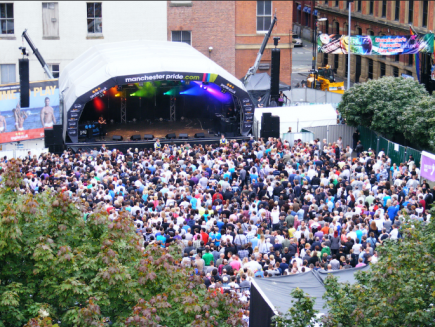 Typically, around 150,000 people flood into the city centre to enjoy a piece of the action.
Many – including families with young children – just pop by to watch the parade.
Anyone under the age of 17 must be accompanied by an adult to enter the actual festival.  
What's the weather forecast?

The weather is never particularly reliable in Manchester.
That said, there is a small glimmer of hope.
The Met Office is forecasting that it will be rain-free on Friday, Saturday and Sunday.
In fact, it's predicted that there will even be some sun in the afternoon on Saturday.
How can you get tickets?
Tickets can still be bought in person at Clone Zone, G-A-Y, New York New York and at certain Spars throughout the city.
Anyone wanting to avoid disappointment can still guarantee their entry by buying tickets online HERE.
A full four day weekend ticket will cost you £29.50. Day tickets are £19.50 each on the day but Monday is only £12.50.
Who's performing on the main stage?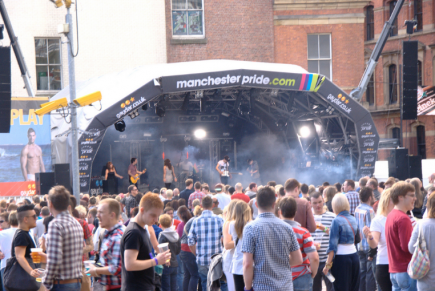 Friday's line-up:
7pm – Screw the DJ
7.45pm – House of Suarez / House of Ghetto
8pm – Saara Aalto
8.45pm – Pixie Lott
9.45pm – G-A-Y presents Melanie C
10.30pm – Tacet
Saturday's line-up:
4.45pm – Gok Wan (DJ set)
5.50pm – Lisa Maffia
6.20pm – N-Trance
7pm – Kelli-Leigh
7.35pm – Ultra Nate
7.50pm – Cutmore
8.15pm – Blonde
9.45pm – Example & DJ Wire
Sunday's line-up:
DJ – Kriss Herbert
3.15pm – Valerio Lysander
3.50pm – Me and Deboe
4.35pm – Lucy Whittaker
5.15pm – Girli
6.05pm – Yes Lad
6.35pm – Starley
7.30pm – Will Heard
8.30pm – Louisa Johnson
9.30pm – G-A-Y presents Clean Bandit
Monday's line-up:
3.40pm – Frankie Furlow
4.05pm – Divina De Campo
4.30pm – Ruby Murray
5.05pm – Danny Beard
5.35pm – 5 to 5
5.55pm – Seann Miley Moore
6.30pm – Lucy Spraggan
7.15pm – 5 After Midnight
8pm – Liberty X Girls