Drag queen Trixie Mattel talks about her love for the UK drag scene as she brings her one-woman-show to Manchester this month.
It's a busy life being a RuPaul's Drag Race fan. Only a couple weeks after the dramatic conclusion to All Stars 3, the drag queen reality show is already back with a new batch of queens to obsess over.
Season 11, premiering today on Netflix, sees 15 new queens fight for the title of America's Next Drag Superstar. The queens will also be hoping they can recreate the commercial success of one former contestant: Trixie Mattel.
Since taking home the crown in All Stars 2, Mattel has managed to expand her drag empire into two music albums, a web series, and a sold-out world tour.
Now, Trixie is back on the road with her Skinny Legend tour and it's her stop in Manchester on March 9 that she seems particularly excited about.
"I'm really looking forward to coming back to Manchester," she tells MM. "As long as there's strong wifi and slightly Americanised food, I'm happy!"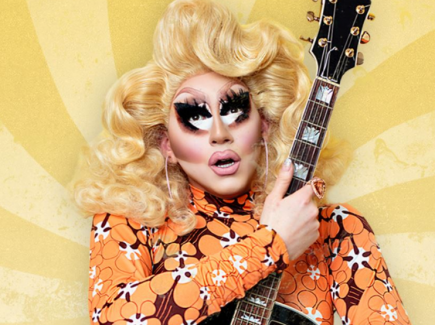 'DRESSING FOR YOUR SHAPE': Trixie Mattel told MM her Skinny Legend persona was all about confidence… and Twitter verification
So, what can we expect from a show called Skinny Legend?
"I'll tell you what you can't expect: very high heels and universally funny material," the Milwaukee queen jokes.
Serving as the perfect starting point for anyone unfamiliar with the extravagantly-painted Trixie Mattel, the one-woman-show will feature a mix of music and comedy blended together with razor-sharp wit, guitar picking, and some pretty mighty hair.
"Being a skinny legend is more of a mindset or a persona than a number on a scale," Mattel says when asked about the inspiration behind the show's title.
"You can be a skinny legend with any body type. It's about dressing for your shape, it's about confidence and, honestly, it's about being verified on Twitter."
The tour also marks Mattel's first visit to the country since BBC Three announced it was working on a UK version of RuPaul's Drag Race.
The show, to air later this year, will see Graham Norton and Alan Carr join RuPaul and Michelle Visage on the judging panel as they seek to find the very best of the UK drag scene.
"I think that drag queens in the UK are very similar to New York queens," Mattel says when asked about her thoughts on the upcoming British invasion of drag.
"I think the queens in the UK are really great performers as they're really balls to the wall.
"We love to keep very in touch with the local performers when we're on tour and I always try to go to a local show if I can."
As if life couldn't get any busier for the Drag Race alumni, Mattel has also revealed she's branching out into the world of cosmetics.
"I previously worked as a makeup artist for five years so I've always been very interested in the technical side. I've been heavily involved in every step from working in the lab to choosing the packaging.
"Nobody uses and abuses makeup like drag queens – if I can't get blackout drunk and fall off stage in it, then it's not worth it."
UNHhhh Ep 85: "Driving" with Trixie Mattel and Katya Zamolodchikova https://t.co/f36UISBaPl via @YouTube

— Trixie Mattel (@trixiemattel) February 28, 2019
Not only that but she is also working on a new album and a documentary.
"The crew followed me for a whole year, including my national tour in the US, launching my album and filming The Trixie and Katya Show," she says. "There's even footage of me naked in the shower!"
Catch Trixie Mattel on her Skinny Legend UK tour at O2 Apollo Manchester on Saturday March 9. Tickets available from ticketmaster.co.uk
Main image courtesy of VH1, with thanks.