MM were treated to a sit down and chat with up and coming band Crossed Lines at the Access to Music College in Manchester to discuss their course and their hopes for the future.
The quartet met and formed the band when they started their course at Access to Music, a college spread across seven different locations with nine centres that has produced a rich crop of musical talent headlined by Ed Sheeran.
Although keen to play it down, lead guitarist Alice Tai MBE is a Paralympic swimmer and won gold and bronze medals at the 2016 Paralympics in Rio – more recently showing her talent at the British Para-Swimming Championships.
Great swim from BCS swimmer Alice Tai this evening in the MC 100 backstroke taking home a GOLD medal in a super fast 1:08.3 @BCSsport

— BCS Swimming (@SwimBCS) July 26, 2017
Singer Callum McCaldon, drummer Lauren Carberry and bassist Ryan Tongue might not be as famous as their band mate, but they exude all the confidence and charisma of gold medallists.
After giving MM a special performance in the Access to Music studio while they celebrate their 25th anniversary, we asked the band some questions (words and questions by Alex Brotherton, Finn Whelan, Emily Nolan, Jasmine Thomas, Laura Greaves and Arron Kapoor).
Can you tell us your names and really basic stuff?
L: I'm Lauren Carberry and I'm 17.
C: I'm Callum McCaldon and I'm 18.
A: I'm Alice Tai, I'm 18.
How did you become a band?
C: I think it was when we met each other at college.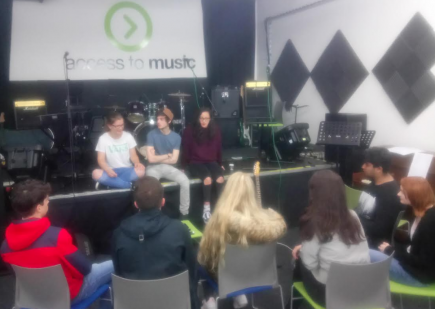 'FACING THE MUSIC': MM's reporters (l-r Alex, Finn, Laura, Emily, Arron and Jasmine) listen intently to the engaging trio of Lauren, Callum and Alice (l-r)
L: Yeah originally we were all in different bands at the start of college. I was with Luminous, a really good acoustic band, but I couldn't really play the drums and I was on a Cajon like a box and I didn't really like it as much because I couldn't really do what I wanted to do.
C: I was with people who, we didn't really like the same music and stuff and it just weren't working so….
A: I joined college late and so I was just sort of put with whoever didn't have somebody to work with. And then these two just sort of appeared.
C: We were sort of the rejects.
A: Yeah (laughs).
C: And we just sort of got together.
A: And now we are working our way up through the rankings.
C: Yeah we are doing pretty well I'd say.
L: Nailed it.
Do you enjoy coming here?
L: Yeah a lot. It's really cool, you get Mark (Acton, curriculum leader) and his sick band Cushion.
A: College broke up four weeks ago and we've been in pretty much every week after college.
C: Yeah it's just about the music and playing with each other.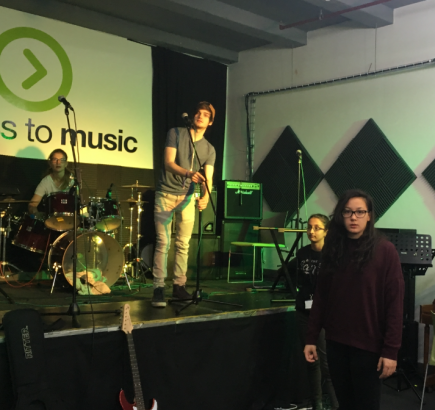 SETTING UP: The band minus bassist Ryan Tongue, consisting of Lauren (left), Callum (middle) and Alice (far right) get ready to rock (and roll!)
L: And they record us all for free which is great and we love you for it Mark.
Do you hang out outside the band?
L: Yeah, we won't talk about last night.
C: When we can, but it's difficult because we live quite far away from each other because Manchester is a central point. I'm from Stockport, Lauren is from Warrington and Alice lives in Manchester so it's not too bad.
A: Yeah I live 5 minutes away.
C: When we can yeah but it's hard, not exactly a five minute walk to each other's house is it?
When did you all get in to music?
L: I was seven, my cousin plays trumpet and he's a really cool trumpet player. He was in a big marching band and he was going to America to do a tour of playing his trumpet. We had a fundraiser for his flights and stuff. I was surrounded by loads of drum corps enthusiasts and wanted to give it a go so I went and played the snare drum and I still do it now, it's quite sad really.
C: She plays the Marimba in a drum corps.
L: It's kind of like a big xylophone.
A: They sound really cool. I just set up in the music room at school  because it was the only place the teachers don't come to kick people outside and it was cold outside so I was like 'I'll just sit here' and then my friend brought in a guitar. And I managed to convince my parents that I could play a guitar and I couldn't and they bought me one for Christmas and I just sat there like 'oops'.
C: She probably improvised and it sounded good.
A: I decided that I should probably try to learn something on guitar seeing as though they had spent money on one for me and then I don't know how I ended up at this college. I just sort of wound up here and I love it.
C: I'm glad you did.
A: Thanks.
C: I was friends with the music people in high school but I never really played an instrument myself until they got me into it. I did A levels for six months and I got sick of it. I thought 'I want to do music because I'll enjoy that more'.
Do you have any inspirations?
C: We take influence from quite a few areas of music because we all listen to all sorts. Me and Alice like a lot of the same music but at the same time….
L: Me and Alice like a lot of the same music.
A: I'm kind of like the in between these two.
C: I think we just get influence from all sorts of places.
L: Arctic monkeys.
C: No they're from Sheffield aren't they?  That's blasphemy.
Where do you see yourself in five years' time?
L: Like Justin Bieber but better.
(Laughter)
L: Hopefully we will have an album or something.
A: In five years?
L: Yeah hold on, give me chance to answer the question.  By the end of this year we are hoping to have an EP out, which is like five, six songs. And we will get that out by the end of this year and hopefully get some contacts.
Here's our cover of 'Mad Hatter' by Melanie Martinez, the full version can be found at https://t.co/bveCG16q39
Like and Retweet! pic.twitter.com/ffsrjmjmRa

— Crossed Lines (@CrossedLinesUK) March 18, 2017
C: That song we just played as well we are in the middle of filming a video for it and then we are going to release that sometime soon.
L: Like us on Facebook!
Do you ever get nervous when you're performing?
A: I used to. I remember the very first one that I did here. I'd never gone on stage and I'd never really played guitar in front of anyone so I was shaking loads and I couldn't play.
L: We thought it was dead good and we watched the video back the other month, it was carnage.
A: Yeah our first proper performance as a band and we were like yeah! We went to Nandos to celebrate.
L: We thought it was amazing and then we watched it back like…
A: What is this!?
C: Maybe that's what we will be doing in five years, be looking back and thinking what were we?
You are quite confident people, is that because you play music?
L: Definitely, I was quite shy but then I got on the drum kit and was like 'hee hee' and then my music teacher used to tell me to shut up. I was really quiet believe it or not and then I was just like 'AARGH' and I had this all new confidence I had never had before so that's pretty cool. You were pretty shy as well, that's because you're famous though (to Alice in reference to her Paralympic swimming success)
What's the biggest crowd that you've played to?
L: You, nah I'm joking. Retrobar?
C: Probably yeah.
L: We played a gig at Retrobar but it's shut down now actually.
A: We were that bad they had to shut it down.
Do you reckon there is room for another member in the band?
L: We do have a bass player, Mark is not the bass player but he has disappeared running 10Ks.
How often do you meet for rehearsals?
L: In college it's timetabled twice a week, so four hours. If we're not in college it's usually once a week but we'll spend the whole day together.
L: We make the most of our time together because we live so far away, we can't always be together.
A: Rehearsal rooms are open even when college isn't on, so we can come in and rehearse whenever we want and it's free. We paid for a rehearsal room which was £30 for four hours and it was so messy. There were broken drums and cymbals everywhere, the amps were kicked in, empty beer cans everywhere so I was tidying up because it bothered me.
Good to see our patron @edsheeran back at #BRITs2017 with @Stormzy1 #collaboration #britishtalent pic.twitter.com/l1bSE9wGSl

— Access to Music (@AccesstoMusic) February 22, 2017
You said you've got a song coming out next week, is it?
C: We start filming for the video next week and then we're going to release the song with the video. You won't be able to find it online yet.
What's it called?
C: The full name is Take Ships out of Bottles, Get Shipwrecked.
A: We call it Shipwrecked for reference because it's a bit of a mouthful.
Do you all write your own songs then?
L: Yeah we all do but we usually use Callum's because they're sick.
C: We do some covers like the ones we played before but hopefully when we've got some of our own material we'll start playing more of our own stuff.
L: And people will be able to sing along! I like that.
C: I think it's good to bring back songs that people haven't heard in a while, so you play it and people can think, oh I've heard this!
Image courtesy of CrossedLinesUK via Twitter, with thanks.