A Hazel Grove mother-of-two has gone from washing pots to 'baking' an empire.
Jane Finch, 48, set up her business four years ago after baking a cake for her mum and dad's golden anniversary party.
Jane was later asked by a party goer if she was able to design and bake her daughter's wedding cake – a huge honour for an amateur baker at the time.
Since then she has gone from tier to tier and now runs her own catering company, Cakes by Jane, and has featured in national and regional newspapers for her sweet creations.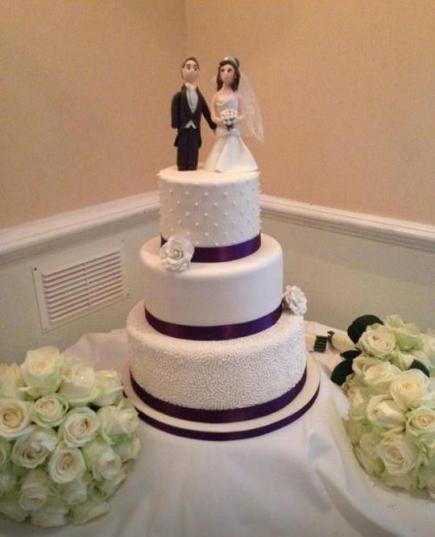 WHERE IT ALL BEGAN: Jane's cake making career started with a wedding cake
She told MM: "After the wedding cake it spiralled out of control. I had to choose between my job and my hobby.
"My baking started more as I got into my 20s, and then slowed down as my children came along. I rekindled the desire for it about five years ago and started it as a small business in 2011."
When Oldham Athletic's defeated Liverpool  in 2013, Jane was just the woman they need to celebrate the shock giant killing.
She baked an exact replica of the FA Cup to help the former Oldham manager Paul Dickov celebrate his success. It was billed as the ultimate Cup Cake.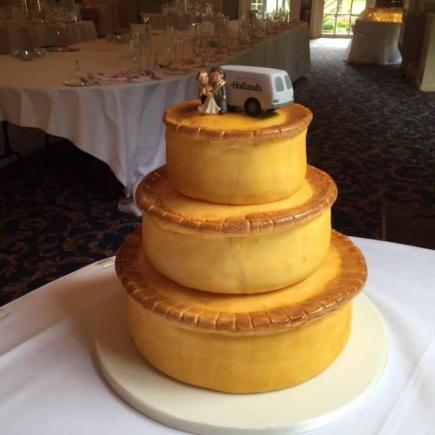 IS IT A PIE, IS IT A CAKE? These fans of Holland's Pies must have been thrilled with their wedding cake
And Jane's cakes made headlines again recently as she designed a cake for Holland's Pie fanatics Jenna and Stephen Tobin's wedding.
Jane had the tough task of baking a three-tier cake designing each layer as a separate pie.
She said: "I was glad to help make their wedding extra special and wish them a long and happy marriage"
Pie cakes seem to be a popular demand – Jane also made a cake that looked like pie but was shaped like the FA Cup for footballer turned racehorse trainer Mick Quinn, who displayed the cake at his Newmarket stables.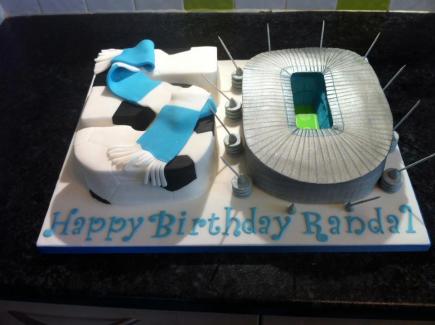 CAKE CITY: Football seems to be a popular theme for Jane's cakes and this Manchester City fan's birthday treat looks brill
Jane has also baked a birthday cake for Coronation Street star Bill Roache, who plays Ken Barlow in the hit soap.
Jane, a fan of the actor, said: "It was an honour to bake a cake for someone who is so well liked by the public."
The mum was full of praise for her 44-year-old husband Mark who has been there for her every step of the way.
She said: "He has been very supportive of my passion for baking. And he helps taste the cakes before I send them out."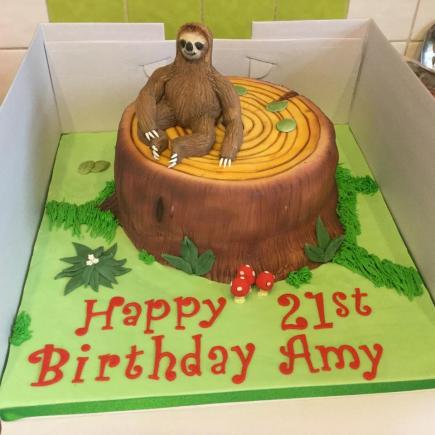 SUPPORTIVE: Jane's husband Mark has stood by her while she pursued her dreams
Many people believe that Jane has what it takes to compete in The Great British Bake Off as she clearly has the quality to reach the peak of the baking industry and compete on the show.
While she is a huge fan, Jane said she's not sure she's got the confidence to be on tele.
She said: "I think Mary Berry is brilliant, I'm a big fan of hers and Paul Hollywoods and love watching the Great British Bake Off."
"But you can't be running any kind of business in catering to take part.
"Also I'm not sure I'd be happy doing it anyway as I've always struggled with self confidence so I can't think of anything worse than being in front of a camera!"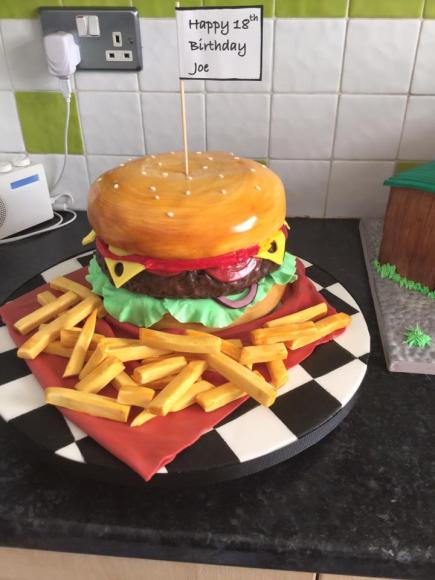 GREAT BRITISH BAKER: Jane doesn't think she has the self-confidence to be on TV
Jane is close with her two children who are her biggest critics.
"My children are not really into baking and actually fed up of cake, they've been some of my chief tasters for the past few years so cake is not a treat anymore," she said.
Although the kids may be fed up with it, Jane's husband Mark certainly isn't!
Jane added: "Chocolate mud cake is the favourite in our house. Mark especially likes it warm with baileys in it and drizzling of fresh cream on it."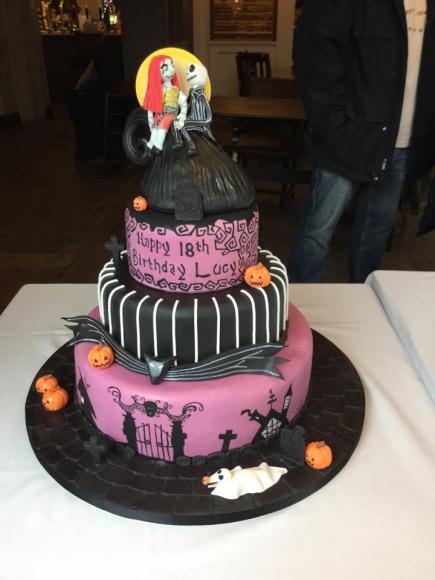 JACK AND SALLY: Jane's Nightmare Before Christmas cake for an 18th birthday
If you would like to follow in Jane's footsteps she's got a handy tip for you.
"Make sure you have adequate support in a cake – especially if it's going to be moved to a different location," she said.
Alongside all these great accomplishments, Jane also volunteers to cater for a local Alzheimer's support group every Tuesday.
With 164 likes on Facebook, Jane has started to become inspirational for aspiring professional bakers and cake lovers around Greater Manchester.
If you would like to contact Jane about business inquires you can contact her on 079684 58588 or via her Facebook page Cakes by Jane.
All images courtesy of Jane Finch, via Facebook, with thanks.