Emma Timmis woke in the middle of the night to the sound of an elephant outside her roadside tent.
She couldn't see it, but she could tell by how the animal was snapping down trees in its path that it was inconceivably huge. And it was angry. And it was heading right for her.
Emma sat bolt upright and listened as it came and went, and she knew how close she had come to certain death. 
A few hours later she rose. With Namibia behind her, and Zimbabwe, Malawi and Mozambique ahead of her, Emma did exactly what she did every day. She ran a marathon.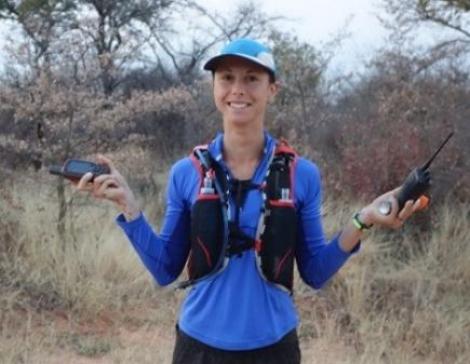 BATTERY-POWERED: Emma averaged an incredible 26 or more miles a day 
On August 31 the 30-year-old from Denton set out to do something no one had ever done before – cross Africa coast-to-coast from Namibia to Mozambique on foot in 100 days. In the end she did it in less than three months, averaging more than 26 miles a day.
It all started in Stockport a year-and-a-half ago with a drunken promise to a friend. 
At the Banff film festival – which showcases adventure films from around the world – Emma and Aysha Madha realised every film, one after the other, was about men. While these men took on nature in gruelling feats of endurance, there wasn't a woman to be seen and that didn't sit right with them.
Over a bottle of tequila Emma and Aysha, a charity worker from Chorlton, made a pact. If Aysha did all of the fundraising, made all the travel arrangements and planned the route, Emma would run. 
In the early hours such promises are probably made every day in dimly-lit bars up and down the country. In the cold light of day what Emma agreed to was naive at best. At worst it was alarmingly foolish.
But while most people would have chalked it up to mere pub-talk, one of the things that make Emma such an extraordinary person is her severe obstinacy.
"If I say I'll do something, I have to do it," she tells MM over the phone from Mozambique.
"There's no way in the world I could have backed down. Part of the reason is I don't want to let anyone down. But part of it is also that I'm extremely stubborn. 
"I sort of said it never thinking Aysha would hold up her end of the bargain. But she did, so from that point I was always going to do it. I just had to."
Between them they landed on three charities to raise money for. Some of the money was to be re-invested in Africa, through the Seed Project, a Zimbabwean community development fund and Tusk, a charity working to conserve African wildlife.
The rest of the money was to go closer to home. Established by Aysha herself, Think/Plan/Do is a Manchester-based organisation providing support for young people at risk of crime, mental illness and homelessness.
With the charitable commitments arranged, the pair set off for Namibia. They were joined by Robert Kazunga, a project manager for the Seed Project, mechanic Woocash Uzar and Michael Whitehurst, who rode alongside Emma on a bike providing her emergency medical support.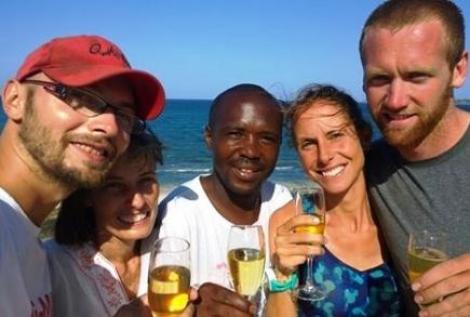 FAB FIVE: (l-r) Woocash Uzar, Aysha Madha, Robert Kazunga, Emma Timmis and Michael Whitehurst
With Aysha driving the car, Emma was free to run as much as her body would let her.
Within five days she broke down. While still acclimatising to the punishing Namibian conditions – dry and scorching hot in the day, freezing at night – she suffered from severe dehydration one day.
For most people it could have spelled the end of the trip. Not only was she physically worn, but the mental pressure of having collapsed so early into the journey would have left even the bravest adventurers broken.
But Emma has a completely unique mindset. What allows her to do what she does has very little to do with physical gifts. In fact, she insists there's nothing special about her body that makes her an 'ultra-runner'.
"Physically I personally believe anyone could do it," she says.
"I don't think I have anything different to anyone else, but I guess there's something about my mindset that makes me different. 
"I find running tedious – it's honestly the most boring thing in the world. It's really not my idea of fun. I can't listen to music – it throws my timing off completely and I start to feel drunk. 
"But I guess the way I do it is I don't really think about what I'm doing. I just go and do it. 
"Every day we'd break for three hours for lunch and start again at 2pm. But whereas most people would spend 30 minutes before two o'clock thinking about what they're about to do, I just get up and run. It's really as simple as that."
Clearly Emma possesses some exceptional mental or emotional capacity, but she doesn't think about that at all. She doesn't really think about much. 
While she's highly intelligent, she has an almost unnatural ability to switch off her thoughts at will.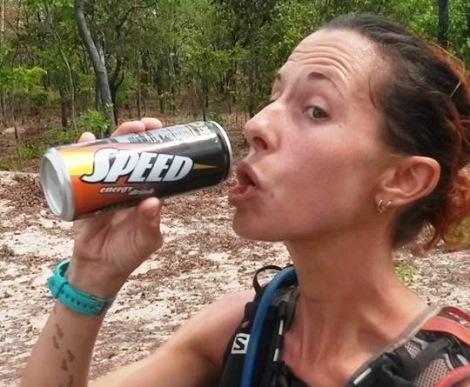 NO FEAR: Emma braved elephants, tornadoes and lost toenails on her journey
Sprained ankles don't faze her and neither do severe cramping, lost toenails or seemingly constant pain. She knows they're only temporary and so she'll get through it one way or another, one foot after the other. And so it goes.
But when the running was done for the day, she became all too aware of the perils around her.
One night her tent was ripped out of the ground by a mini-twister that tore its way through the landscape at breakneck speeds. The moment before it hit she was more scared than she had been in her entire life.
But even more than the alien environment, it was the societal differences that really shook Emma. 
"The divide between white people and black people in Africa is huge. Whites are just seen as having all the money, while black people have nothing. It's nothing like England. I know we have inequalities but people are valued the same as people," she said.
"We stayed with a lady who gave us accommodation one night. She's a white woman in Africa with lots of money and she had black people doing her washing and gardening and cleaning and cooking.
"That's very common for people to live such different lives based on colour and it's just sort of accepted. It made me very, very uncomfortable."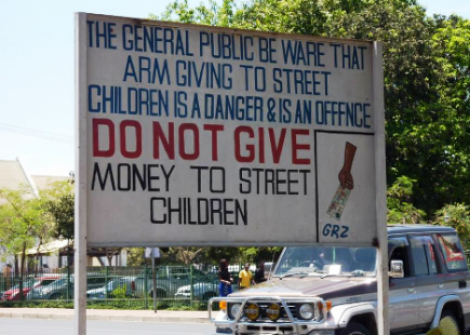 HARSH ENVIRONMENT: One of the many eye-opening street signs in southern Africa
In more remote areas, however, they encountered something completely different. For a lot of people on her trip, Emma was the first white person they had ever seen, and this made for some very strange reactions.
One day she spotted two women coming down a hill, carrying huge, 30-litre buckets on their heads, less than 20 metres away. When they saw her they were terrified.
"They both spun around and started sprinting as fast as they could back up the hill," Emma says.
"One had a sarong on and it kept on tripping her up so she just ripped it off and full-pelt ran away from me. 
"But because they had the buckets on their heads they couldn't run very fast. I eventually caught up and I said in their language 'good morning' and they just stood there and stared. And as I left I heard them breathe a massive sigh of relief. 
"They must have thought I was going to kill them. It was very surreal but also, having never seen someone like me it was kind of understandable, in a way."
Emma will freely admit this was the most difficult thing she's ever done. Physically, psychologically and emotionally it almost beat her. There were more than a few points at which she felt she wasn't going to make it. 
But did she ever seriously consider quitting?
"No."
Last Thursday, after three solid months of every-day marathons in some of the most testing conditions on earth, Emma found herself on the home straight.
She got up early that morning, such was her excitement to finish. Usually she never ran before sunrise, but that morning she strapped on her head torch and ran for an hour in the pitch black.
Running along a cove all day, her view of the sea was at all times blocked. She couldn't see her finish line and the taste of seawater in the air tortured her.
Aysha had been in contact with a hotel in the coastal town of Pemba, Mozambique. It owns its own private beach, and it was arranged for Emma to run through the lobby and out the back exit straight into the sea.
Hotel staff lined up from the entrance through the building to cheer her on as she sprinted towards the water to make for the most dramatic of finales. When she hit the waves she knew it was all over. 
She was overcome by emotion for a while, but after celebrating with her team she's come back down to earth remarkably quickly. By her demeanour you'd never know this woman has just done the unthinkable.
She's at ease and self-deprecating. Right now she's still in Mozambique, relaxing and trying to stay off her feet, before she heads to Cape Town in South Africa to spend the Christmas season with friends.
It's impressive how calm she seems. Most of all she just sounds normal. It's slightly disconcerting – she's either completely aware of her achievement to the point of being totally detached or she simply can't grasp its enormity.
In truth it's probably a bit of both: a mental state mere mortals can't hope to understand. And that's what makes Emma Timmis so incredible.

ALL SMILES: Emma passed many intrigued yet friendly locals
Images courtesy of Head over Heels via Facebook, with thanks.