Barton Moss made headlines in 2014 as residents of Salford and other areas in Greater Manchester protested against proposed hydraulic fracturing – more commonly known as fracking – in the area.
The drilling of a test well by iGas at the site near Eccles led large numbers of concerned locals, and sympathisers from further afield, to hold an ongoing demonstration against the controversial extraction technique.
At the time, articles in the press featured accusations of heavy-handed tactics by the police, alongside counterclaims from the authorities that protesters were seeking to antagonise them.
Photographer Steven Speed spent his time recording the protests and he now plans to stage an exhibition, the Battle of Barton Moss, that he hopes will counter a media narrative that showed the protesters in a negative light.
He has set up a crowdfunding page to secure financial backing for his project and, if successful, the photographs will go on display at the People's History Museum in Spinningfields next year.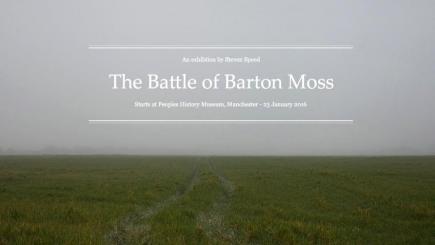 BATTLE OF BARTON MOSS: Steven's exhibitiion hopes to shine a different light on the anti-fracking protesters
Steven told MM that the idea of recording the protesters came to him after visiting the camp while he was reporting for the Salford Star.
He said: "Me and a friend run the Salford Star, so when the protest camp was set up we went down just to cover it.
"The thing that struck me was there was already a story about the people being dangerous, crazy radicals that you should have nothing to do with.
"Just straightaway I thought this isn't the reality I've seen – it was a lot of hippies, local people, and environmental activists – and it just seemed to jar with what I was reading in the mainstream press.
"So I thought I'd try to document this, because the reality was not actually how people perceived it."
Several arrests were made during the protests, although the majority of those detained by police were subsequently cleared of any wrongdoing.
A report by Greater Manchester Police found no evidence of police brutality towards protesters and concluded that, while the majority were there to protest peacefully, a minority sought to antagonise the authorities and cause trouble.
Steven claims that contemporaneous reports of troublemakers from outside the area infiltrating the protests were unfounded.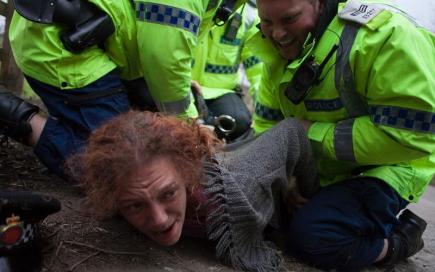 'NO EVIDENCE': GMP concluded there were no cases of police brutality during the Barton Moss demonstrations
"It could not be any more false." he said.
"There were people who weren't from the local area but the vast, vast majority were all local people.
"There were some people who had been students at Manchester University, for example, who weren't from the local area but had been living in Greater Manchester for years – but that's about it.
"The people from further afield used to come for short periods of time; they'd come, bring their caravan, stay for a week, and that was it."
Steven admits that his work could face the same criticisms as the reports that inspired his project – that it does not show the whole truth.
While he's aware that photography can be limited in its ability to represent the facts, he hopes to spark a dialogue about the protests and the issues that provoked them.
"The exhibition is a reflection on some of the things that were going on there," he said.
"But obviously it's still my opinion and my take on events because I'm creating a story by selecting photos.
"One of my intentions is to challenge the perceptions of what happened there that most people engaged in environmental activism are there to make trouble.
"The exhibition will be there to create debate – about how we provide energy or protest effectively.
"This isn't about me saying this is absolutely right; it's about trying to provide a talking point for it."
The plans are for the exhibition to be divided into three parts, with the first devoted to portraits of the protesters and the second part to the protest itself.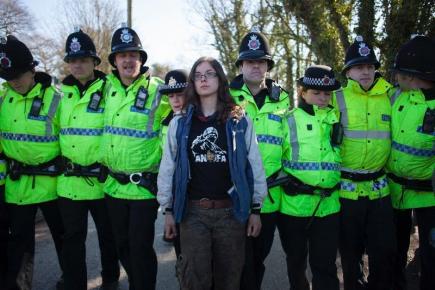 STRESS, ANXIETY, POLICING: Steven said the hour-long walks were quite frightening as people would fall and get pushed
A final section will focus on the protest walks aimed at delaying the delivery of construction materials to the site.
"The walks would last about an hour," Steven said.
"It was quite frightening at times as you were walking along, with people falling over, being pushed over, shouting… It was going at a pace that you just couldn't keep up with.
"It was quite an intense experience, so there are photographs that show that – the stress on people's faces, some of the anxieties, and the policing."
Steven sees the Battle of the Barton Moss as part of a tradition of public protest in Manchester, but he also sees it as linked to a wider wave of demonstrations that swept the country in the wake of the 2010 general election.
He said: "Barton Moss was an incredibly innovative protest. It kind of evolved out of the occupy movement – those kind of things.
"But what it did, which was really amazing and empowering for people, is that when they slow-walked those trucks into that drilling site they got the sense of having achieved something.
"They felt like they'd done something really positive to impact on the business of fracking, and so it really empowered people."
Media commentators have observed that the austerity measures introduced by the Conservative government have not led to the kind of large-scale public demonstrations that might have been expected.
Nevertheless, Steven remains optimistic about the legitimacy of protests and the role they play in making people's voices heard.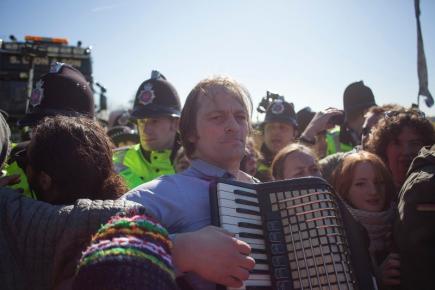 'PEOPLE DO START TO LISTEN': The photographer hopes Barton Moss will encourage others to protest and engage with politics
He believes demonstrations have been on the rise again since the last general election
"I hope that they will grow because it's such an important part of democracy," he said.
"People really need to engage in politics in some way, and it's a great way to show that people don't agree with what's happening.
"Most people seem to disagree with what's happening, so I think it's a thing to be encouraged.
"When you see a campaign like Barton Moss that did so much, you can see that it's definitely worthwhile to engage in protest and activism of one form or another, and actually to try to speak out to say you don't agree with something, because people do start to listen."
To help Steven create Battle of Barton Moss exhibition, visit his crowdfunder page. The fundraising project set to last until December 26.
More information about the photography exhibition is available here.
All images courtesy of Steven Speed, with thanks.