Swedish charity cyclist Linus Lind only set out on his 1,600-mile fundraiser to Manchester to raise awareness for Doctors Without Borders.
He ended up raising more than double his target and could yet treble it, having seen nearly 26,000 Swedish krona (£2,250 approx) flood in: a staggering rate of almost £1 per kilometre cycled.
FC United fan Linus, who departed Uppsala at the end of July, reached Broadhurst Park in Moston last week and promptly inspired a 3-1 win over Ramsbottom.
His tale is even more inspirational.
"It's been wonderful, I have been stung by wasps and attacked by wasps but met some great people along the way. FC gave me some inspiration to do this."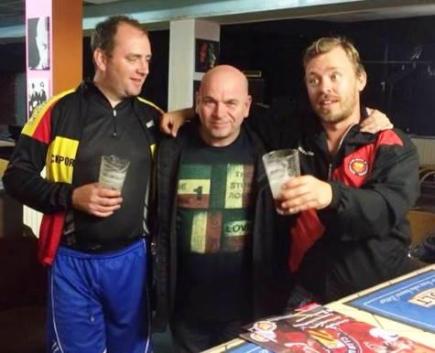 PLEASE SIR, CAN I HAVE SOME MORE? Thirsty Linus after marathon effort
After riding through six countries, Linus was welcomed by a selection of FC United fans at the Miners Community Arts and Music Centre before going on a tour of the new ground ahead of Saturday's win.
"It's been such a great journey and I am so happy that the amount of donations surpassed my wildest expectations," said Linus on his Facebook page before he set off back to Sweden.
"25,190 plus an additional donation of 690 SEK coming in soon gets the final figure up to 25,880 SEK! About 10 SEK per kilometre.
"That is unbelievable, I want to thank you all so much for donating!"
At home now after a fantastic journey! Already missing FC. @fcumradio is a great substitute though! Come on FC!

— The Sloop John B. (@SloopJohnB_FCUM) September 2, 2014
Linus is still trying to raise money and you can continue to help him by donating here. 
Doctors Without Borders is a humanitarian-aid NGO in over 60 countries with more than 20,000 medical (and other) volunteers that work in war-torn regions and developing countries facing endemic diseases.
In the meantime, Linus' immediate plans are to complete his studies.
"Now I'm going to put my energy and focus on writing my thesis and finally getting a degree after far too many years of being a student. Fingers crossed."
The hardy cyclist added he hopes to be back in Manchester when the new ground eventually opens before Christmas… just don't expect a bike in tow. Perhaps a sled and some reindeer instead.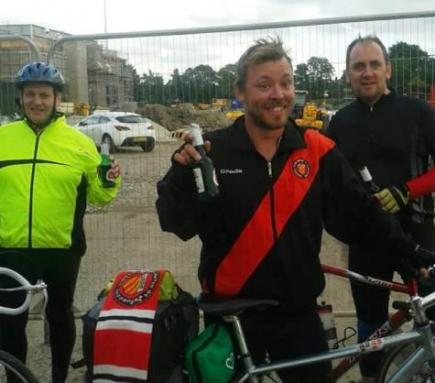 LOVE IS ALL YOU NEED: Linus with some of the other cyclists who joined him en route
Image courtesy of Linus Lind via Facebook, with thanks.