Manchester's homeless were invited to the opening of the UK's first ever Street Store where they can shop for free in the Northern Quarter last weekend.
Thousands of pounds were donated by volunteers and businesses, like Bench and Loomland, for homeless people to browse through and 'buy' with a special raffle ticket, while having some food and a chat with the community.
The Houldsworth Street store – only the 80th of its kind in the world – was organised by Steve Houghton-Burnett, a 47-year-old businessman and motivational speaker.to browse through clothes, have some food and chat with the community.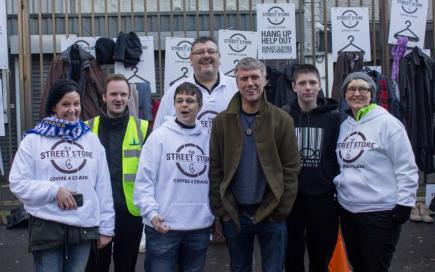 HANG UP, HELP OUT: Bez joins volunteers and businesses who donated clothes to the Street Store
Steve, who got his inspiration for the shop from a video about the world's first Street Store in South Africa, admitted to actually having a phobia of homeless people from a very young age.
He said: "I was actually scared that if a homeless person touched me I would 'catch it' and instead of feeling compassion, I actually felt fear."
The businessman said the Street Store was a great way for him to overcome his fear and simultaneously offer the homeless a chance to make choices.
He said: "The people who are reading articles about this don't really understand how much choice they have in their life.
"Right from the moment you get up you can choose what sort of tea or coffee you drink, you can choose what clothes you're going to put on.
"When you become homeless one of the things that you lose is choice. This is all about giving homeless people a choice."
In order get the Street Store up and running, Steve teamed up with the Salford-based charity Coffee4Craig after hearing about their work through a friend.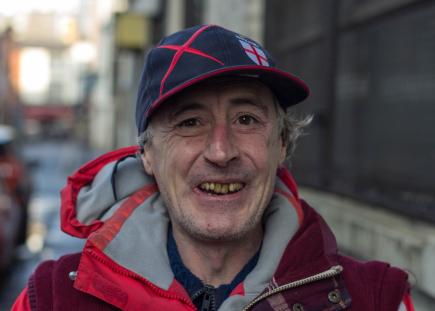 FEELING GOOD: The Street Store aims to restore homeless people's confidence
Coffee4Craig was co-founded by Risha and Fie Lancaster in memory of Risha's brother Craig White, who was found dead after sleeping rough.
Fie Lancaster said: "I kind of feel a bit like a proud parent today. We've had some amazing guys come down.
"They arrived feeling rejected, left out of society, not wanted, not needed and they've left full of confidence, dignity and with a brand new outfit.
"And that's what this is all about. It is about restoring faith, giving back dignity and allowing people to regain a little confidence and feel good about themselves."
Kevin Gomish was one of the homeless people who came down to the shop and left with new clothes and a gift for his girlfriend.
He said: "The Street Store is amazing, it is good.It has been an event full day. I quite enjoyed it – I met some new faces and I made some new friends."
Tony Lloyd, the Police and Crime Commissioner, attended the event. He thinks there is a lot still to be done to tackle the level of homelessness in the city, branding it a 'scandal'.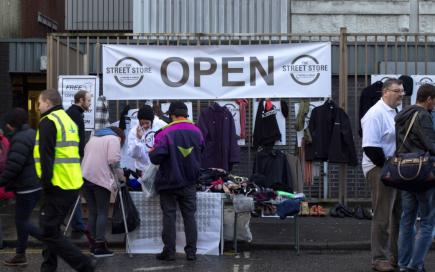 KEY TO A DECENT SOCIETY: PCC Lloyd said we're not quite there yet when it comes to helping the homeless
He said: "Here in the city we know there is a shortage of accommodation that's affordable for people at the bottom of the income scale.
"We need to make sure we have the shelters and facilities that can make a difference. This is the key to being a part of a decent society and we are not quite there yet."
Images courtesy of Jensen Forshaw, with thanks.