A Manchester councillor has pledged to ensure every person in the city centre is within four minutes of life-saving defibrillator equipment.
City centre chief spokesman Pat Karney announced his support for the campaign for extra defibrillators at the Heart Safe MCR launch at Piccadilly's Macdonald Hotel yesterday.
The Labour councillor for Harpurhey made the comments alongside speeches from cardiac arrest survivors, medical professionals and those behind the campaign.
Aiming to increase the number of defibrillators across the city centre to ensure that no-one is ever more than four minutes away from the life-saving equipment, Heart Safe MCR has already installed a pilot zone.
Cllr Karney told MM: "Nobody should be more than four minutes away from one of these machines because that's all you have to save people's lives.
"My job on the council is to make sure that every venue in the city centre has looked at the possibility of having a defibrillator, and that we do have public awareness. 
"What a great accolade it would be for us to be a Heart Safe city. Thankfully, the occurrences of people collapsing with a cardiac arrest are quite rare. But one is just too many and with this scheme, we can save lives.
"It all sounds very medical, but if you translate this into your friends or your family, you'd be very motivated. Manchester has got to get really de-fib wised up. Saving one person's life is worth it."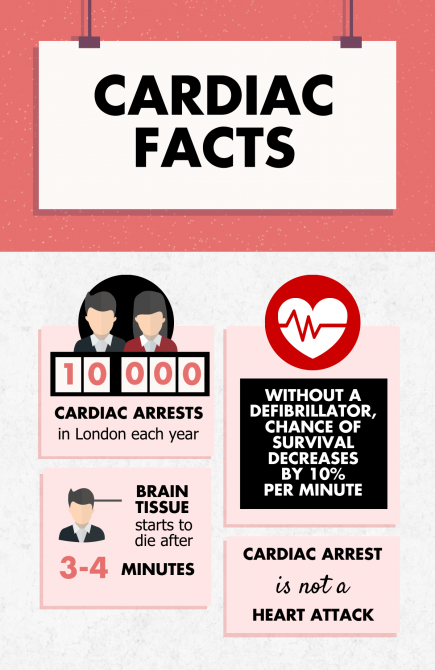 One individual who did suffer a cardiac arrest is Isabelle Peters, a 22-year-old student from the Royal Northern College of Music.
Ms Peters, an aspiring opera singer, suffered the arrest in October 2013, and was at yesterday's launch.
She told MM: "It was a complete out of the blue shock. I was 21, very fit and healthy, and my heart stopped during an exercise class.
"If the staff at the aquatic centre hadn't been trained in first aid and there wasn't a defibrillator in the vicinity, I would have lost vital brain function, vital organ function and perhaps wouldn't have survived.
"I don't remember anything. I suffered concussion, and your body goes into shock. I only remember what people tell me. So the instructors at the aquatic centre performed immediate CPR, which in turn pumped oxygen and blood around the body, and kept my brain intact.
"It terrifies me that other people might not be as lucky as I was. When the heart stops, you die. Every second counts. These things could be sited everywhere and provide immediate, vital, life-saving care to people who need it."

LUCKY ESCAPE: 21-year-old student Isabelle Peters spoke of her cardiac arrest last year which happened completely out of the blue
Ms Peter's collapse was caused by a cardiac arrest, which happens when the heart stops pumping blood around the body, and can happen to anyone.
A defibrillator delivers the crucial electric shocks needed to get the heart beating normally again.
Ms Peters added: "A heart attack is a lifestyle thing, or an underlying heart problem which causes a build-up. With a cardiac arrest, it can happen to any young, fit, healthy person. 
"Anytime, anywhere, whether they are exerting themselves in physical recreation or just walking down the street, it can happen.
"That's why these defibrillators are so important. To be anywhere and able to reach these life-saving machines in under four minutes is an absolute dream."
A pilot Heart Safe zone has been created in the Piccadilly area of Manchester, running from the train station to Piccadilly Gardens.
Defibrillators have been installed at hotels along that stretch, including the Macdonald Manchester, Double Tree Hilton and Portland Thistle, with over 80 members of staff having been trained to use the units.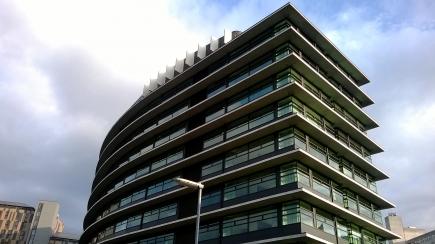 PILOT ZONE: Manchester's Macdonald Hotel is among the businesses who have installed defibrillators (©Mikey, with thanks)
City centre management company City Co are spearheading the business side of the initiative, and have joined forces with the North West Ambulance Service (NWAS) to create strong links between those vital health services and businesses.
City Co operations manager Emma Cooke was at the launch and was keen to emphasise why businesses should get on board.
She told MM: "When somebody is in cardiac arrest, they are dead, and this machine can save them. It is such a straightforward piece of equipment which can't be used inappropriately. You can't use it wrong.
"It gives you voice activated instructions, and it's really clear and concise about what you should do. It talks you through every step of the process and it's the easiest bit of training I have ever received in the work place.
"There is a historic kind of uncertainty about what having a unit means for that business, such as who's responsible. There are misconceptions about if a member of my team use it, what happens if that person doesn't survive.
"That has created a sense of fear within businesses and if they don't have to have it, they won't have it. We need to change that."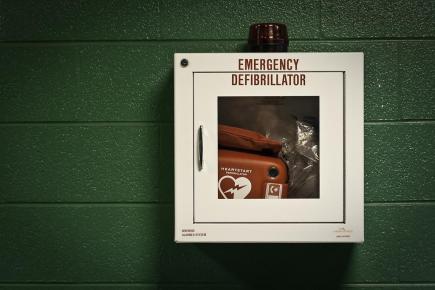 YOU CAN'T GO WRONG: Defibrillators are typically found in boxes like this, and can be operated with no prior knowledge 
(©Cliff Johnson, with thanks)
Ms Cooke wants more city centre venues to install these units, train their staff how to use them and be confident in the fact that they won't get into trouble.
She also emphasised the cost saving aspects of this programme.
"The ambulance service has a unit of AEDs (defibrillators) that are available at the moment as assets that they can put into businesses, but that's not a never-ending pot. We're looking at doing a 50/50 split and grouping together businesses so that they are sharing the financial implication.
"But you are talking about just over £600 for what would last you eight years, and is under warranty for eight years. The replacement cost is not huge either. When you look at what businesses are paying out for first aid training, this isn't a lot.
"If they do want to group together and make things more financially viable, we are happy to do so and help. I don't understand why anybody wouldn't want to come on board with this."
It is hoped that this scheme will become enshrined in legislation so that businesses have to have defibrillators on site and staff trained to be able to use them.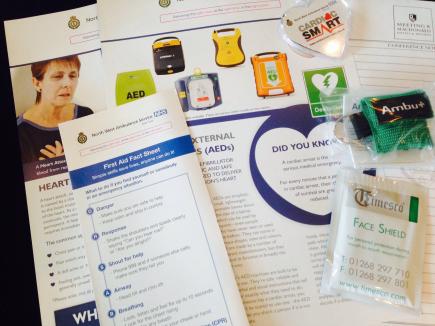 FIRST AID FACTS: A pack containing information on operating defibrillators was handed out to attendees of the launch event
Another campaign which is also being pushed by a number of MPs is to make CPR training mandatory in schools.
That falls alongside statistics released by the British Heart Foundation and the NHS which reveal that Manchester is the heart disease capital of the UK, and on a national scale, someone suffers a heart attack every two minutes.
Ms Peters told MM: "In schools, we are taught subjects like maths and religious studies, so it should be on the curriculum to study and be trained in basic life support. We can't put defibrillators in homes. They are public machines. So for children to be trained in basic life support means that they can start saving lives immediately."
A heart attack occurs when blood flow to the heart is blocked, and is often the result of an unhealthy lifestyle. 
Cllr Pat Karney has called for people to become 'their own NHS' by making healthier life style choices to ease pressure on public services.
The Heart Safe pilot scheme has no set time limit and CityCo, along with NWAS, will be looking at what current provisions there are across Manchester, and which parts of the city are considered black spots because of a lack of defibrillators.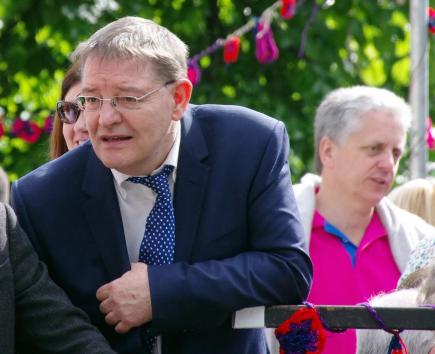 'WE ALL NEED TO DE-FIB WISE UP': Councillor Pat Karney has given the council's backing to the campaign (©Donald Judge, with thanks)
Ms Cooke added: "I would hope to see businesses become more receptive to the idea because they have a better understanding. I'd like to see people who live and work in Manchester have more confidence to use defibrillator units.
"We've done this in 6 months. It hasn't taken us long at all. I would hope that we aren't far off from creating a four minute zone which covered the entire of Manchester city centre, so that we could be in a position to say that Manchester is a Heart Safe City." 
A person's chance of survival is increased by 80% if there is access to a defibrillator, and with approximately 60,000 people suffering cardiac arrests outside of hospital every year, medical professionals need cities like Manchester to rise to the challenge.
Cllr Karney said: "Manchester people are always very concerned and would reach out to help, but you actually need these machines present so that people can be rescued. Time is very short.
"The hotels and a lot of the other venues see it as part of their public duty, which is good. I would now always want to stay in a hotel that has the defibrillator sign when I walk into the reception. It is part of their duty. You can't just load all this on the NHS."
The programme is looking at 24-hour businesses, such as hotels, so access to these essential life-saving machines is always possible, and more people like Ms Peters can live to tell their tale.
She said: "It has definitely opened my eyes to how quickly you can be here one moment, and gone the next. It is getting across that it's a very real thing. It can happen.
"People can go along one day and not know that they've got an undiagnosed heart defect and overexert themselves, or simply just walk to their car and their heart stops.
"It's quite literally that brutal and if people are aware of that, I think they'd be more inclined to care. I know it's hard to identify with if it hasn't happened to you or someone close to you, but if everybody understood that it can happen, it would make a difference."
Top image courtesy of St John Ambulance, via YouTube, with thanks