In the midst of what seemed to be a huge building site, juxtaposed against a mishmash of polished new builds and redbrick relics of a heavy industrial past, Ancoats lies at the northern end of Manchester's city centre.
The suburb was the cradle of Manchester's industrial revolution before collapsing into decline in the mid-20th century. But, beginning in the 1990s, a wave of investment and regeneration flooded into Ancoats relaunching it into a happening cultural and business hub. 
Ancoats recently claimed the title of Hippest Hang-out Neighbourhood in the UK, from Travel Supermarket, and third in Europe. Only Kreuzberg, Berlin, and Miera Iela, Riga (Latvia) placed higher.
So on a cold Manchester morning MM set out to explore Ancoats and see what the people there thought of the new accolade.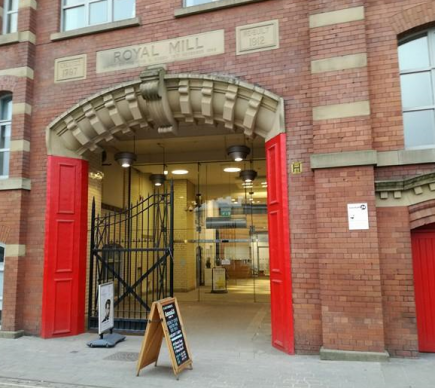 PICTURE PERFECT: MM got a bit cold spending an age here waiting for the doorway to be clear 
The first port of call was Ancoats Coffee Co. and the need for caffeine. Set in a stylish former cotton mill, Ancoats Coffee Co. has expanded from a roasters into a great place to relax and grab tasty coffee and food.  
I had never been served coffee in a carafe and glass before but sampling a recommended brew I saw immediately how intriguing and unique Ancoats could be. 11 different coffee samples later – from the wholesaler who was in-store to help expand the already impressive line of beans available – and I set off, spring in my step, in search of more of Ancoats' independent institutions.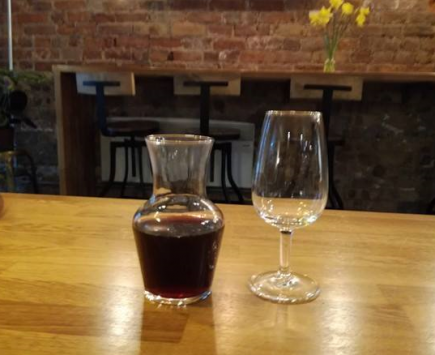 CARAFE ANYONE? A first for MM… coffee in a posh glass!
Ancoats General Store is a cool and quirky supermarket selling everything from groceries and an excellent selection of craft beers, to artisan merchandise. The store recently added a café and bar area to unite almost anything you could want into one space. 
"It's amazing," said assistant manager Niall Harley, speaking about Ancoats' title of UK's Hippest Hang-out.
"It's good coming from Manchester and seeing what it was before, which was just empty warehouses and untoward activities.
"It used to just be a lot of crime, a lot of prostitution round here, and you know nobody would come here. But obviously just a bit of money invested in there and now it's become what it is today."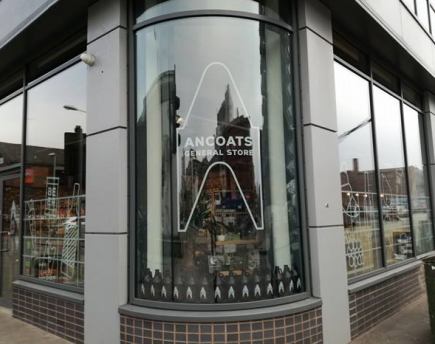 FRESH ALTERNATIVE: Ancoats General Store assistant manager Niall Harley says Manchester's cool kids have had enough of the 'ruined' Northern Quarter
Harley also described how Ancoats has come to represent a fresh and dynamic alternative to Manchester's gentrified Northern Quarter.
"Instead of being the cool area, everyone knows about it, so if you're cool you know not to go there.
"You need somewhere to go that's cheaper and somewhere different from Northern Quarter because everyone's ruined it."
Next I headed off to Campanio Bakery, an incredible community business, which is distinctive as people don't just shop there but have also invested into the bakery.
For their generosity they are reimbursed in novel ways: including bread and baking courses. 
Campanio's owner, founder and baker Russell Goodwin told me how exciting it is for Ancoats to be named Hippest Hang-out, bringing a 'dynamic part of town' back to life.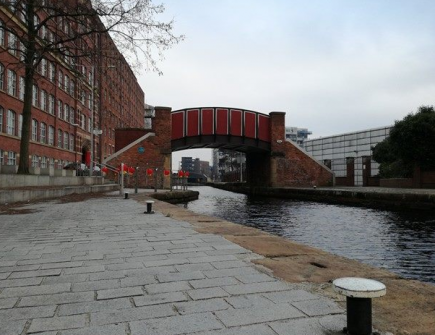 LIVING AND BREATHING: Campanio Bakery founder Russell Goodwin says Ancoats feels like a World Heritage Site
"I was intrigued about coming here and it felt like it was a World Heritage Site," he said.
"Walking around old mill buildings, the cobbled streets, it was just a curiosity to me when I first saw it, and I wanted to come back and explore it more.
'It's not only somewhere that people work, or that people live, it's the functionality, it's both of those things.
"It's living and breathing: there's a medical centre, there's a school, there's people of all ages, all diversities and ethnicities. And I just think that to me encapsulates a community, a neighbourhood."
With the smell of freshly baked bread still heavy in my nostrils, hunger called me. 
Thankfully there's an array of places to eat in Ancoats including Café Cotton, Squid Ink and Vivid Lounge. It's these wonderful, unique and independent eateries which give Ancoats a really fresh and vibrant flavour. 
Being vegan (yes I am one of those people) I dropped into Kettlebell Kitchen.
It's a great place to eat, especially for the health conscious, with a yummy range of vegan and veggie food and tasty choices for carnivores too. 
Fuelled up I headed back out into Ancoats unexpectedly finding myself trawling the chilly streets searching for something to fill my time with.
It soon became apparent Ancoats lacks anything that might be termed a tourist attraction.       
"It's funny because when you think of Brooklyn and when you think of Shoreditch and Camden and all these other hip areas they've got attractions of some kind," said Ancoats Coffee Co. founder Jamie Boland when I caught up with him and his colleague Mani Keleher later that day.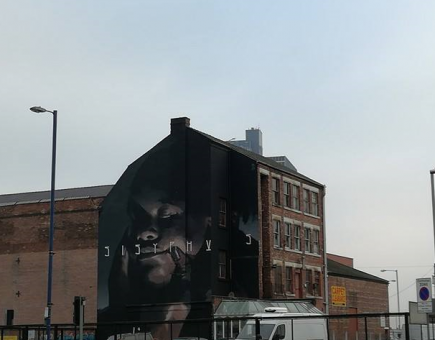 EYES OPEN: What Ancoats lacks in tourist attractions it makes up for in one-of-a kind features
Both Boland and Keleher were surprised but welcoming of the accolade of UK's Hippest Hang-out.  
"Obviously the area's got a lot of character and history and stuff, so I think eventually you knew it was gonna kick off at some point, it just took a couple of years," Boland said.
"It's great we're gonna take on Kreuzberg next," laughed Keleher.
Leaving Ancoats Coffee Co. for the second time and looking for something to do, I headed to Cutting Square and the bars there I had in mind for an evening drink. 
Seven Bro7hers is an industrial-chic family-founded bar, brewing its own amazing beers with a great backstory.  
Its neighbour, the chilled out and American influenced Second City, is not your stereotypical sports bar.
Serving a range of draught and craft beers, cocktails and US inspired food, Second City is a great place to watch the football with the local residents. 
The bar's owner Sam Janes had worked at the legendary Ancoats nightclub Sankeys, which closed its doors earlier this year before going out on his first solo venture with Second City.
He too was sceptical of the Hip Hang-out crown, but praised the independent entrepreneurial spirit and the transformation seen in the area.
He believed Ancoats' growth and individuality had arisen from critical local government funding – and the district's young professional residents and their pursuit of hip amenities.
"I don't think it's the hippest area in the UK. But I think it's a really growing area and it has a really nice clientele, and a really nice atmosphere and vibe," Janes said.
My final stop on my foray into Ancoats was the legendary Rudy's Pizza.
Originally a street food outfit before moving to Ancoats, Rudy's was founded by Kate Wilson and Jim Morgan, who by his own admission is a pizza obsessive.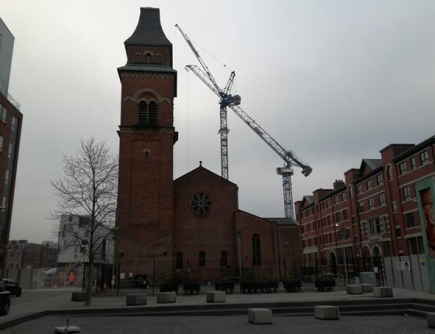 PREMATURE PRAISE: Rudy's Pizza co-founder Jim Morgan says Ancoats is still really just a 'building site'
This truly shows in the amazing, delicious and affordable menu, including vegan and veggie options. The restaurant has a cool, laid back atmosphere, and I would advise anyone to sit on the bar where you can watch the pizzas being made right in front of you.    
"I think it's a bit premature to be honest. I'm sure most people agree. It's technically a building site," said Morgan of the Hip Hang-out title.
"I know there's been a few articles already saying there's nothing even going on in Ancoats.
"But when you list the things that are actually going on in Ancoats, there is a hell of a lot going on. And most of it is from young entrepreneurs, young people, community-based businesses. It's kind of a break from the norm really.
"It's a nice place to live as well, I think that's the other thing, as a neighbourhood it's quite nice. And in 18 months, two years' time it will be completely transformed.
"There's going to be so many more businesses, so much more going on.
"I think it's definitely premature. But come two years everyone will realise it was the right thing to say, maybe just slightly the wrong time.' 
At 6pm, with a mild case of hypothermia, I had to throw in the towel and head home. 
I had been surprised, given the Travel Supermarket crown, how unexpectedly devoid Ancoats was of any tourist attractions. 
The suburb is certainly a hip place to hang out though certainly not a place where you can immerse yourself for a whole day. But that's exactly its point.
Ancoats has so far refused to bow down to corporate, tourist culture, and is instead a place residents and visitors alike can dip into and sample some cutting-edge culture and independent entrepreneurialism – driven by passionate, indie can-do attitude. 
The future looks very bright for Ancoats which for now is a hip, hidden gem well worth a visit. Just maybe not for a whole day in winter.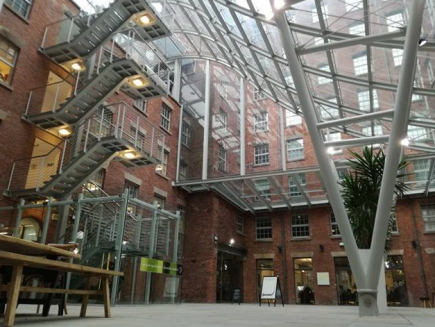 WATCH OUT KREUZBERG! Ancoats isn't done yet and hopes to tussle for top spot on the hip list