The photographer who snapped some of The Smiths' most iconic shots said that the night before the infamous photoshoot outside Salford Lads Club was one of the most sleepless nights of his life.
"The night before that and the night before I got married… and I married a French girl and that was in French," he said.
"Those are the most sleepless nights of 'Oh my god, what's happening there?'"
Stephen Wright first photographed The Smiths during a live performance at Free Trade Hall in 1984, metres away from Manchester Central Library where a number of his photos are now being exhibited.
Wright entered the venue, now a Radisson hotel, as a novice photographer aged 24 armed with one film reel holding just 36 shots and left with the immortalised images of Smiths' frontman Morrissey and his bouquet of flowers.
"I was doing pictures for various music papers and bits for record companies," he explained.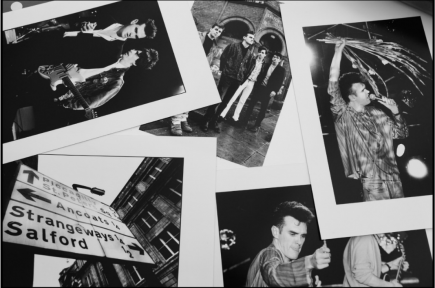 36 SHOTS: Wright had just one film reel in his camera when he entered Free Trade Hall for the iconic 1984 gig
"I think I just rang Rough Trade and said, 'Can I take some pictures?' I might have just bought a ticket and blagged it. I honestly don't remember."
Looking back on the night, the 58-year-old described the crowd as a 2,000-strong 'rugby scrum' which prevented him from getting anywhere near the stage leading him to climbing onto the lighting rig to take the infamous photos.
Having grown up in Reading, Wright studied Personnel Management in Liverpool before moving to Manchester where he lived for almost a decade.
"It was fairly grim at the time," he said. "Manchester was particularly hit by the recession, but when you're 24, 25, you get on with what's happening. Your expectations are different."
During that period, Wright shot a number of Manchester bands at their live shows including New Order and Happy Mondays, but rarely shot artists outside of concert halls.
'VERY UNASSUMING'
Wright was living in a shared student house in Longsight with five friends in 1985 when, 'out of the blue', he received a call from The Smiths' record label, Rough Trade, asking him to take some photos of the band in Salford.
After a sleepless night, Wright turned up with a friend who he had convinced to provide moral support on what he described as a 'dark, grimy' day, leading him to take mostly black and white photos.
"If they hadn't come up from London, then we'd probably have cancelled the whole thing," he said.
Wright described The Smiths as 'very unassuming', noting that they did not have an entourage of hair stylists and makeup artists as the biggest pop stars of that time would have had.
The film was then processed in Wright's bedroom which doubled up as a darkroom using chemicals which were kept in old fizzy-drinks bottles before sending it to London on the Red Star Parcels courier service from Piccadilly Station.
Later that year, Morrissey thanked Wright in a note displayed at the exhibition which says, "A sweeter set of pictures were never taken. I smiled for a full minute."
The photo, and the relationship that the photographer developed with Salford Lads' Club following its fame, led the club to make Wright an honorary member.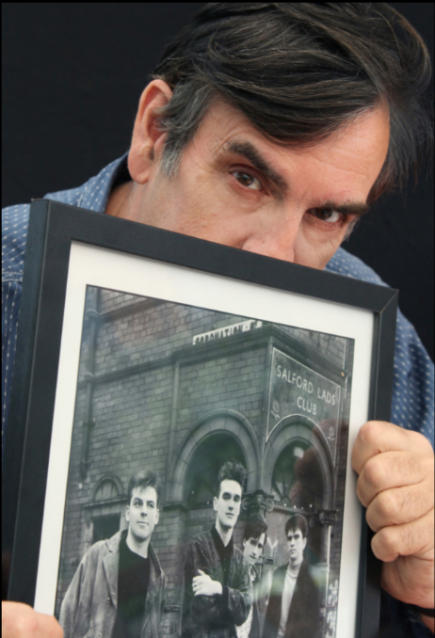 WONDERFUL COURIER: Wright poses with his proudest image, which was developed in his bedroom using chemicals kept in old fizzy-drinks bottles and sent to London via Red Star Parcels
"I'm allowed to make my own tea," he said. "It's not a big fuss thing."
Since then, Wright has photographed live performances by Madonna, Prince, Miles Davis, Nina Simone and James Brown, but says that The Smiths' presented a significant challenge because their gigs were always dimly lit with pastel shades.
These images can now be found in four display cabinets on the library's first floor until August 25.
Modestly, Wright says that he doesn't pretend to be a great artist and is amused when his photos are referred to as 'work'.
"Museum cabinets make me feel awfully old," he said. "I've never pretended that these pictures are art, but people enjoy them."
The images and the stories behind them can be viewed at www.smithsphotos.com where official prints of Wright's work can also be ordered.
Images courtesy of Stephen Wright, with thanks.