Ink lovers from all across the globe came together in celebration of their art and passion at Manchester's International Tattoo Show this weekend.
Approximately 8,000 body art fanatics converged in the heart of Manchester for a weekend of ink at one of the UK's leading tattoo conventions.
The show's growth follows a surge in demand with some people even booking their tickets a year in advance to secure a slot with one of the world's leading tattoo artists who rarely visits the UK.
Tattoo lover Joleen Cimbwell told MM: "It's such a great event, I'm on a sabbatical from the navy and I really wanted something that represented the sea, but not the traditional nautical tattoos like swallows and that's where the mermaid came from.
"I gave my idea to my tattoo artist and this is what he came up with, I've just come back from the Caribbean and it's really chilled over there and so I'm really happy how that's been incorporated."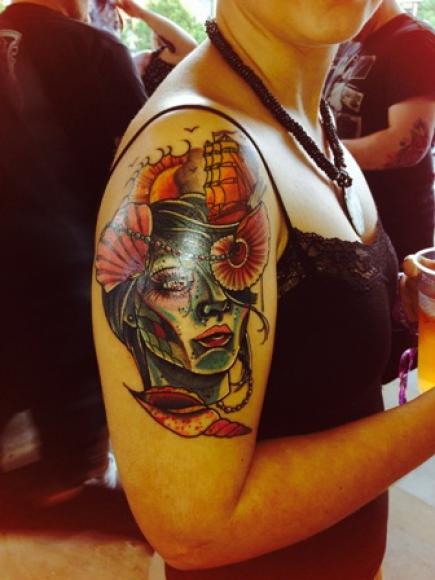 UNDER THE SEA: Joleen has been in the navy for 13 years
Following the phenomenal success of the Manchester International Tattoo Show in recent years, organisers have increased their investment in the event, making this year's show, the biggest to date.
The show which homes some of the world's best tattoos attracted the weird and the wonderful from far and wide.
@msm4rsh Fun weekend working at the Manchester tattoo show! pic.twitter.com/4EA1PrRn4n

— Jay Hutton (@JayTAT2) August 3, 2014
Shelley Bond, Event Manager, commented: "We've been delighted with this year's attendance figures, with tattoo lovers traveling from all around the globe to be inked by the world's leading tattoo artists.
"This year we had a 'Lucky 13' theme with related acts and performances taking place all weekend; we've had a packed entertainment schedule to keep the thousands of visitors entertained throughout a weekend celebrating the very best that the international tattoo scene has to offer."
Watching Ste work at Manchester Tattoo Show #inkedgirls #inked #ink pic.twitter.com/37Ug612DUQ

— Chimane-Leigh (@chimane83) August 2, 2014
On way home from Manchester tattoo show with some rib work complete #wolverinehasachingribs pic.twitter.com/xOvBUOOO9y

— Ichabod Bohea (@mattbohea1) August 2, 2014
Ink at Manchester Tattoo Show pic.twitter.com/ms9a4ioke4

— Nick Field (@nicholasjfield) August 3, 2014
Chaos Dolls, the fire breathing tattooed show girls gave a thrilling performance over the weekend, hotting things up in convention.
New group shot of the dolls Blue heartGrowing heartPurple heart Tog: @IAreDom pic.twitter.com/CzOBWBzsqy

— Chaos Dolls™ (@ChaosDolls) July 21, 2014
Head doll Terri told MM: "Manchester was a great crowd and we had loads of support which was lovely. I really wanted to get a tattoo done over the weekend but I couldn't squeeze it in, but we had a great time anyway."
"People say to me, how you can be a health and safety auditor in the day but a firebreather by night but it's actually really helped me, and I've taught the girls how to spot potential hazards."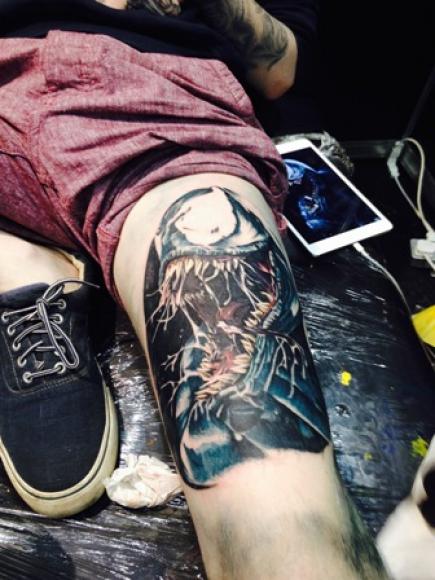 WEB OF INK: Spider-man's enemy Venom was one of many Marvel inspired tattoos
For the past 12 years, the Manchester Tattoo Show has been one of the leading conventions on the UK tattoo scene.
The event attracts tattoo artists of the highest calibre to the city for a weekend of ink and entertainment.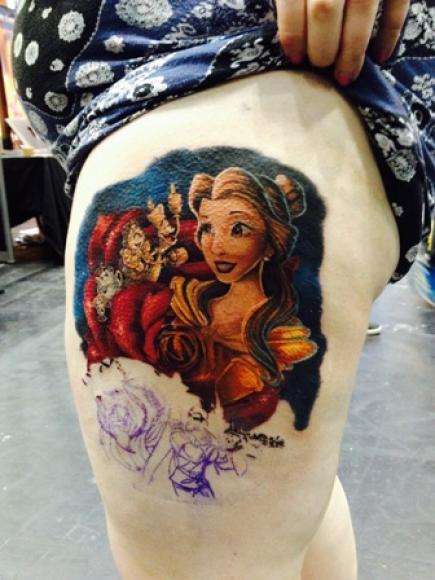 FAIRYTAYLE: Disney's Beauty and the Beast on Rachel's thigh
Freshly inked Rachel, 28 said: "I love my new tatt, I got Beauty and the Beast because the theme is love conquers all. The reason behind it is me and my boyfriend are currently in a long distance relationship, we're making it work and he's here today.
"It's been amazing experience and it's been great meeting so many like-minded people, I'll definitely be here next year, who knows what I'll get then."