Second World War survivors and evacuees will be heading to the Greater Manchester town that offered so many refuge – Stockport – for a special church service.
The event, which marks the 70th anniversary of thousands of Channel Island evacuees heading home from Stockport in 1945, will be held at St Mary's Parish Church, Churchgate, on August 23 morning.
Nazis invaded Guernsey, Jersey and Alderney in June 1940, occupying the islands for the next five years and forcing tens of thousands out of their homes – Stockport took in the largest number.
Author Gillian Mawson, who has spent the last seven years interviewing the Channel Island evacuees about their lives up North during the war, is also the woman behind this upcoming day of remembrance and reunion.
She chatted to MM about what her research has revealed over the years and why events like this one are so important.
She said: "More than 23,000 evacuees fled Guernsey, Jersey and Alderney in June 1940, just before the Nazis occupied their island for five years.
"Stockport actually received the largest number of these evacuees – more than 2,000.
"Many evacuated mothers worked in Stockport's war industries and thousands of Channel Island men joined the British forces.
"When the child evacuees left school they too helped the British war effort or joined the forces too."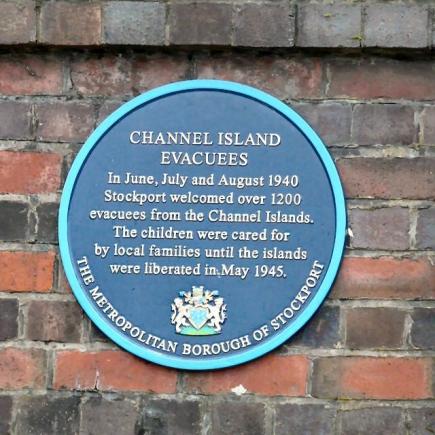 REMEMBRANCE: This blue plaque is on the wall near the entrance to Stockport station (© Gerald England, with thanks)
Gill explained that while evacuees immersed themselves in industry to help with the war effort, Manchester's industrial towns were at first 'very strange' to them.
One of those who found shelter in Stockport told the author of how amazed he was by the trams, while others recalled the sight of 'smoking chimneys'.
But it was the Northerners' kind-nature – we're still famed for today – that made people feel so welcome.
"They found the industrial towns of Manchester very strange at first. Robert Langlois was amazed by the wide roads and trams in Stockport and the huge brick viaduct," Gill said.
"Others remember their first sight of rows of brick terraced houses and the factories with their smoking chimneys.
"However, the friendship and kindness of the local people helped the evacuees to settle down here."
Some evacuees felt so comfortable in Stockport that when the Nazis left the Channel Islands in 1945 they actually decided to stay.
Family and friends were divided by the decision, which is why Gill thinks this church service and reunion will be particularly emotional.
She said: "When the Channel Islands were liberated in May 1945, thousands began to plan their return home, but others decided to remain in the areas in which they had settled and made friends.
"Many evacuees had become engaged to, or married, local people. Channel Island families were split apart as sisters and brothers made their decisions to go home or stay behind.
"This service will mark that emotional parting of the ways 70 years ago."
Mayors from some of the Cheshire and Lancashire towns that cared for those evacuees during the war have been invited to the event along with Royal Voluntary Service and Salvation Army representatives, who helped Channel Islanders when they arrived in England in 1940.
Guernsey's Minister of Culture and Leisure, Deputy Mike O'Hara, who was born in Oldham, will also attend.
And evacuees will be travelling to Stockport from all over the UK as well as from the Channel Islands.
Gill told MM: "It will be a chance for them to thank the people of Stockport for their care during the war.
"They will also be reunited with friends and family that they have not seen for 70 to 75 years.
"It is bound to be very emotional as many feel that they will be unable to travel to future reunions due to advanced age and ill health.
"After the church service, evacuees will be able to sit down and share their wartime experiences with anyone who is interested in hearing them."
The church service will be followed by refreshments and a small display on the Channel Islands evacuation.
Everyone is invited to bring along relatives who were evacuees themselves or lived through the Second World War.
Gillian Mawson's first book Guernsey Evacuees was published in 2012.
For more information about the event on August 23 at 10:30am, visit her blog here.